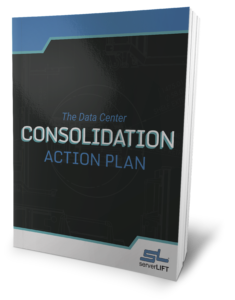 Download our FREE white paper, "The Data Center Consolidation Action Plan"
Quoted shipping dates are estimated and subject to availability of goods at time of acceptance of order by ServerLIFT®, and subject to the full disclosure by the Purchaser of any and all shipping or delivery information requested by ServerLIFT.
Delivery of goods will not be unreasonably withheld or delayed for accounts in good standing or for pre-paid orders. Past due balances may result in ServerLIFT® withholding or delaying deliveries to Purchaser, even in the case of a pre-paid order. Any and all costs to ServerLIFT® for delivery delays that result from late payments, non-payment, account and credit holds, or any other delay caused by the Purchaser, an agent, affiliate or customer of the Purchaser, will be the sole responsibility of the Purchaser and Purchaser agrees to reimburse ServerLIFT® for all such charges and associated fees.
Shipments to/within North America will be governed by the following shipping terms:Shipments made to or delivered outside of North America will be governed by the shipment-specific and agreed upon Shipping Terms as specified by INCOTERMS 2010.
Risk of loss shall pass to the Purchaser at the time of and at the named place of delivery. When Purchaser arranges any part of shipment, risk of loss shall pass to Purchaser upon transfer of goods from ServerLIFT® or its agent(s) to Purchaser or its agent(s).
Tip N' Tell indicators are placed on all cartons and crates shipped by ServerLIFT®. These indicators will activate if the goods were tipped or dropped on their side. At the time of and place of delivery, the consignee or receiving agent must inspect the Tip N' Tells for each piece in the shipment. Any activated indicators as well as all visible damage to the goods and packaging must be noted on the Bill of Lading by both the receiver and driver prior to accepting delivery.
Even if no damage is visible, the shipment should be unpackaged and inspected.In all instances of damage, photos should be taken if possible, and the packaging should be saved.ServerLIFT® must be contacted immediately and notified in writing upon discovery of damage or defects. Purchaser agrees that damage or defects resulting from shipping or mishandling that are not noted at the time of delivery, documented, and disclosed to ServerLIFT® on the day of delivery, will be considered to have occurred after the time of delivery and will not be covered by ServerLIFT® warranties or the responsibility of ServerLIFT®, its agents or carriers.
All shipping prices are estimates. Purchaser agrees to pay all final shipping charges per the Shipping Terms as applicable, including charges for any and all special services requested of the carrier at the time of delivery even when not requested in advance.
FORCE MAJEURE: ServerLIFT® is not responsible for any delay or failure to perform due to causes beyond its reasonable control. These causes include, but shall not be restricted to, fire, storm, flood, explosion, accident, acts of a public enemy, terrorism, labor disputes, labor shortages, transportation, or failure or delays in transportation, inability to secure raw materials or machinery for the manufacture of its devices, acts of G-d, acts of Federal Government or any agency thereof, acts of any state or local government or agency thereof, and judicial action. Similar causes shall excuse Purchaser for failure to take goods ordered by Purchaser, other than those already in transit, or those especially fabricated and not readily salable to others.
GOVERNING LAW AND FORUM SELECTION: This agreement and its performance discharge of the obligations imposed by it, construction and interpretation is governed by the laws of the State of Arizona, or another venue as mutually agreed to by both parties, to the exclusion of the law of any other forum and without regard to jurisdiction in which any action or special proceeding may be instituted.Purchaser shall, at all times, comply with all applicable federal, state and local laws and regulations. Unless otherwise agreed to by both parties, the Arizona Superior Court for Maricopa County and the United States District Court for the District of Arizona for those cases over which it has subject-matter jurisdiction have the sole and exclusive jurisdiction regarding cases brought to enforce, or interpret this agreement and decide any disputes arising under it.
APPLICATION OF GOODS AND RESPONSIBLE USE: ServerLIFT®, its agents, contractors, consultants, employees, officers, and its directors are not responsible for all claims, losses, suits, judgments, awards, costs or expenses whether arising in tort or contract, including Attorney's fees, expenses and costs, arising out of the (i) application of Goods to Purchaser's designs and/or products, or ServerLIFT®'s assistance in the application of Goods, (ii) negligent acts or omissions of the Purchaser or its employees, (iii) failure to use or maintain ServerLIFT®'s products in accordance with the instructions for their use and maintenance or (iv) Purchaser's breach of these Terms and Conditions.
CONFIDENTIALITY: Neither party shall disclose Confidential Information to any third parties unless the disclosing party receives written consent to the contrary from the other. Information disclosed by either party to each other that the disclosing party has not made publicly available (i.e. via their website, or that can be easily and reasonably obtained) shall be considered by default to be Confidential Information.
VALIDITY: Any failure of ServerLIFT® to enforce at any time, or for any period of time, any of the provisions set forth herein, is not constitute a waiver of those provisions or in any way affect the validity of these Terms and Conditions.
SEVERABILITY: The invalidity or unenforceability of any term or provision contained in these Terms and Conditions does not void or impair any remaining provisions, which shall remain in full force.
| Shipping Term | Point of Delivery | Description |
| --- | --- | --- |
| FOB Destination, Prepaid, Add & Handling* | | Shipper (ServerLIFT) handles goods, including scheduling, insurance, and documentation to the destination. All costs and handling charges are prepaid by Shipper, and added to Purchaser's invoice. |
| | | Purchaser or Purchaser's designated carrier handles goods, including scheduling, insurance, and documentation to the destination. All costs and handling charges are paid by Purchaser. |
Why OUR CUSTOMERS RELY ON SERVERLIFT®
Without a ServerLIFT® data center lift here, customers, they would be...let's just say, very displeased if we didn't offer that sort of a service when they got there and they went to rack their gear and they needed something to help them. It's something that they rely on.
ServerLIFT® makes a great product that is easy to use, and promotes safety within the data center. It is especially useful to us in our new data centers, where we have standardized on 9ft. racks. I was most pleased with how easily it allowed us to move and re-rack our large AS/400 systems during a limited outage window.
I would recommend it 100%. It literally has saved my team's backs. This last year was our biggest year, and for us to do as much as we did (we did almost 200 racks in 6 months)...you can't do that kind of work without having something that makes your job easier. ServerLIFT® solutions have taken all of that burden off of my team.
I was initially using a manual lift to move servers and other equipment. When the ServerLIFT® electric model came out it was an even better solution. If I have a server that needs to be installed and I am the only one available, I can get it down quickly and easily with the ServerLIFT® unit.
We have a ServerLIFT® solution and it's awesome. It can lift 500 lbs without issue. Even the largest Cisco devices can be installed using it. Our facilities group uses it to pull motors from CRAC Units. It's well worth the investment.
In 15 minutes, we racked an HP chassis and 15 new hard drive enclosures, with only one engineer. Using our new ServerLIFT® lift is much safer and quicker than using 3 engineers.
Safety is our #1 priority. Originally, we didn't have the resources to install the hardware safely. We were using other brands of both battery- operated and hand-crank lifts, but they required too much maintenance. Now, our ServerLIFT® unit is well-used and everybody is happy with the 'Cadillac' we bought. It's a great investment.
The ServerLIFT® unit was of great benefit during the racking of our blade centers. With the use of the strap kit, one person was able to unbox and safely place the 300-pound device into a rack on the rails. The benefit of not having to remove the blades and power supply components from the chassis to make it lighter saved time and potential damage.
Speak to a specialist to find the right lifting solution for your data center.
Download our FREE white paper, "Best Practices for Moving IT Equipment in the Data Center"
Whether operators are performing standard functions or migrating IT equipment between facilities, our free guidebook offers a valuable checklist for performing a move safely and without unnecessary risk.