ServerLIFT® Data Center Lift

Model Comparison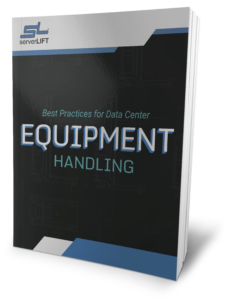 Download our FREE white paper, "Best Practices for Data Center Equipment Handling"
ServerLIFT® Data Center Lift Model Comparison
ServerLIFT® data center lifts have won awards for their intelligent design, and have achieved the most stringent certifications for safety and quality. They are used and endorsed by data center professionals worldwide.
We can help you to select the data center lift model that makes the most sense for your enterprise:
ServerLIFT® SL-500X®
The best all-around solution for everyday use with easy, one-touch electric lifting.
ServerLIFT® SL-500FX™
The ideal choice for manufacturers and facilities with wide aisles.
ServerLIFT® SL-1000X®
The most versatile and heavy-duty data center lift on the market.
ServerLIFT® SL-350X®
A premium hand-cranked electric lift alternative. Great for infrequent moves.
Defining Characteristics
ServerLIFT® server-handling lifts all have something in common; they are powerful, professional-grade machines designed specifically for your data center operational needs and safety standards. With all four models, we guarantee greater efficiency and safety for your operators and for your IT hardware.
Conquering the 3 Rules of a Data Center Lift
Any assisted lifting device we create must master three primary requirements for it to be useful in any data center: transportation, positioning, and installation/removal.
Side-Loading vs. Front-Loading Lifts
We offer lifts in both side-loading and front-loading configurations to meet the exact dimensions and layout of your data center or IT equipment transportation facility.
Hand-Cranked vs. Motorized Lifts
Our motorized lifts help to prevent muscle fatigue and equipment damage. They simplify complicated moves, even on the biggest jobs. Our lightest-capacity lift comes equipped with a powerful hand crank and provides an excellent alternative to motorized lifting for infrequent moves.
Each data center lifting device comes equipped with a robust 1-year manufacturer's warranty, with optional extended service and warranty contracts available in single or multi-year terms.
ServerLIFT® Device & Attachment Compatibility
* Attachments that can be used in conjunction with other attachments, when used with a data center lift. All attachments must be used with one of the four ServerLIFT® brand data center lifts.
DATA CENTER LIFT COMPARISON TABLE
LIFT DETAILS
SL-500X

Electric Lift

SL-1000X

Super-Duty Lift

SL-350X

Hand-Cranked Lift

SL-500FX

Front-Loading Lift

BEST FOR:
Frequent Moves
Migrations Relocations
Frequent or Heavy Moves
Migrations Relocations
Occasional Moves
Lighter IT Hardware
Regular Moves
Pre-Configured Racks
SERVER SUPPORT & LOADING
Side

6" of lateral movement on either side

Side

6" of lateral movement on either side

Side

6" of lateral movement on either side

Front

Up to 11.5" of support into the rack***

MICRO-LEVELING PLATFORM
AMOUNT OF ADJUSTMENT
Up to 2 degrees tilt adjustment
Up to 2 degrees tilt adjustment
Up to 3.4 degrees tilt adjustment
BASE WIDTH
24"
(61 cm)
24"
(61 cm)
24"
(61 cm)
24"
(61 cm)
BASE LENGTH
44"
(112 cm)
47.3"
(120 cm)
44"
(112 cm)
44"
(112 cm)
EXTENSION HEIGHT
52U / 8 ft*
(2.44 m)
56U / 8.73 ft**
(2.69 m)
52U / 8 ft*
(2.44 m)
52U / 8 ft*
(2.44 m)
MAX LIFTING LOAD
500 lbs
(227 kgs)
1,000 lbs
(454 kgs)
350 lbs
(159 kgs)
500 lbs
(227 kgs)
* More than 58U/8.5 ft/2.5 m when used with the RL-500 Riser (SL-350X, SL-500FX, SL-500X)
** 64U/9.3 ft/2.8 m when used with the RL-500 Riser (SL-1000X)
*** 20" (50.8 cm) when used with the FE-3X (SL-500FX)
Why OUR CUSTOMERS RELY ON SERVERLIFT®
In 15 minutes, we racked an HP chassis and 15 new hard drive enclosures, with only one engineer. Using our new lift is much safer and quicker than using 3 engineers.
Without a ServerLIFT® data center lift here, customers, they would be...let's just say, very displeased if we didn't offer that sort of a service when they got there and they went to rack their gear and they needed something to help them. It's something that they rely on.
Safety is our #1 priority. Originally, we didn't have the resources to install the hardware safely. We were using other brands of both battery- operated and hand-crank lifts, but they required too much maintenance. Now, our ServerLIFT® unit is well-used and everybody is happy with the 'Cadillac' we bought. It's a great investment.
I would recommend it 100%. It literally has saved my team's backs. This last year was our biggest year, and for us to do as much as we did (we did almost 200 racks in 6 months)...you can't do that kind of work without having something that makes your job easier. ServerLIFT® solutions have taken all of that burden off of my team.
The ServerLIFT® unit was of great benefit during the racking of our blade centers. With the use of the strap kit, one person was able to unbox and safely place the 300-pound device into a rack on the rails. The benefit of not having to remove the blades and power supply components from the chassis to make it lighter saved time and potential damage.
We have a ServerLIFT® solution and it's awesome. It can lift 500 lbs without issue. Even the largest Cisco devices can be installed using it. Our facilities group uses it to pull motors from CRAC Units. It's well worth the investment.
ServerLIFT® makes a great product that is easy to use, and promotes safety within the data center. It is especially useful to us in our new data centers, where we have standardized on 9ft. racks. I was most pleased with how easily it allowed us to move and re-rack our large AS/400 systems during a limited outage window.
I was initially using a manual lift to move servers and other equipment. When the ServerLIFT® electric model came out it was an even better solution. If I have a server that needs to be installed and I am the only one available, I can get it down quickly and easily with the ServerLIFT® unit.
Speak to a specialist to find the right lifting solution for your data center.
Download our FREE white paper, "Buying a Data Center Lifting Device"
Your data center is mission critical, and downtime can mean tens of thousands of angry customers and millions in losses. Our free guidebook helps you to identify the correct tools for avoiding downtime effectively as a data center manager.