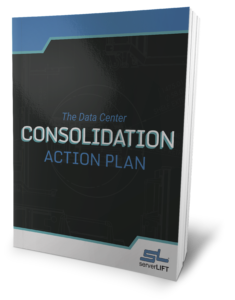 Descargue nuestro documento técnico GRATUITO, & #8220; El Plan de Acción de Consolidación del Centro de Datos & #8221;
Quoted shipping dates are estimated and subject to availability of goods at time of acceptance of order by ServerLIFT®, and subject to the full disclosure by the Purchaser of any and all shipping or delivery information requested by ServerLIFT.
Delivery of goods will not be unreasonably withheld or delayed for accounts in good standing or for pre-paid orders. Past due balances may result in ServerLIFT® withholding or delaying deliveries to Purchaser, even in the case of a pre-paid order. Any and all costs to ServerLIFT® for delivery delays that result from late payments, non-payment, account and credit holds, or any other delay caused by the Purchaser, an agent, affiliate or customer of the Purchaser, will be the sole responsibility of the Purchaser and Purchaser agrees to reimburse ServerLIFT® for all such charges and associated fees.
Los envíos a / dentro de América del Norte se regirán por los siguientes términos de envío: Los envíos realizados o entregados fuera de América del Norte se regirán por los Términos de envío específicos y acordados según lo especificado por INCOTERMS 2010.
Risk of loss shall pass to the Purchaser at the time of and at the named place of delivery. When Purchaser arranges any part of shipment, risk of loss shall pass to Purchaser upon transfer of goods from ServerLIFT® or its agent(s) to Purchaser or its agent(s).
Tip N' Tell indicators are placed on all cartons and crates shipped by ServerLIFT®. These indicators will activate if the goods were tipped or dropped on their side. At the time of and place of delivery, the consignee or receiving agent must inspect the Tip N' Tells for each piece in the shipment. Any activated indicators as well as all visible damage to the goods and packaging must be noted on the Bill of Lading by both the receiver and driver prior to accepting delivery.
Even if no damage is visible, the shipment should be unpackaged and inspected.In all instances of damage, photos should be taken if possible, and the packaging should be saved.ServerLIFT® must be contacted immediately and notified in writing upon discovery of damage or defects. Purchaser agrees that damage or defects resulting from shipping or mishandling that are not noted at the time of delivery, documented, and disclosed to ServerLIFT® on the day of delivery, will be considered to have occurred after the time of delivery and will not be covered by ServerLIFT® warranties or the responsibility of ServerLIFT®, its agents or carriers.
Todos los precios de envío son estimados. El comprador acepta pagar todos los cargos de envío finales según los Términos de envío, según corresponda, incluidos los cargos por todos y cada uno de los servicios especiales solicitados al transportista en el momento de la entrega, incluso cuando no se soliciten por adelantado.
FUERZA MAYOR: ServerLIFT® is not responsible for any delay or failure to perform due to causes beyond its reasonable control. These causes include, but shall not be restricted to, fire, storm, flood, explosion, accident, acts of a public enemy, terrorism, labor disputes, labor shortages, transportation, or failure or delays in transportation, inability to secure raw materials or machinery for the manufacture of its devices, acts of G-d, acts of Federal Government or any agency thereof, acts of any state or local government or agency thereof, and judicial action. Similar causes shall excuse Purchaser for failure to take goods ordered by Purchaser, other than those already in transit, or those especially fabricated and not readily salable to others.
LEY APLICABLE Y SELECCIÓN DEL FORO: Este acuerdo y su cumplimiento de las obligaciones impuestas por él, la construcción y la interpretación se rigen por las leyes del Estado de Arizona u otro lugar acordado mutuamente por ambas partes, con exclusión de la ley de cualquier otro foro y sin con respecto a la jurisdicción en la cual se puede iniciar cualquier acción o procedimiento especial. El comprador deberá, en todo momento, cumplir con todas las leyes y regulaciones federales, estatales y locales aplicables. A menos que ambas partes acuerden lo contrario, el Tribunal Superior de Arizona para el Condado de Maricopa y el Tribunal de Distrito de los Estados Unidos para el Distrito de Arizona para aquellos casos en los que tiene jurisdicción sobre el tema tienen la jurisdicción única y exclusiva con respecto a los casos presentados para hacer cumplir, o interpretar este acuerdo y decidir cualquier disputa que surja de él.
APLICACIÓN DE BIENES Y USO RESPONSABLE: ServerLIFT®, its agents, contractors, consultants, employees, officers, and its directors are not responsible for all claims, losses, suits, judgments, awards, costs or expenses whether arising in tort or contract, including Attorney's fees, expenses and costs, arising out of the (i) application of Goods to Purchaser's designs and/or products, or ServerLIFT®'s assistance in the application of Goods, (ii) negligent acts or omissions of the Purchaser or its employees, (iii) failure to use or maintain ServerLIFT®'s products in accordance with the instructions for their use and maintenance or (iv) Purchaser's breach of these Terms and Conditions.
CONFIDENCIALIDAD Ninguna de las partes divulgará información confidencial a terceros a menos que la parte divulgadora reciba el consentimiento por escrito de la otra parte. La información divulgada por cualquiera de las partes entre sí que la parte reveladora no ha puesto a disposición del público (es decir, a través de su sitio web, o que se puede obtener de manera fácil y razonable) se considerará por defecto como información confidencial.
VALIDEZ: Any failure of ServerLIFT® to enforce at any time, or for any period of time, any of the provisions set forth herein, is not constitute a waiver of those provisions or in any way affect the validity of these Terms and Conditions.
Divisibilidad La invalidez o imposibilidad de ejecución de cualquier término o disposición contenida en estos Términos y Condiciones no anula ni menoscaba las disposiciones restantes, que permanecerán en plena vigencia.
| Términos de envío | Punto de entrega | Descripción |
| --- | --- | --- |
| FOB Destination, Prepaid, Add & Handling* | | El remitente (ServerLIFT) maneja los bienes, incluida la programación, el seguro y la documentación hasta el destino. Todos los costos y cargos de manejo son pagados por adelantado por el Remitente, y se agregan a la factura del Comprador. |
| | | El comprador o el transportista designado del comprador maneja los bienes, incluida la programación, el seguro y la documentación hasta el destino. Todos los costos y cargos de manejo son pagados por el Comprador. |
Por qué NUESTROS CLIENTES CONFÍAN EN SERVERLIFT®
Without a ServerLIFT® data center lift here, customers, they would be...let's just say, very displeased if we didn't offer that sort of a service when they got there and they went to rack their gear and they needed something to help them. It's something that they rely on.
ServerLIFT® makes a great product that is easy to use, and promotes safety within the data center. It is especially useful to us in our new data centers, where we have standardized on 9ft. racks. I was most pleased with how easily it allowed us to move and re-rack our large AS/400 systems during a limited outage window.
I would recommend it 100%. It literally has saved my team's backs. This last year was our biggest year, and for us to do as much as we did (we did almost 200 racks in 6 months)...you can't do that kind of work without having something that makes your job easier. ServerLIFT® solutions have taken all of that burden off of my team.
I was initially using a manual lift to move servers and other equipment. When the ServerLIFT® electric model came out it was an even better solution. If I have a server that needs to be installed and I am the only one available, I can get it down quickly and easily with the ServerLIFT® unit.
We have a ServerLIFT® solution and it's awesome. It can lift 500 lbs without issue. Even the largest Cisco devices can be installed using it. Our facilities group uses it to pull motors from CRAC Units. It's well worth the investment.
In 15 minutes, we racked an HP chassis and 15 new hard drive enclosures, with only one engineer. Using our new ServerLIFT® lift is much safer and quicker than using 3 engineers.
Safety is our #1 priority. Originally, we didn't have the resources to install the hardware safely. We were using other brands of both battery- operated and hand-crank lifts, but they required too much maintenance. Now, our ServerLIFT® unit is well-used and everybody is happy with the 'Cadillac' we bought. It's a great investment.
El ServerLIFT® unit was of great benefit during the racking of our blade centers. With the use of the strap kit, one person was able to unbox and safely place the 300-pound device into a rack on the rails. The benefit of not having to remove the blades and power supply components from the chassis to make it lighter saved time and potential damage.
Hable con un especialista para encontrar la solución de elevación adecuada para su centro de datos.
Descargue nuestro documento técnico GRATUITO "Mejores prácticas para mover equipos de TI en el centro de datos"
Ya sea que los operadores realicen funciones estándar o migren equipos de TI entre las instalaciones, nuestra guía gratuita ofrece una valiosa lista de verificación para realizar un movimiento de forma segura y sin riesgos innecesarios.