Comparison:
Warehouse vs. ServerLIFT® Lifts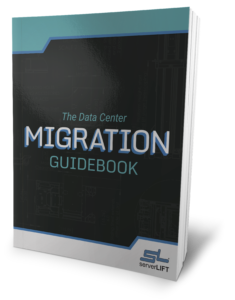 Download our FREE white paper, "The Data Center Migration Guidebook"
Comparison: Warehouse Lifts vs. ServerLIFT® Lifts
If you own or operate a data center, a server-handling lift is a necessary tool for the safety and efficiency of your people and equipment. Deciding which one to buy could be one of your most important safety decisions.
To avoid costly accidents, you want to choose a lift that efficiently carries out critical data center functions and avoids hardware damage 100 percent of the time. A generic warehouse lift does not meet that criteria.
Your IT staff and customers deserve the best. To help with that, we wanted to provide you with the most comprehensive and honest comparison available for ServerLIFT® machines and warehouse lifts.
Top Considerations for Purchasing a Lift
Two considerations are top of mind when a lifting device is being considered for the data center.
In talking with our customers, the majority immediately cite safety as their primary reason for purchasing a ServerLIFT® data center lift—but it is not uncommon for those concerns to conflict with a desire to save money. We cannot emphasize this enough: ServerLIFT® server-handling lifts are the cheapest option for providing the proper help and support you need on the job.
The ISO 45001 standard which now exists to prevent occupational hazards in international management and operations reinforces this fact. An estimated 2.8 million people are impacted globally every year by work-related injuries and diseases. ISO 45001 was created to reduce the number of workplace accidents—and ServerLIFT® data center lifts have a 100 percent accident-free track record in the data center, according to our customers.
Warehouse Lifts Are Built for Warehouses, Not Data Centers
Warehouse lifts are built for rugged performance in industrial and commercial spaces. They vary slightly by industry, but generally speaking, their systems, load capacity, build/design, and security and equipment positioning variables rarely match the needs of a data center operator.
The easiest way to compare a warehouse lift to a ServerLIFT® device built specifically for data center use is by highlighting the 3 essential rules of data center lifts: being able to transport, position, and install/remove™ IT equipment. Read more about data center lifts vs. warehouse lifts here.
Comparison: The 3 Essential Functions
of a Data Center Assisted Lifting Device
FULL Compliance and Functionality
PARTIAL Compliance and Functionality
NO Compliance and Functionality
The 3 Essential Functions

ServerLIFT® Lift

Warehouse Lift

Doors and Elevators

Fits through standard size

Floor Obstructions

Clearance to navigate over ramps, cables, etc.

Aisles

Fits in very narrow aisles with enough space for the operator

Height

Reaches all rack positions (up to 58U)

Alignment (Side-to-side)

Keeps server level and aligned with rack posts

Alignment (Front-to-back)

Angles or tilts server in/out of slotted rails

Stability

Overall unit locks in place without requiring outside support. Sliding platform locks into position so equipment can be pushed on and off the unit.

Access

Server is fully accessible on all sides at all heights to the operator

Support

Independently stable to support servers into the rack
Alignment (Front to Back)
Why OUR CUSTOMERS RELY ON SERVERLIFT®
I would recommend it 100%. It literally has saved my team's backs. This last year was our biggest year, and for us to do as much as we did (we did almost 200 racks in 6 months)...you can't do that kind of work without having something that makes your job easier. ServerLIFT® solutions have taken all of that burden off of my team.
The ServerLIFT® unit was of great benefit during the racking of our blade centers. With the use of the strap kit, one person was able to unbox and safely place the 300-pound device into a rack on the rails. The benefit of not having to remove the blades and power supply components from the chassis to make it lighter saved time and potential damage.
Without a ServerLIFT® data center lift here, customers, they would be...let's just say, very displeased if we didn't offer that sort of a service when they got there and they went to rack their gear and they needed something to help them. It's something that they rely on.
We really rely on our ServerLIFT® device. It was one of the best investments we made for our data centers. Thank you!
We have a ServerLIFT® solution and it's awesome. It can lift 500 lbs without issue. Even the largest Cisco devices can be installed using it. Our facilities group uses it to pull motors from CRAC Units. It's well worth the investment.
In 15 minutes, we racked an HP chassis and 15 new hard drive enclosures, with only one engineer. Using our new lift is much safer and quicker than using 3 engineers.
ServerLIFT® makes a great product that is easy to use, and promotes safety within the data center. It is especially useful to us in our new data centers, where we have standardized on 9ft. racks. I was most pleased with how easily it allowed us to move and re-rack our large AS/400 systems during a limited outage window.
I was initially using a manual lift to move servers and other equipment. When the ServerLIFT® electric model came out it was an even better solution. If I have a server that needs to be installed and I am the only one available, I can get it down quickly and easily with the ServerLIFT® unit.
Safety is our #1 priority. Originally, we didn't have the resources to install the hardware safely. We were using other brands of both battery- operated and hand-crank lifts, but they required too much maintenance. Now, our ServerLIFT® unit is well-used and everybody is happy with the 'Cadillac' we bought. It's a great investment.
Speak to a specialist to find the right lifting solution for your data center.
Download our FREE white paper, "The Data Center Consolidation Action Plan"
A properly executed data center consolidation action plan outlines the efficient and scalable technologies which can be utilized to boost production while reducing operating costs.