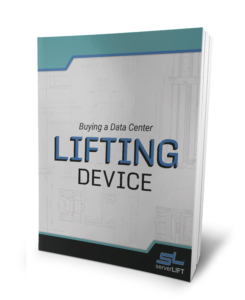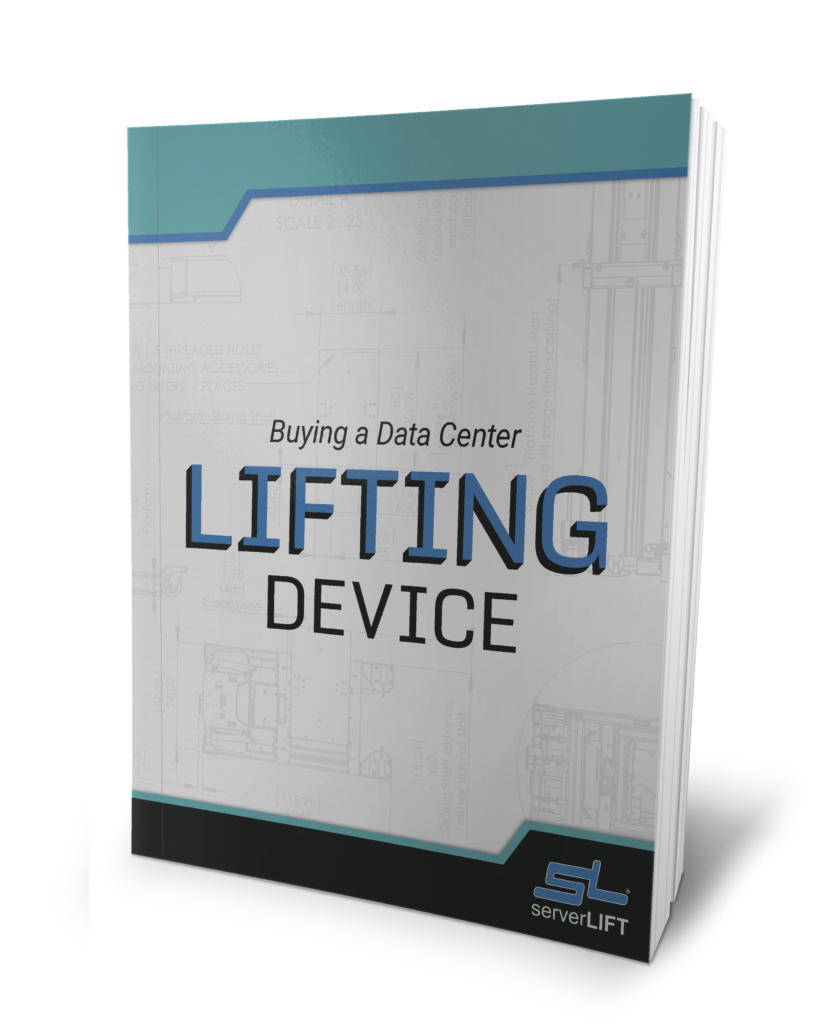 Download our FREE white paper, "Buying a Data Center Lifting Device"
Key Advantages to ServerLIFT
Flexential ServerLIFT Testimonial
Chris Boyll with Flexential Data Centers discusses the benefits of having a ServerLIFT solution for his data center operations.
3 Crucial Differences: ServerLIFT vs. Racklift
The only safe, reliable lifting tool is a ServerLIFT data center lift. See a side-by-side comparison with Racklift devices here.
ServerLIFT Corporation
Take a look behind the scenes and get to know our team.
Intelligent Design and Quality Manufacturing
The details matter at ServerLIFT. Get an inside look at our manufacturing and design philosophies.
The 3 Rules of a Data Center Lift
Only one company makes lifts that follow the 3 rules of server-handling in data centers.
Data Center Lifts
Our data center lifts are built for endurance, reducing manpower and increasing productivity.
ServerLIFT SL-1000X Data Center Lift
The world's top data center professionals asked for a super-duty server-lifting device, and we listened.
ServerLIFT SL-500X Data Center Lift
The SL-500X Data Center Lift is the industry standard server lifter for data center hardware.
ServerLIFT SL- 350X Data Center Lift
The perfect choice for infrequent moves, the ServerLIFT SL-350X enhances data center operations.
VIDEO HIDDEN ON WEBSITE


ServerLIFT SL-500FX Data Center Lift

This front-loading powered lift is designed for front loading needs and reaching deep into the rack.
Unboxing the NVIDIA DGX-2 server
How to unbox the NVIDIA DGX-2 server and prepare it for install using the ServerLIFT SL-500X data center lift with the WS-1X Wide Shelf attachment.
Installing the NVIDIA DGX-2 server
How to install an NVIDIA DGX-2 server using a ServerLIFT SL-500X data center lift and WS-1X Wide Shelf attachment.
Server Installation Made Easy
Watch as a ServerLIFT data center lift is used to install a heavy server into the rack.
The 60-Second Install
The RS-500X Rail Lift is used to demonstrate an easy 60-second install with the SL-500X server lifting device.
Performing Low Installs
The PL-500X Platform Extension helps you to dominate near-floor installations.
Unpacking Servers from Boxes
The ServerLIFT LE-1000X Lift Extension makes unpacking heavy hardware a breeze.
Cold Containment and Low-Ceiling Installs
The ServerLIFT RL-500 Platform Riser is lightweight but can support hundreds of pounds of equipment.
ServerLIFT Serves U.S. Government Agencies
Some of our customers rely on our data center lifts for mission-critical government work.
Tips and Instructions for Use
Quick Safety Tips
Key safety tips for all ServerLIFT data center lift users.
Unpacking Instructions
Here is how to get started when your brand new lift arrives.
Why OUR CUSTOMERS RELY ON SERVERLIFT
I would recommend it 100%. It literally has saved my team's backs. This last year was our biggest year, and for us to do as much as we did (we did almost 200 racks in 6 months)...you can't do that kind of work without having something that makes your job easier. ServerLIFT has taken all of that burden off of my team.
The ServerLIFT unit was of great benefit during the racking of our blade centers. With the use of the strap kit, one person was able to unbox and safely place the 300-pound device into a rack on the rails. The benefit of not having to remove the blades and power supply components from the chassis to make it lighter saved time and potential damage.
Without a ServerLIFT data center lift here, customers, they would be...let's just say, very displeased if we didn't offer that sort of a service when they got there and they went to rack their gear and they needed something to help them. It's something that they rely on.
We really rely on our ServerLIFT. It was one of the best investments we made for our data centers. Thank you!
We have a ServerLIFT solution and it's awesome. It can lift 500 lbs without issue. Even the largest Cisco devices can be installed using it. Our facilities group uses it to pull motors from CRAC Units. It's well worth the investment.
In 15 minutes, we racked an HP chassis and 15 new hard drive enclosures, with only one engineer. Using our new lift is much safer and quicker than using 3 engineers.
ServerLIFT is a great product that is easy to use, and promotes safety within the data center. It is especially useful to us in our new data centers, where we have standardized on 9ft. racks. I was most pleased with how easily it allowed us to move and re-rack our large AS/400 systems during a limited outage window.
I was initially using a manual lift to move servers and other equipment. When the ServerLIFT electric model came out it was an even better solution. If I have a server that needs to be installed and I am the only one available, I can get it down quickly and easily with the ServerLIFT.
Safety is our #1 priority. Originally, we didn't have the resources to install the hardware safely. We were using battery- operated, hand-crank lifts, but they required too much maintenance. Now, our ServerLIFT unit is well-used and everybody is happy with the 'Cadillac' we bought. It's a great investment.
Speak to a specialist to find the right lifting solution for your data center.
Download our FREE white paper, "Best Practices for Moving IT Equipment in the Data Center"
Whether operators are performing standard functions or migrating IT equipment between facilities, our free guidebook offers a valuable checklist for performing a move safely and without unnecessary risk.