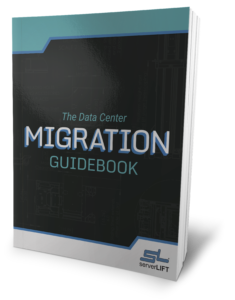 Download our FREE white paper, "The Data Center Migration Guidebook"
The mission of ServerLIFT Corporation is to provide the safest and most effective tools and solutions for the physical handling of rack-mounted IT equipment.
ServerLIFT Corporation was founded in 2002 in response to a growing demand for a better way to move servers and other equipment within the data center. With a strong focus on the integration of design and manufacturing, we are now the premier provider of IT equipment and server handling solutions in the data center industry.
ServerLIFT is the best choice for leading data centers around the world, creating a competitive advantage for them. From the beginning, we conducted extensive research to identify the key features required to move servers and peripheral equipment safely and efficiently in the modern data center. This ongoing endeavor was meticulously integrated with top engineering and design talent to manufacture products that created an industry and defined its highest standards. This effort is ongoing, as we continue to innovate and respond to clients' needs.
ServerLIFT has forever changed the way IT equipment is handled, in a way that data center experts want and need it to be done. By taking a holistic view of evolving demands, IT processes, and industry trends, our product roadmap ensures that ServerLIFT will continue to be the IT professional's safest and smartest data center decision.
Why OUR CUSTOMERS RELY ON SERVERLIFT
In 15 minutes, we racked an HP chassis and 15 new hard drive enclosures, with only one engineer. Using our new lift is much safer and quicker than using 3 engineers.
Safety is our #1 priority. Originally, we didn't have the resources to install the hardware safely. We were using battery- operated, hand-crank lifts, but they required too much maintenance. Now, our ServerLIFT unit is well-used and everybody is happy with the 'Cadillac' we bought. It's a great investment.
The ServerLIFT unit was of great benefit during the racking of our blade centers. With the use of the strap kit, one person was able to unbox and safely place the 300-pound device into a rack on the rails. The benefit of not having to remove the blades and power supply components from the chassis to make it lighter saved time and potential damage.
We have a ServerLIFT solution and it's awesome. It can lift 500 lbs without issue. Even the largest Cisco devices can be installed using it. Our facilities group uses it to pull motors from CRAC Units. It's well worth the investment.
ServerLIFT is a great product that is easy to use, and promotes safety within the data center. It is especially useful to us in our new data centers, where we have standardized on 9ft. racks. I was most pleased with how easily it allowed us to move and re-rack our large AS/400 systems during a limited outage window.
I was initially using a manual lift to move servers and other equipment. When the ServerLIFT electric model came out it was an even better solution. If I have a server that needs to be installed and I am the only one available, I can get it down quickly and easily with the ServerLIFT.
Speak to a specialist to find the right lifting solution for your data center.
Download our FREE white paper, "Best Practices for Data Center Equipment Handling"
Using the wrong equipment and ignoring safety standards within your data center can have an incalculable cost. Our free guidebook details how to avoid injuries and implement the right equipment for the right projects.