GT-1000X™ Bi-Directional Glide Table
Effortless, Friction-Free Server Moves
The GT-1000X™ Glide Table helps you load and unload heavy servers with ease. The integrated rollers reduce friction for effortless gliding, and can also be locked out with the built-in brake for safely securing the server in place during transport. Slide servers and switches on or off the ServerLIFT® platform for a no-stress server move…. every time.
Safely Install or Remove Data Center Equipment
Data center managers trust ServerLIFT® Assisted Lifting Devices (ALDs) to position and move their most substantial IT equipment, up to 1,000 lbs (454 kg). The GT-1000X Bi-Directional Glide Table dramatically reduces effort and time spent racking equipment, saving you time and money. The brake handle locks out rollers to keep servers stationary, giving operators greater control over the entire server-handling process.  
Glide Servers On and Off Your Data Center Lift
The GT-1000X Glide Table works with all of the ServerLIFT® model platforms to accommodate small server rooms to the largest, most active operations.
Mounts onto all ServerLIFT® model lifts
Fits into standard 19" racks
Requires no tools or assembly
Frictionless IT equipment movement in two directions
Safe, one-handed heavy equipment gliding
Handles up to 1,000 lbs (454 kg)
Can be attached for right or left hand operation on an SL-500FX™ Front-Loading Lift
Can be attached to or used in conjunction with the RL-500 Riser™ and the PL-500X® Platform Extension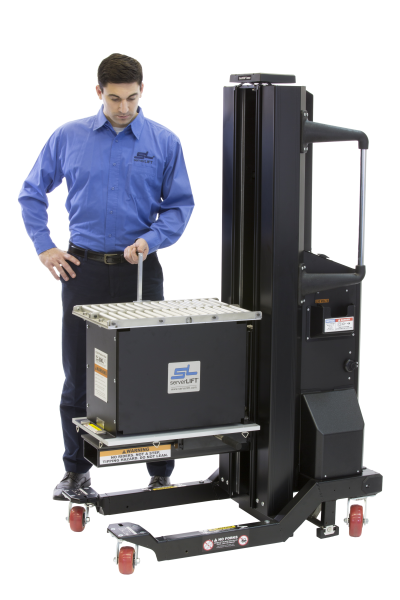 The ServerLIFT® Guarantee
The GT-1000X Bi-Directional Glide Table is backed by a worry-free, 30-day Money-Back Guarantee.
SHOP MORE SERVERLIFT® ATTACHMENTS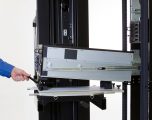 The RS-500X™ Rail Lift supports and tilts servers to the perfect angle for aligning and guiding server nailheads into or out of J-shaped rail slots.
Learn more »

The FE-3X™ Extended Shelf increases the server support of the SL-500FX Front Loader to a full 20 inches (50 cm) deep into the rack.
Learn more »

The RL-500™ Platform Riser increases the reach of any ServerLIFT® by 8U and ensures that server installs are seamless and safe for all data center applications.
Learn more »

The ServerLIFT® PL-500X® Platform Extension includes all the functionality of the LE-Series Lift Extensions, and gives you server support lower than the bottom of the rack...all the way to the floor.
Learn more »
Why OUR CUSTOMERS RELY ON SERVERLIFT®
Without a ServerLIFT® data center lift here, customers, they would be...let's just say, very displeased if we didn't offer that sort of a service when they got there and they went to rack their gear and they needed something to help them. It's something that they rely on.
ServerLIFT® makes a great product that is easy to use, and promotes safety within the data center. It is especially useful to us in our new data centers, where we have standardized on 9ft. racks. I was most pleased with how easily it allowed us to move and re-rack our large AS/400 systems during a limited outage window.
I would recommend it 100%. It literally has saved my team's backs. This last year was our biggest year, and for us to do as much as we did (we did almost 200 racks in 6 months)...you can't do that kind of work without having something that makes your job easier. ServerLIFT® solutions have taken all of that burden off of my team.
I was initially using a manual lift to move servers and other equipment. When the ServerLIFT® electric model came out it was an even better solution. If I have a server that needs to be installed and I am the only one available, I can get it down quickly and easily with the ServerLIFT® unit.
We have a ServerLIFT® solution and it's awesome. It can lift 500 lbs without issue. Even the largest Cisco devices can be installed using it. Our facilities group uses it to pull motors from CRAC Units. It's well worth the investment.
In 15 minutes, we racked an HP chassis and 15 new hard drive enclosures, with only one engineer. Using our new ServerLIFT® lift is much safer and quicker than using 3 engineers.
Safety is our #1 priority. Originally, we didn't have the resources to install the hardware safely. We were using other brands of both battery- operated and hand-crank lifts, but they required too much maintenance. Now, our ServerLIFT® unit is well-used and everybody is happy with the 'Cadillac' we bought. It's a great investment.
The ServerLIFT® unit was of great benefit during the racking of our blade centers. With the use of the strap kit, one person was able to unbox and safely place the 300-pound device into a rack on the rails. The benefit of not having to remove the blades and power supply components from the chassis to make it lighter saved time and potential damage.
Speak to a specialist to find the right lifting solution for your data center.
Download our FREE white paper, "The Data Center Migration Guide"
Optimizing IT production is dependent on properly updating and maintaining your equipment and data center facilities. Utilize our free guidebook to visualize, plan, and execute a data center migration.