ServerLIFT® Quality Assurance
A reputation for quality is earned, not given.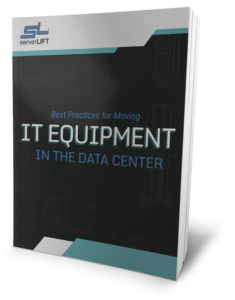 Download our FREE white paper, "Best Practices for Moving IT Equipment in the Data Center"
Quality Maintenance at ServerLIFT®
At ServerLIFT®, our goal is not just to deliver the optimal product for your data center. Our data center lifts and accessories are accompanied by the best customer service and the highest reputation for quality.
This process begins with our mentality: that continual improvement means looking for innovation at every turn. And, of course, that a reputation for excellence must be earned. The system of checks and balances we have put into place continuously maintains and improves our standards.
This constantly audited, fully accredited system includes independent auditing bodies from around the world and represents multiple global certifications for manufacturing, safety, and management. To learn more about our certifications and standards, click here.
Quality Assurance from ServerLIFT®
Our process begins with regular internal audits. These facility audits are performed regularly along with internal surveillance audits. We also audit our suppliers using outside independent quality assurance inspections. This ensures that the parts coming in meet our team's high standards and the standards of our clients.
We are also audited externally, which includes strict compliance with ISO 9001 for quality in manufacturing and ISO 14001 for minimizing our environmental impact. Any potentially hazardous materials, including batteries and winch motor oil, are strictly handled and disposed of or recycled according to accepted local regulations. In our facility, we maintain a robust recycling process.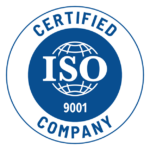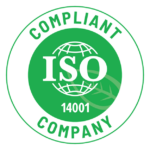 Our products also undergo electromagnetic immunity and emissions testing for CE accreditation. Finally, UL representatives also perform spot checks. Independently accredited labs and auditors are always welcome at our facilities.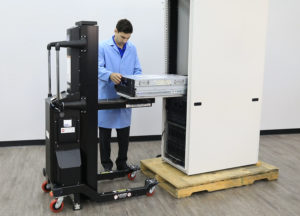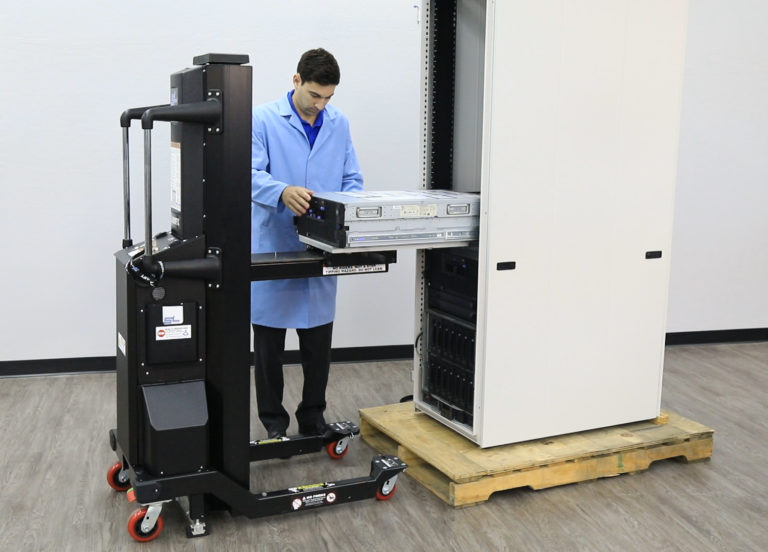 Product Testing
Our products are tested extensively and then retested for quality assurance. Our supply chain, production, and engineering teams are all involved in the process. This fine-tuned system ensures that we evaluate all manufacturing and delivery processes, and that defects are discarded and do not resurface.
ServerLIFT® Distributors
Picking our distributors is a selective and discerning process. These partners represent ServerLIFT® in multiple regions and are sometimes the first point of contact for a potential customer.
Our distributors must care about our clients and their specific needs. Data center owners and managers know that even within companies, no two data centers are alike and require customized assistance. Our distributors must also have a comprehensive understanding of our data center lifting devices and why our customers would benefit from them.
They must also maintain adequate stock in their geographic area so that you receive a quick delivery, along with excellent internal or third-party service and support. Our distribution partners are knowledgeable problem-solvers serving as a trusted extension of ServerLIFT® at all times. If a client wishes to work with a particular reseller, we will support that relationship as well.
The ServerLIFT® Commitment to Quality

ServerLIFT® is the only data center lift manufacturer going to these lengths in an effort to maintain optimal quality on the products you purchase. Our cross-functional teams provide across-the-board coverage so that no design, production, or finished product stages are left unattended.
Service and Support
Our service and support teams are ready for your questions and requests. Responses to requests for help are normally delivered within several hours. We strive to solve a problem within 24-48 hours whenever possible. Our customers also receive access to localized materials in Spanish and French, our extended warranties, and our 30-day money back guarantee.
Each of these steps ensure that our highly specialized quality assurance results trickle down directly to you, our customer. For any additional questions, click here.
Safety Is Our Top Priority
ServerLIFT® server handling lifts are designed to be the data center professional's safest and smartest decision. Ours is the only data center lift certified to meet global safety standards, with a 100% accident-free record reported by our customers.
Why OUR CUSTOMERS RELY ON SERVERLIFT®
Without a ServerLIFT® data center lift here, customers, they would be...let's just say, very displeased if we didn't offer that sort of a service when they got there and they went to rack their gear and they needed something to help them. It's something that they rely on.
ServerLIFT® makes a great product that is easy to use, and promotes safety within the data center. It is especially useful to us in our new data centers, where we have standardized on 9ft. racks. I was most pleased with how easily it allowed us to move and re-rack our large AS/400 systems during a limited outage window.
I would recommend it 100%. It literally has saved my team's backs. This last year was our biggest year, and for us to do as much as we did (we did almost 200 racks in 6 months)...you can't do that kind of work without having something that makes your job easier. ServerLIFT® solutions have taken all of that burden off of my team.
I was initially using a manual lift to move servers and other equipment. When the ServerLIFT® electric model came out it was an even better solution. If I have a server that needs to be installed and I am the only one available, I can get it down quickly and easily with the ServerLIFT® unit.
We have a ServerLIFT® solution and it's awesome. It can lift 500 lbs without issue. Even the largest Cisco devices can be installed using it. Our facilities group uses it to pull motors from CRAC Units. It's well worth the investment.
In 15 minutes, we racked an HP chassis and 15 new hard drive enclosures, with only one engineer. Using our new ServerLIFT® lift is much safer and quicker than using 3 engineers.
Safety is our #1 priority. Originally, we didn't have the resources to install the hardware safely. We were using other brands of both battery- operated and hand-crank lifts, but they required too much maintenance. Now, our ServerLIFT® unit is well-used and everybody is happy with the 'Cadillac' we bought. It's a great investment.
The ServerLIFT® unit was of great benefit during the racking of our blade centers. With the use of the strap kit, one person was able to unbox and safely place the 300-pound device into a rack on the rails. The benefit of not having to remove the blades and power supply components from the chassis to make it lighter saved time and potential damage.
Speak to a specialist to find the right lifting solution for your data center.
Download our FREE white paper, "Buying a Data Center Lifting Device"
Your data center is mission critical, and downtime can mean tens of thousands of angry customers and millions in losses. Our free guidebook helps you to identify the correct tools for avoiding downtime effectively as a data center manager.