Rack Like a Pro: Data Center Tips
The data center is a space where rapid change is the rule. The top professionals in the field understand that the data center has very specific operational demands which require unique processes, expertise, and equipment.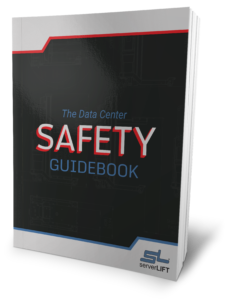 Download our FREE white paper, "The Data Center Safety Guidebook"
Rack Like a Pro: Data Center Tips
Professional data center builders, planners, operators, executives, and managers never compromise. They tend to follow careful, well-executed plans focused on streamlined operations, efficiency, and safety. 
In a challenging and competitive environment where every little bit better is a big deal, optimal efficiency requires evaluation of a variety of factors, from available square footage to heating and cooling. How you deploy, service, or migrate rack-mounted servers and other equipment is also a significant consideration.
The pros take the same approach in solving those unique problems, and we've compiled those solutions and created some basic data center tips. Transporting, positioning, and installing (or removing) servers by hand or with a mechanical lift not designed for the task is simply never an option for them. 
How to safely set up, rack, and install a server in the most professional manner can be accomplished by following these best practices.
Increase Safety
Lifts that are not designed correctly for data center use endanger every staff member and every move on your floor. That's why facilities that use professional, ServerLIFT data center lifts have a reported 100% accident-free record for their people and equipment. 
Our safety-focused products adhere to multiple global and regional standards for safety, including CE, FCC, IC, ISO, and UL certifications. In addition, our lifting solutions can compliment your ISO:45001 occupational health and safety management system.
Streamline Server Deployment
Server density is increasing as square footage grows more expensive. It's not uncommon for IT departments to downsize staff or lengthen operator shifts to meet these growing demands on budget. This, in turn, complicates the transportation, positioning, installation, and removal of equipment.
A professional-grade data center lifting device from ServerLIFT enables a single tech to easily handle otherwise difficult moves of up to 1,000 lbs. into and out of server racks. Traversing the data center floor is no longer risky, thanks to a design that navigates floor obstructions without tipping. 
In addition, ServerLIFT has a solution to reach any rack position, including the top of a 60U rack or close to the floor (depending on the models and accessories chosen), and can assist in angling equipment as needed. From start to finish, server deployment is streamlined so any user can Rack Like a Pro.
Reduce Costs
Switching to a ServerLIFT data center lift for equipment relocation means you only have to use one tech for every job—and they will no longer be put in harm's way while performing their work, which reduces employee leave due to injuries.  
Rack Like a Pro with ServerLIFT
A successful data center runs efficiently and within budget without any downtime. ServerLIFT data center equipment handling solutions are safety-designed and purpose-built for where and how you work. We can help you to choose a high-quality server-handling solution that pros use—one that eliminates risk, streamlines equipment deployment,  and continues to deliver long-term value to your data center operations. 
Our warranty coverage and Buyback Program, along with an excellent customer service team, all result in making a ServerLIFT purchase a high-value return on investment selected by professionals.
Why OUR CUSTOMERS RELY ON SERVERLIFT
I was initially using a manual lift to move servers and other equipment. When the ServerLIFT electric model came out it was an even better solution. If I have a server that needs to be installed and I am the only one available, I can get it down quickly and easily with the ServerLIFT.
ServerLIFT is a great product that is easy to use, and promotes safety within the data center. It is especially useful to us in our new data centers, where we have standardized on 9ft. racks. I was most pleased with how easily it allowed us to move and re-rack our large AS/400 systems during a limited outage window.
We have a ServerLIFT solution and it's awesome. It can lift 500 lbs without issue. Even the largest Cisco devices can be installed using it. Our facilities group uses it to pull motors from CRAC Units. It's well worth the investment.
In 15 minutes, we racked an HP chassis and 15 new hard drive enclosures, with only one engineer. Using our new lift is much safer and quicker than using 3 engineers.
Safety is our #1 priority. Originally, we didn't have the resources to install the hardware safely. We were using battery- operated, hand-crank lifts, but they required too much maintenance. Now, our ServerLIFT unit is well-used and everybody is happy with the 'Cadillac' we bought. It's a great investment.
The ServerLIFT unit was of great benefit during the racking of our blade centers. With the use of the strap kit, one person was able to unbox and safely place the 300-pound device into a rack on the rails. The benefit of not having to remove the blades and power supply components from the chassis to make it lighter saved time and potential damage.
Speak to a specialist to find the right lifting solution for your data center.
Download our FREE white paper, "Best Practices for Moving IT Equipment in the Data Center"
Whether operators are performing standard functions or migrating IT equipment between facilities, our free guidebook offers a valuable checklist for performing a move safely and without unnecessary risk.