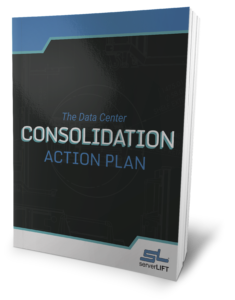 Last ned vår GRATIS hvitbok, "Handlingsplan for datasenterkonsolidering"
Quoted shipping dates are estimated and subject to availability of goods at time of acceptance of order by ServerLIFT®, and subject to the full disclosure by the Purchaser of any and all shipping or delivery information requested by ServerLIFT.
Delivery of goods will not be unreasonably withheld or delayed for accounts in good standing or for pre-paid orders. Past due balances may result in ServerLIFT® withholding or delaying deliveries to Purchaser, even in the case of a pre-paid order. Any and all costs to ServerLIFT® for delivery delays that result from late payments, non-payment, account and credit holds, or any other delay caused by the Purchaser, an agent, affiliate or customer of the Purchaser, will be the sole responsibility of the Purchaser and Purchaser agrees to reimburse ServerLIFT® for all such charges and associated fees.
Forsendelser til / i Nord-Amerika vil bli styrt av følgende leveringsbetingelser: Forsendelser som er utført til eller levert utenfor Nord-Amerika vil bli styrt av forsendelsespesifikke og avtalte leveringsbetingelser som spesifisert av INCOTERMS 2010.
Risk of loss shall pass to the Purchaser at the time of and at the named place of delivery. When Purchaser arranges any part of shipment, risk of loss shall pass to Purchaser upon transfer of goods from ServerLIFT® or its agent(s) to Purchaser or its agent(s).
Tip N' Tell indicators are placed on all cartons and crates shipped by ServerLIFT®. These indicators will activate if the goods were tipped or dropped on their side. At the time of and place of delivery, the consignee or receiving agent must inspect the Tip N' Tells for each piece in the shipment. Any activated indicators as well as all visible damage to the goods and packaging must be noted on the Bill of Lading by both the receiver and driver prior to accepting delivery.
Even if no damage is visible, the shipment should be unpackaged and inspected.In all instances of damage, photos should be taken if possible, and the packaging should be saved.ServerLIFT® must be contacted immediately and notified in writing upon discovery of damage or defects. Purchaser agrees that damage or defects resulting from shipping or mishandling that are not noted at the time of delivery, documented, and disclosed to ServerLIFT® on the day of delivery, will be considered to have occurred after the time of delivery and will not be covered by ServerLIFT® warranties or the responsibility of ServerLIFT®, its agents or carriers.
Alle fraktpriser er estimater. Kjøper samtykker i å betale alle endelige forsendelsesomkostninger i henhold til leveringsbetingelsene, inkludert gjeldende for alle spesielle tjenester forespurt av transportøren på leveringstidspunktet, selv om det ikke blir bedt om på forhånd.
KRAFT MAJEURE: ServerLIFT® is not responsible for any delay or failure to perform due to causes beyond its reasonable control. These causes include, but shall not be restricted to, fire, storm, flood, explosion, accident, acts of a public enemy, terrorism, labor disputes, labor shortages, transportation, or failure or delays in transportation, inability to secure raw materials or machinery for the manufacture of its devices, acts of G-d, acts of Federal Government or any agency thereof, acts of any state or local government or agency thereof, and judicial action. Similar causes shall excuse Purchaser for failure to take goods ordered by Purchaser, other than those already in transit, or those especially fabricated and not readily salable to others.
GJENNOMFØRENDE LOV OG FORUMVALG: Denne avtalen og dens utførelse av forpliktelser pålagt av den, konstruksjon og tolkning er regulert av lovene i staten Arizona, eller et annet sted som gjensidig er enige om av begge parter, til utelukkelse av loven til noe annet forum og uten med tanke på jurisdiksjon der handlinger eller spesiell prosedyre kan bli iverksatt. Kjøper skal til enhver tid overholde alle gjeldende føderale, statlige og lokale lover og forskrifter. Med mindre annet er avtalt av begge parter, har Arizona Superior Court for Maricopa County og USAs distriktsrett for District of Arizona for de saker som den har saksområde jurisdiksjon den eneste og eksklusive jurisdiksjonen når det gjelder saker anlagt å håndheve, eller tolke denne avtalen og avgjøre eventuelle tvister som oppstår under den.
ANVENDELSE AV VARER OG ANSVARLIG BRUK: ServerLIFT®, its agents, contractors, consultants, employees, officers, and its directors are not responsible for all claims, losses, suits, judgments, awards, costs or expenses whether arising in tort or contract, including Attorney's fees, expenses and costs, arising out of the (i) application of Goods to Purchaser's designs and/or products, or ServerLIFT®'s assistance in the application of Goods, (ii) negligent acts or omissions of the Purchaser or its employees, (iii) failure to use or maintain ServerLIFT®'s products in accordance with the instructions for their use and maintenance or (iv) Purchaser's breach of these Terms and Conditions.
KONFIDENSIALITET: Ingen av partene skal røpe konfidensiell informasjon til noen tredjepart, med mindre den avslørende parten mottar skriftlig samtykke til det motsatte fra den andre. Informasjon som er gitt ut av en av partene til hverandre som den avslørende parten ikke har gjort offentlig tilgjengelig (dvs. via deres hjemmeside, eller som enkelt og rimelig kan fås), skal som standard anses å være konfidensiell informasjon.
GYLDIGHET: Any failure of ServerLIFT® to enforce at any time, or for any period of time, any of the provisions set forth herein, is not constitute a waiver of those provisions or in any way affect the validity of these Terms and Conditions.
UGYLDIGHET: Ugyldigheten eller ikke-gjennomførbarheten av noen vilkår eller bestemmelser i disse vilkårene ugyldiggjør eller forringer ikke gjenværende bestemmelser, som skal forbli i full kraft.
| Fraktperiode | Leveringssted | Beskrivelse |
| --- | --- | --- |
| FOB Destination, Prepaid, Add & Handling* | | Shipper (ServerLIFT) håndterer varer, inkludert planlegging, forsikring og dokumentasjon til destinasjonen. Alle kostnader og håndteringsomkostninger forhåndsbetales av avsender, og legges til kjøperens faktura. |
| | | Innkjøper eller kjøpers utpekte transportør håndterer varer, inkludert planlegging, forsikring og dokumentasjon til destinasjonen. Alle kostnader og håndteringsomkostninger betales av kjøperen. |
Hvorfor våre kunder stoler på serverløft®
Without a ServerLIFT® data center lift here, customers, they would be...let's just say, very displeased if we didn't offer that sort of a service when they got there and they went to rack their gear and they needed something to help them. It's something that they rely on.
ServerLIFT® makes a great product that is easy to use, and promotes safety within the data center. It is especially useful to us in our new data centers, where we have standardized on 9ft. racks. I was most pleased with how easily it allowed us to move and re-rack our large AS/400 systems during a limited outage window.
I would recommend it 100%. It literally has saved my team's backs. This last year was our biggest year, and for us to do as much as we did (we did almost 200 racks in 6 months)...you can't do that kind of work without having something that makes your job easier. ServerLIFT® solutions have taken all of that burden off of my team.
I was initially using a manual lift to move servers and other equipment. When the ServerLIFT® electric model came out it was an even better solution. If I have a server that needs to be installed and I am the only one available, I can get it down quickly and easily with the ServerLIFT® unit.
We have a ServerLIFT® solution and it's awesome. It can lift 500 lbs without issue. Even the largest Cisco devices can be installed using it. Our facilities group uses it to pull motors from CRAC Units. It's well worth the investment.
In 15 minutes, we racked an HP chassis and 15 new hard drive enclosures, with only one engineer. Using our new ServerLIFT® lift is much safer and quicker than using 3 engineers.
Safety is our #1 priority. Originally, we didn't have the resources to install the hardware safely. We were using other brands of both battery- operated and hand-crank lifts, but they required too much maintenance. Now, our ServerLIFT® unit is well-used and everybody is happy with the 'Cadillac' we bought. It's a great investment.
ServerLIFT® unit was of great benefit during the racking of our blade centers. With the use of the strap kit, one person was able to unbox and safely place the 300-pound device into a rack on the rails. The benefit of not having to remove the blades and power supply components from the chassis to make it lighter saved time and potential damage.
Snakk med en spesialist for å finne den rette løfteløsningen for ditt datasenter.
Last ned vår GRATIS hvitbok, "Beste fremgangsmåter for å flytte IT-utstyr i datasenteret"
Enten operatører utfører standardfunksjoner eller flytter IT-utstyr mellom anleggene, tilbyr vår gratis guidebok en verdifull sjekkliste for å utføre en bevegelse trygt og uten unødvendig risiko.