PL-500X™ Platform Extension
IT Equipment Handling Down to the Floor
The PL-500X™ Platform Extension brings the reach of any ServerLIFT® machine down to the floor, so that it can safely and precisely handle equipment at bottom rack positions for near-ground installs. Extend your reach beyond and below the ServerLIFT® machine frame, enabling you to perform assisted moves in even the most challenging of spaces.


Lifts Servers Out of Boxes

Reach the Bottom-Most Rack Positions with a ServerLIFT® PL-500X Platform Extension
The PL-500X Platform Extension transforms the ServerLIFT® device into the only tool that can safely support heavy servers down to the floor or up to the top of any rack. The extension's platform leveler enables the operator to tilt the equipment up or down for precise server alignment and perfect installations every time.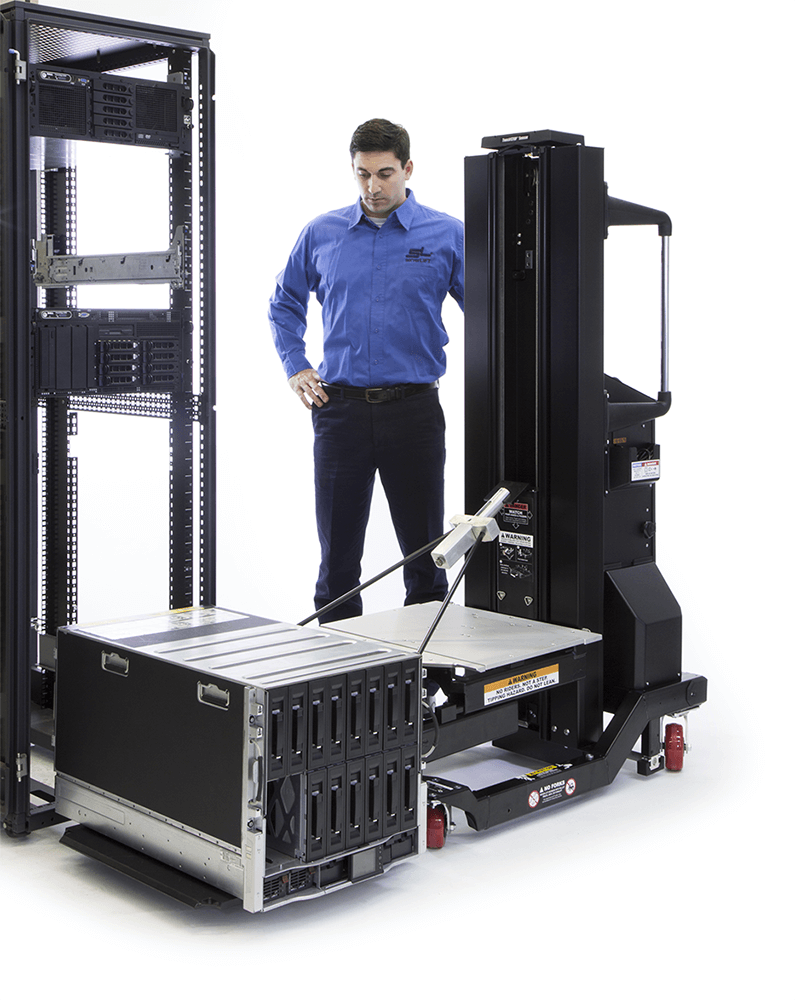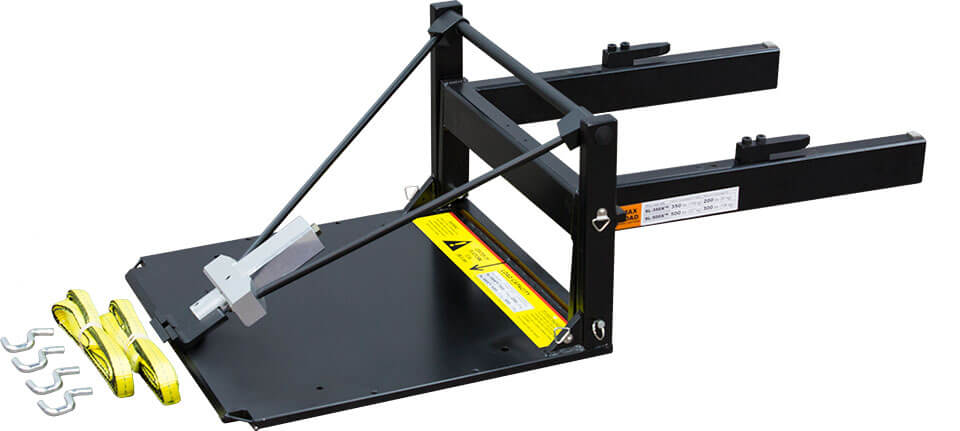 Unique Features and Functions
Supports up to 500 pounds (227 kg)
Reaches servers and switches at the floor level
Heavy-duty steel construction
Micro-tilt adjustment for perfect front-to-back equipment leveling
Removable horizontal attachment arms for convenient storage
Simple attachment and removal
No dangerous back bending or strained lifting
Multiple strap attachment points for securing servers to the platform during transport
Lifting Servers from Boxes and Pallets
You and your staff will never again have to lift IT equipment off pallets or out of boxes, avoiding the risk of a back injury and/or server damage. 
The Platform Extension gives you reach beyond the ServerLIFT® Wheel Base for interference-free overhead access to new server packaging.
With the four sling hooks installed on the extension, slide the heavy-duty yellow slings under the server you want to un-box, and secure each end to one of the hooks. Then, the ServerLIFT® machine and PL-500X Extension combine to lift the server and its packaging right up off of the ground.
You can easily remove the box and packing foam from the server fully intact to save for later, in case of a return or future migration project.
After setting the server down onto a table or counter and transferring it to the ServerLIFT® or PL-500X platform surface, you're ready to shift to installation mode.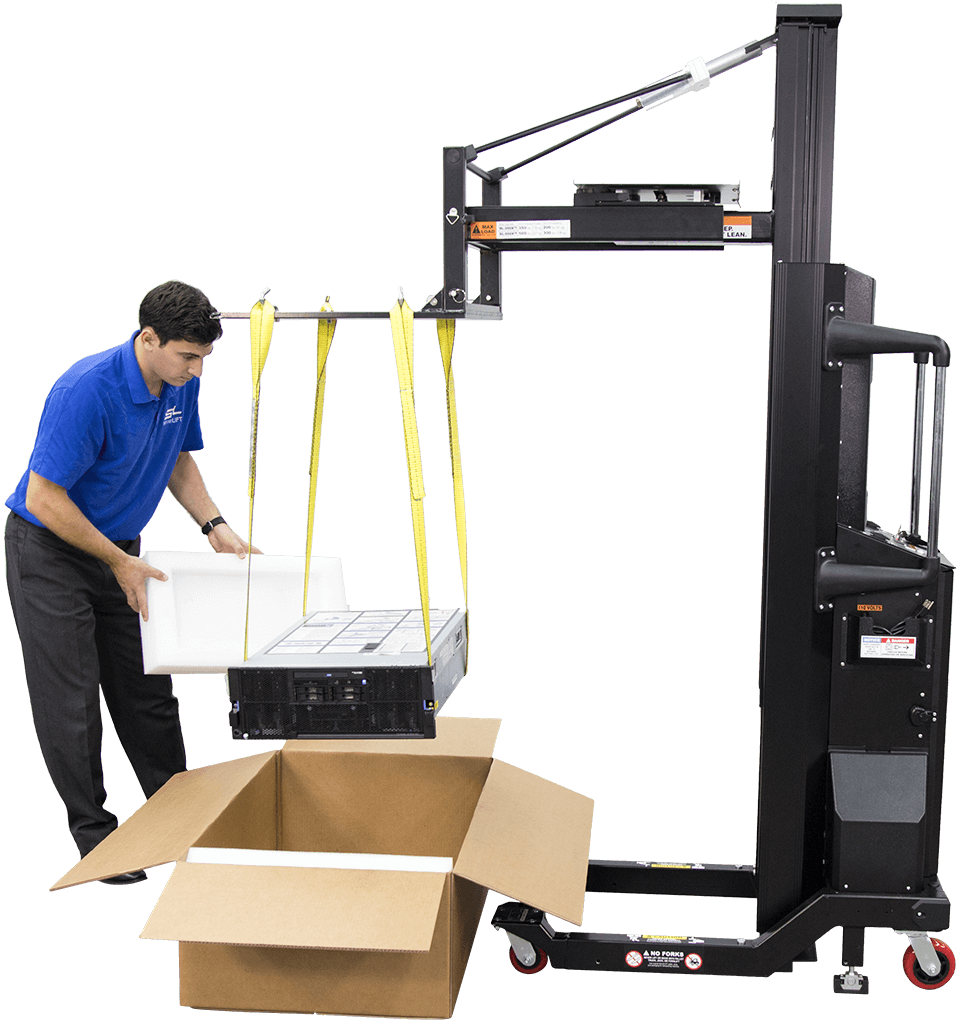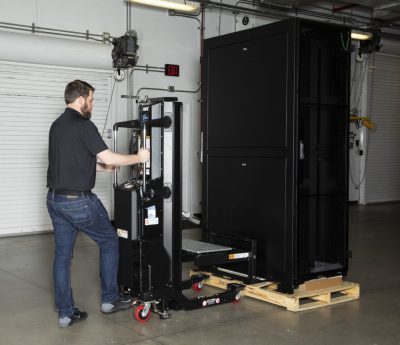 Compatibility and Benefits
The Platform Extension is compatible with the ServerLIFT® SL-350X® or SL-500X® model data center lifts. The PL-500X Platform Extension includes:
Two heavy-duty slings
Four sling hooks
Fine-tilt adjustment ratchet and socket
Counterweight kit for rear of ServerLIFT unit
Removable horizontal attachment arms for convenient storage
Zippered storage bag
The ServerLIFT® Guarantee
The PL-500X Platform Extension is backed by a worry-free, 30-day Money-Back Guarantee.  
SHOP MORE SERVERLIFT® ATTACHMENTS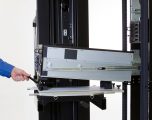 The RS-500X™ Rail Lift supports and tilts servers to the perfect angle for aligning and guiding server nailheads into or out of J-shaped rail slots.
Learn more »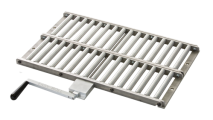 The GT-1000X™ Bi-Directional Glide Table helps you load and unload heavy servers with a single hand for a no-stress server move...every time.
Learn more »

The RL-500™ Platform Riser increases the reach of any ServerLIFT® by 8U and ensures that server installs are seamless and safe for all data center applications.
Learn more »

The LE-Series™ Lift Extensions assist with lifting heavy IT equipment off of pallets and out of boxes.
Learn more »
Why OUR CUSTOMERS RELY ON SERVERLIFT®
I would recommend it 100%. It literally has saved my team's backs. This last year was our biggest year, and for us to do as much as we did (we did almost 200 racks in 6 months)...you can't do that kind of work without having something that makes your job easier. ServerLIFT® solutions have taken all of that burden off of my team.
The ServerLIFT® unit was of great benefit during the racking of our blade centers. With the use of the strap kit, one person was able to unbox and safely place the 300-pound device into a rack on the rails. The benefit of not having to remove the blades and power supply components from the chassis to make it lighter saved time and potential damage.
Without a ServerLIFT® data center lift here, customers, they would be...let's just say, very displeased if we didn't offer that sort of a service when they got there and they went to rack their gear and they needed something to help them. It's something that they rely on.
We really rely on our ServerLIFT® device. It was one of the best investments we made for our data centers. Thank you!
We have a ServerLIFT® solution and it's awesome. It can lift 500 lbs without issue. Even the largest Cisco devices can be installed using it. Our facilities group uses it to pull motors from CRAC Units. It's well worth the investment.
In 15 minutes, we racked an HP chassis and 15 new hard drive enclosures, with only one engineer. Using our new lift is much safer and quicker than using 3 engineers.
ServerLIFT® makes a great product that is easy to use, and promotes safety within the data center. It is especially useful to us in our new data centers, where we have standardized on 9ft. racks. I was most pleased with how easily it allowed us to move and re-rack our large AS/400 systems during a limited outage window.
I was initially using a manual lift to move servers and other equipment. When the ServerLIFT® electric model came out it was an even better solution. If I have a server that needs to be installed and I am the only one available, I can get it down quickly and easily with the ServerLIFT® unit.
Safety is our #1 priority. Originally, we didn't have the resources to install the hardware safely. We were using other brands of both battery- operated and hand-crank lifts, but they required too much maintenance. Now, our ServerLIFT® unit is well-used and everybody is happy with the 'Cadillac' we bought. It's a great investment.
Speak to a specialist to find the right lifting solution for your data center.
Download our FREE white paper, "Buying a Data Center Lifting Device"
Your data center is mission critical, and downtime can mean tens of thousands of angry customers and millions in losses. Our free guidebook helps you to identify the correct tools for avoiding downtime effectively as a data center manager.