ServerLIFT® Quality Assurance
Et rykte for kvalitet er tjent, ikke gitt.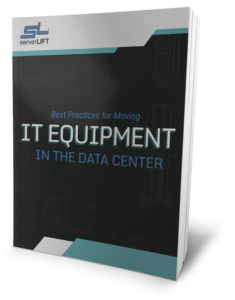 Last ned vår GRATIS hvitbok, "Beste fremgangsmåter for å flytte IT-utstyr i datasenteret"
Kvalitetsvedlikehold hos ServerLIFT®
At ServerLIFT®, our goal is not just to deliver the optimal product for your data center. Our data center lifts and accessories are accompanied by the best customer service and the highest reputation for quality.
Denne prosessen begynner med vår mentalitet: at kontinuerlig forbedring betyr å lete etter innovasjon på hver eneste sving. Og selvfølgelig at man må få et rykte for dyktighet. Systemet med kontroller og avveininger vi har innført, opprettholder og forbedrer kontinuerlig våre standarder.
Dette kontinuerlig reviderte, fullt akkrediterte systemet inkluderer uavhengige revisjonsorganer fra hele verden og representerer flere globale sertifiseringer for produksjon, sikkerhet og styring. Klikk her for å lære mer om sertifiseringene og standardene våre.
Kvalitetssikring fra ServerLIFT®
Prosessen vår begynner med regelmessige interne revisjoner. Disse anleggsrevisjonene utføres regelmessig sammen med interne overvåkningsrevisjoner. Vi kontrollerer også våre leverandører ved bruk av uavhengige kvalitetssikringsinspeksjoner. Dette sikrer at delene som kommer inn oppfyller teamets høye standarder og standardene til våre kunder.
Vi blir også revidert eksternt, som inkluderer strict etterlevelse av ISO 9001 for quality in manufacturing and ISO 14001 for minimizing our environmental impact. Any potentially hazardous materials, including batteries and winch motor oil, are strictly handled and disposed of or recycled according to accepted local regulations. In our facility, we maintain a robust recycling process.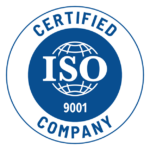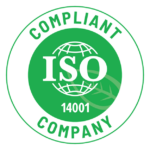 Produktene våre gjennomgår også elektromagnetisk immunitet og utslippstesting for CE-akkreditering. Til slutt, UL representanter utfører også stikkprøver. Uavhengig akkrediterte laboratorier og revisorer er alltid velkomne på våre fasiliteter.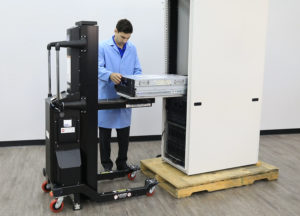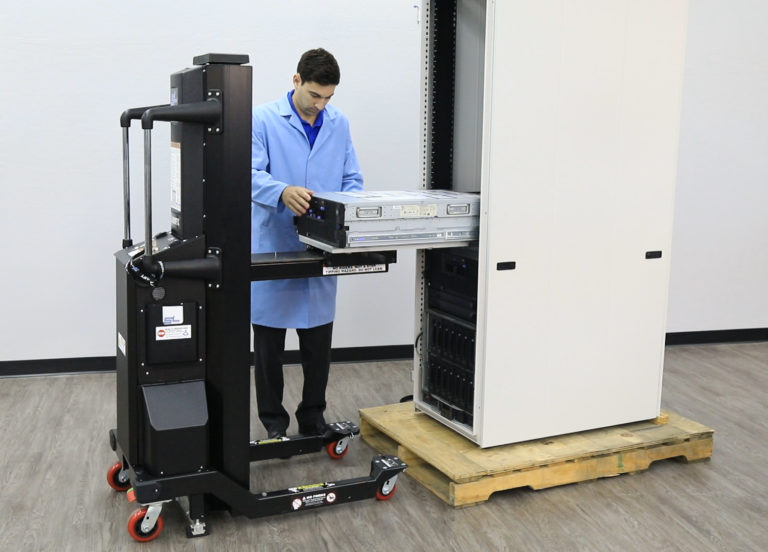 Produkttesting
Produktene våre er testet omfattende og deretter testet for kvalitetssikring. Våre forsyningskjede-, produksjons- og ingeniørteam er alle involvert i prosessen. Dette finjusterte systemet sikrer at vi evaluerer alle produksjons- og leveranseprosesser, og at feil blir kastet og ikke kommer opp igjen.
ServerLIFT® distributører
Picking our distributors is a selective and discerning process. These partners represent ServerLIFT® in multiple regions and are sometimes the first point of contact for a potential customer.
Våre distributører må bry seg om våre kunder og deres spesifikke behov. Datasentraleiere og -ledere vet at selv i selskaper er det ikke to datasentre som er like og krever tilpasset assistanse. Våre distributører må også ha en omfattende forståelse av løfteutstyrene for datasenteret og hvorfor kundene våre vil dra nytte av dem.
They must also maintain adequate stock in their geographic area so that you receive a quick delivery, along with excellent internal or third-party service and support. Our distribution partners are knowledgeable problem-solvers serving as a trusted extension of ServerLIFT® at all times. If a client wishes to work with a particular reseller, we will support that relationship as well.
ServerLIFT® Commitment to Quality

ServerLIFT® is the only data center lift manufacturer going to these lengths in an effort to maintain optimal quality on the products you purchase. Our cross-functional teams provide across-the-board coverage so that no design, production, or finished product stages are left unattended.
Service og support
Våre service og supportteam er klar for spørsmål og forespørsler. Svar på forespørsler om hjelp blir normalt levert innen flere timer. Vi prøver å løse et problem innen 24-48 timer når det er mulig. Kundene våre får også tilgang til lokaliserte materialer på spansk og fransk, våre utvidede garantier, og vår 30-dagers pengene tilbake-garanti.
Hver av disse trinnene sikrer at våre høyspesialiserte kvalitetssikringsresultater siver direkte til deg, vår kunde. For ytterligere spørsmål, klikk her.
Sikkerhet er vår topp prioritet
ServerLIFT® server handling lifts are designed to be the data center professional's safest and smartest decision. Ours is the only data center lift certified to meet global safety standards, with a 100% accident-free record reported by our customers.
Hvorfor våre kunder stoler på serverløft®
Without a ServerLIFT® data center lift here, customers, they would be...let's just say, very displeased if we didn't offer that sort of a service when they got there and they went to rack their gear and they needed something to help them. It's something that they rely on.
ServerLIFT® makes a great product that is easy to use, and promotes safety within the data center. It is especially useful to us in our new data centers, where we have standardized on 9ft. racks. I was most pleased with how easily it allowed us to move and re-rack our large AS/400 systems during a limited outage window.
I would recommend it 100%. It literally has saved my team's backs. This last year was our biggest year, and for us to do as much as we did (we did almost 200 racks in 6 months)...you can't do that kind of work without having something that makes your job easier. ServerLIFT® solutions have taken all of that burden off of my team.
I was initially using a manual lift to move servers and other equipment. When the ServerLIFT® electric model came out it was an even better solution. If I have a server that needs to be installed and I am the only one available, I can get it down quickly and easily with the ServerLIFT® unit.
We have a ServerLIFT® solution and it's awesome. It can lift 500 lbs without issue. Even the largest Cisco devices can be installed using it. Our facilities group uses it to pull motors from CRAC Units. It's well worth the investment.
In 15 minutes, we racked an HP chassis and 15 new hard drive enclosures, with only one engineer. Using our new ServerLIFT® lift is much safer and quicker than using 3 engineers.
Safety is our #1 priority. Originally, we didn't have the resources to install the hardware safely. We were using other brands of both battery- operated and hand-crank lifts, but they required too much maintenance. Now, our ServerLIFT® unit is well-used and everybody is happy with the 'Cadillac' we bought. It's a great investment.
ServerLIFT® unit was of great benefit during the racking of our blade centers. With the use of the strap kit, one person was able to unbox and safely place the 300-pound device into a rack on the rails. The benefit of not having to remove the blades and power supply components from the chassis to make it lighter saved time and potential damage.
Snakk med en spesialist for å finne den rette løfteløsningen for ditt datasenter.
Last ned vår GRATIS hvitbok, "Kjøpe et datasenter-løfteutstyr"
Datasenteret ditt er oppdragskritisk, og nedetid kan bety titusenvis av sinte kunder og millioner i tap. Vår gratis guidebok hjelper deg å identifisere de riktige verktøyene for å unngå driftsstans effektivt som datasenterleder.