The conversation about data centers—along with data storage density, cloud and edge computing, and other highly technical concepts—is constantly evolving. There is a central topic, however, that doesn't get equal attention. What we aren't talking about enough are the physical challenges of the data center environment. More specifically, how changes in server rack and facility designs are affecting data center operations. 
Servers and other equipment are more dense and heavier than ever before. This affects how companies transport, unbox, position, install, and remove every piece going into the data center environment. Servers are also getting longer from front to back, so server rack layout—specifically rack height and rack depth—must be modified. "It's an ever-changing environment, especially with technology changes within the server platforms themselves," notes A.D. Robison, VP Data Center and IT Services, North America with Rahi Systems. 
Data center temperature and humidity standards have changed, altering budget considerations and further transforming the physical footprint of the data center. Cabling and power supply strategies have done the same, affecting side clearance for racks, flooring choices, and overall spacing.
Each of these shifts in data center construction and deployment carry implications worth millions of dollars for facility owners and managers. They are just as important as the modernization and transformation happening to the computer, server, and networking systems held within these facilities, despite getting far less focus.
Safe, Smart Server Rack Design 
ServerLIFT sat down with two highly respected subject matter experts to discuss the evolution of server rack design and its implications: Chris Boyll, TAC Manager at Flexential and A.D. Robison, Director of Data Center Solutions at Rahi Systems. Our discussion began with the primary methods for safely supporting all equipment going into racks. We also took a deep dive into the popularity of different rail and mount types, and how they are being utilized in the modern data center.
There can, at times, be a gap between how the server manufacturer envisions the handling and installation of its equipment, the instructions they provide for doing so, and the physical implementation of those tasks by the data center techs on the floor. The reality of safely marrying a server and its provided attachment hardware with the racks and cabinets in a given facility and configuration isn't always as simple or easy as expected. That is why managers such as Boyll and Robison must think outside of the box. "Custom solutions are something we always have to look at, because there is still no perfect solution for every customer's needs," says Robison.
A note to clarify terminology for our purposes: the rack is the framework supporting the server and other equipment inside the cabinet. For part one of our series we are addressing the options and challenges of rack designs (and associated hardware options), not cabinets. We are also focusing exclusively on rack servers, not blade or tower servers, since handling rack servers is the most common physical task in data centers that requires an assisted lifting device.
Data Center Rack Rail Types
There are several popular hardware design options for rails: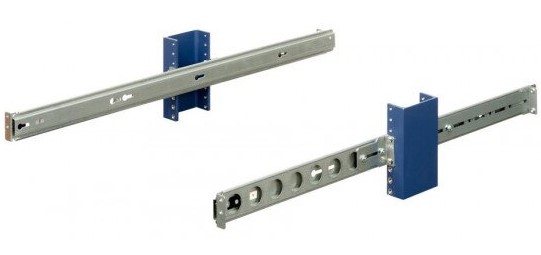 Slide Rails
Sliding rails are a popular choice for racking hardware because of the ability to slide equipment in and out for easy maintenance and replacement. Once equipment is attached into the sliding rail, it must be "locked" into place to prevent tipping or other accidents which can lead to injury. 
Chris Boyll prefers the use of slide rails in his data centers: "Slide rails are usually much better, just because I can set the equipment outside the rack and into the rails properly and slide it in."
Slide rails may employ slots and locking pins or through holes and screws as a means of securing the server to the rail. Of course, because they slide out, slide rails are inherently weaker and create a tipping force on the rack. As such, they are usually not a viable option for heavier equipment.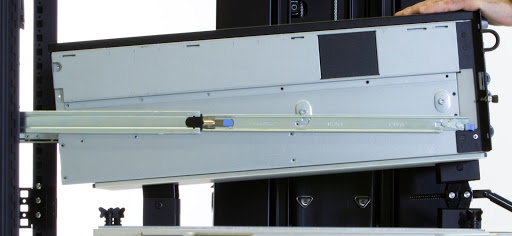 Slotted Slide Rails
In this configuration, a server can be placed into the rack so that locking pins drop into slots on the rail assembly. This saves an operator from having to fasten the server to the rail using screws, which can be tedious and potentially dangerous without a data center lift platform.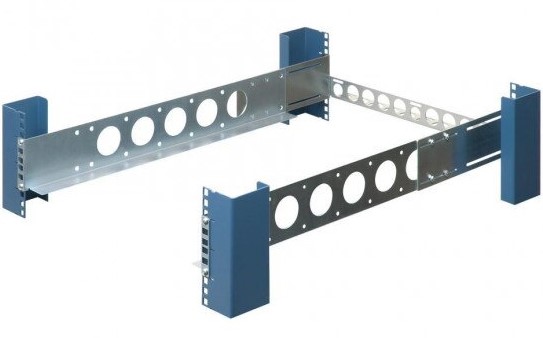 Fixed Rails
Fixed rails, as the name indicates, are generic rails used to place multiple types of equipment on a rack, without the ability to slide them freely in and out. Fixed rails are commonly used within cabinets designed with doors and other security mechanisms, as well as for very heavy servers and chassis.
Other rail deviations include thickness of the rack metal, choice of metal, whether the rails come with tapped holes or square holes filled with cage nuts, etc. Most manufacturers will send proprietary rails along with their server chassis and other equipment. "Without the right rails, the weight won't be supported, or even screw into the equipment properly," says Boyll. Even with provided materials, data center managers must often come up with a novel way to safely support the equipment while attaching it to the rails..
Rack Shelf Options
Rack shelves also vary by thickness, airflow capabilities, and several other variables. Popular types include vented, flat, center mount, cantilever, sliding pullout, and sliding keyboard (to work with a keyboard optimized for the rack).
"Some customers just like shelves because they may have to remove and replace equipment that goes into the rack frequently. Rather than unbolting stuff, they want to just put it on a shelf, slide it off when they need to slide it off, and reinstall it when they need to reinstall it," says Robison. He says they see this often in lab environments, where a box may not be sitting in the same spot in the data center for more than a few weeks for testing.
Rack Mount Types and Mounting Methods
A mounting kit secures the rack into place. Four-post mounting is most common for heavier equipment due to the amount of support. Otherwise, customers can weigh in on which type of shelf or rail mount will work best for their needs. 
As a colocation provider, Boyll recommends a specific setup for his clients: a sliding rail combined with front-mounted screws. "Ideally, we want to be able to build a rack from the ground up, but that doesn't always happen," he explains. 
"A lot of times, the rack is already in place, the piece of equipment is being upgraded, so we are throwing a new server into an already-populated rack," says Boyll. "And when you do that, you're placing the new server and getting it up and running, and then pulling out the old server. You can't just switch them out, they have to both be going simultaneously, while the new one is being set up. And then you can decommission the old one. That way, you never have downtime. Slide rails help quite a bit with that."
It's interesting to note that variations on the rack/rail/mount setup have been a reality since the dawn of the data center. Compare this, then, to the constantly changing technology it supports. Engineers stick with what's safest and easiest. It's clear that the right server rack parts make the difference in uptime and reliability.
The Evolving Server
One of the biggest changes A.D. and Chris are seeing with IT infrastructure support needs is in requests for high-density assistance. Servers are getting larger, heavier, and longer. 
According to Robison, "Cabinet depth is increasingly becoming an issue." Boyll concurs: "The racks have gotten a lot deeper. When I started (at Flexential), they were 36 inches deep; that was the standard. And then it went to 42 inches, and now it's 48 inches. Racks are getting deeper and deeper so they can fit longer and longer equipment in there."
Server length, and hence cabinet depth, directly affects data center design: "Servers are getting to the depth of 3.5 feet deep. If you only have a four-foot aisle, which previously accommodated all of the infrastructure, how do you now safely get that equipment in and out of that rack?" asks Robison. In addition to deeper cabinets, taller racks are also now available, and some customers ask for them specifically.
The "Standard" Ops Plan
There are two things any data center or operations manager must maintain while providing customer-driven design and services. They must have an up-to-date ops plan ensuring safe handling of all equipment, and the flexibility to work with custom orders. "It happens a lot, where our customers have never stepped inside our data center. We have a customer in Australia that has only ever mailed us their equipment. We rack it all for them, and set it all up for them," says Boyll. 
Robison gives another example:  "We just recently installed 700-millimeter-wide cabinets for a customer. 700 millimeters isn't anybody's standard, but we were able to make adjustments in our production of server cabinets to accommodate the request. The customer was very happy that we were able to do that in the same timeframe it would have taken to order and deliver custom-made cabinets."
DC managers have to stay on top of product and offering changes, which can have millions of dollars of design-making applications. The customer is always right. Everything has to be accommodated, even when every customer needs their servers deployed differently, down to the bracketry.
The Bottom Line
Another element is cost. Administrators must provide safe, always-on, customized services that don't decrease the bottom line. Whether it's in the row or in the rack itself, people are really looking toward minimizing those first costs for data center construction. It's one of the reasons colocation facilities have become so popular. "Every square foot spent on housing stationery equipment that requires clearances is something that people are looking at very closely right now because of real estate costs and construction costs. It's not getting cheaper; it's just getting more expensive," says Robison.

Densifying mechanical and electrical equipment and then integrating it into server topology is top of mind. Boyll says nothing takes precedence over connectivity. "Anything that we do, maintenance, whatever, it's all about maintaining uptime. It's our biggest thing." Design, flexibility, safety, and cost are all considered before a data center manager makes any decisions regarding cabinet racks, rails, and mounts. These are not tangential choices; they directly impact the safety of their operators, efficiency in carrying out a move or an install, and budget.
"It doesn't matter how big or how heavy it is. If you have the proper equipment to move it safely, you can accommodate it. The problems we see is that either transporting equipment is not available, or something hasn't been designed to safely move servers within the data center."
ServerLIFT designed a data center lift to fill that void. Click here to learn more about the Best Practices for Data Center Equipment Handling.
Stay tuned for an ongoing discussion about data center safety challenges. In our next article in this series, we will address open vs. closed-door cabinets, power and cooling system advances, flooring design, and more.