Security is a big concern for data centers. That's our focus this month as we look at the different areas of data center security, we show an (unfortunately) ingenious data center security breach, and we talk about preventative maintenance as a security measure.
We take a look at what data center security entails and how you can ensure your data center has the best security possible.
2. Penetration Testers Find Unique Way to Breach Data Center Security 
Penetration testers needed to find a way to breach a very secure colocation data center in a very short period of time. As they were up against the deadline of their task, they discovered an innovative way to test the data center's security. The data center failed.
3. Consolidate all your data center facility lift maintenance (yup, including forklifts) with our Total Care Service!
ServerLIFT does more than just manufacture the best and only safety-certified data center server-handling devices. We also offer onsite repair and preventative maintenance service on any kind of data center lift  across the globe and now on many other kinds of equipment in your data center (like forklifts, scissor lifts, boom lifts, pallet jacks, carts, and more) in the US. You benefit because your data center is more secure when you have just one vendor perform all your lift maintenance. Our Client Services team can provide more details.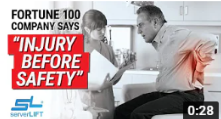 4. When ServerLIFT began to design our server-handling devices, incorporating safety features to prevent injuries was one of our top goals. After many years in the data center server-handling business, we have seen and heard about many data center workers who have been injured on the job because they were transporting servers and other heavy IT equipment by hand. These injuries shouldn't happen, and we endeavor every day to ensure that they don't.
Video link: https://www.youtube.com/watch?v=UIsekRW2MgY
Maybe you don't have a ServerLIFT device, but you're thinking about purchasing one. Maybe you have a different kind of lift and you'd like to replace it with a ServerLIFT device. Maybe you have a ServerLIFT device that you'd like to upgrade. Our Client Services team is ready to help answer your questions and help you make the best decision for your situation. Call us today at (602) 254-1557.
Stay safe,
Ray Zuckerman, CEO
ServerLIFT Corporation
602.254.1557 
Miss an issue of this newsletter? Check out back issues here.
Reviews really help us out. Please share your experience with ServerLIFT here.