Dell Inc. is an internationally recognized name and a global leader in personal computer (PC) sales. The company is headquartered in Round Rock, Texas, and had a revenue of $23.48 billion in 2020, a year-to-year increase of 3 percent. This beat analyst expectations of $21.9 billion. Its areas of focus include PCs, infrastructure, software, and the cloud. We are focusing on Dell today because it is also one of the top enterprise server manufacturer companies. 
Dell Inc. History & Origin Story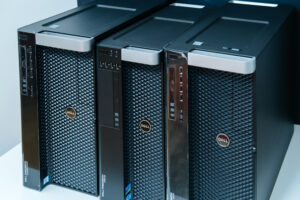 Dell began in a college dorm room. Before Dell was the Dell Computer Corporation, it was PC's Limited. PC's Limited was launched in 1984 by Michael Dell. He wasn't a businessman; he was a freshman at the University of Texas at Austin—and dropped out freshman year to grow his promising new venture. His story is a familiar one. Many of the world's biggest computer tech companies were begun in the 1980s and 1990s as smart, savvy entrepreneurs found ways to capitalize on rapidly developing technology. For Michael Dell the path was made clear when he sold $180,000 of PCs in his first month of business. 
Those early years were marked by success after success as the Dell team made a name for itself marketing PCs custom-built to order. The company became Dell Computer Corporation in 1987. In 1988, Dell went public, raising $30 million (it went private again in 2013, and back to public in 2018). The end of the 1980s was explosive for the company. Its first notebook computer, the 316LT, came out in 1989. Sales soared past $2 billion. However, trouble was ahead.
In 1993 Dell's stock price plummeted, its CFO quit, and poor production resulted in an entire line of new notebook computers cast aside in a very active market. Luckily, this streak of bad luck ended quickly, and by the mid-1990s, Dell was in the Fortune 500. It started selling computers online in 1996, and became the world's largest PC manufacturer by 1999. Users didn't mind paying top dollar (the cost had gone up over the years) because of Dell's customizable purchase options, quick shipping, and highly navigable website. 
The 2000s were all about branching out for Dell, which rebranded to "Dell Inc." to indicate that it handled more than just computers. Rivals such as Acer and HP were catching up, and PC costs were dropping. Michael Dell, who had stepped down as CEO, made a triumphant return and immediately began streamlining operations and cutting costs. In 2013, Dell went private in a $24.4 billion leveraged buyout deal. Within an estimated two years, the company's value is believed to have roughly doubled.
Dell + EMC Corporation = Dell Technologies Inc.
One of the most significant chapters for Dell came in 2016. Together with an investment firm, Dell purchased EMC Corporation, a data storage corporation based in the United States. The merger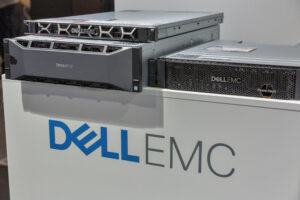 was valued at $60 billion dollars—making it the biggest tech deal on record to date. Reorganization ended with the creation of a parent company, Dell Technologies, and three business divisions: Dell Client Solutions Group, Dell EMC, and VMWare.
This brings us to today. Commercial PC sales grew significantly during the pandemic—which also grew Dell's bottom line. The company reported a 24 percent increase in notebook sales and a doubling in Chromebook orders in 2020. Their premium laptop brands also saw a 43 percent lift in orders. In addition to computers, Dell sells everything from TVs to monitors to rack-mounted, enterprise data center servers.
Dell PowerEdge Rack-Mounted Servers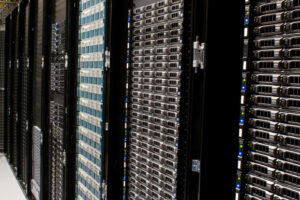 PowerEdge Rack Servers range from 1-socket machines (supporting 1 processor) to 4 sockets (supporting up to 4 processors). Processing power goes from basic web hosting and multi-purpose applications to data-intensive workloads and multiple GPUs, capable of supporting high-powered computing (HPC), virtualization, and artificial intelligence (AI). Processors in the PowerEdge Server line come from both Intel and AMD Opteron.
ServerLIFT solutions and products are designed to properly assist with the lifting, handling, and installing of Dell rack-mounted equipment. This includes much of the PowerEdge Server line, namely the Intel R240 1RU Server, the Intel R340 1RU Server, the AMD R6515 1RU Server, the AMD R7515 2RU Server, the Intel C4140 1RU High-Density Server, the Intel XR2 1RU Industrial-Grade Server, the Intel R440 1RU Server, the Intel R540 2RU Server, the Intel R740 2RU Server, the Intel R640 1RU Server, the AMD R7525 2RU Server, the Intel R740xd 2RU Server, the AMD R6525 1RU Server, the Intel R740xd2 2RU Server, the Intel R840 2RU Server, the Intel R940 3RU Server, and the Intel R940xa 4RU Server. To get additional details on compatibility and partnership between ServerLIFT and Dell, please visit our server database.