As one of the largest computer technology companies on the planet, IBM manufactures its fair share of servers and other data center hardware. The company was founded in the late 1800s—originally named the Computing, Tabulating & Recording Company (CTR), founded by Herman Hollerith. The name IBM, which stands for International Business Machines, was coined in the 1920s. 
The company made its name by producing high-quality advanced technology and shifting rapidly as new tech appeared. By offering their own software programmed by their own engineers to run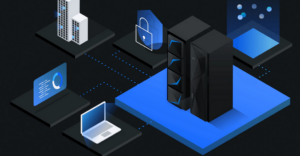 on only one computer brand, IBM salespeople were able to secure clients with long-term contracts. IBM first sold electric typewriters and other machines found in the office. The 1940s and 1950s brought its first forays into making computers . . . and then "Big Blue" really made waves in the 1960s with its first mainframes. The 1970s and 1980s are considered IBM's golden years. It was named America's "most admired corporation." While major losses and big adjustments marked the late 1980s and 1990s, IBM made additional shifts and emerged on the other side with its global reputation intact.
Today IBM operates in more than 170 countries and has nearly half a million employees. It is headquartered in Armonk, New York. Server and mainframe manufacturing is still a big part of what makes Big Blue tick, although it also sells middleware and software, and has become a consulting, hosting, and research powerhouse. Floppy disks and hard disk drives are just two of IBM's most famous patents—it holds dozens. Below, we will focus on its modern hardware offerings and provide recommendations for the right data center lifts for use with any referenced machinery.
IBM Servers and Mainframes
These are the servers and server types currently made by IBM (compatible with ServerLIFT)  and shipped worldwide:
Enterprise Servers
By definition, an enterprise server contains programs that serve the needs of an entire organization as opposed to an individual or business unit. Enterprise servers made by IBM are produced for use on or off-premises, and on or off the cloud. 
Scalable Servers
Special Capacity-on-Demand offerings enable IBM server users to scale as needed and pay only for the amount of processing required at any given time. Scale-out servers offer flexibility for anyone driving applications, including AI, IBM i, and Linux.  
IBM Power Systems Servers
Top-of-the-market hybrid multicloud capacity is a major selling point for IBM Power Systems servers. Power Systems touts better energy efficiency, workload capacity, and container density than their competitors.
Server Industry Rankings
The latest IDC rankings show IBM ranked 5th worldwide in overall server market standings. Revenues reflect Q1 of 2020.
Dell—$3,473.7 million
HPE/New H3C Group—$2,891.3
Inspur/Inspur Power Systems—$1,324.4
Lenovo—$1,043.5
IBM—$884.2
Source: IDC Worldwide Quarterly Server Tracker, June 9, 2020
The Data Center Lift to Match IBM Performance

IBM servers are utilized by many of the world's biggest companies. These expensive pieces of machinery weigh hundreds of pounds. Each one also represents a significant investment in a firm's data, security, and communications holdings. ServerLIFT is proud to be the lift of choice in many data centers across the globe for everything from the constant removing, installing, and transporting of these machines. Check out our Server Database to learn more about the specific IBM servers that are compatible with our ServerLIFT data center lifts.