Customers often ask our ServerLIFT team members for their opinions on the right data center lift for a particular facility. Data center and colocation facility managers want to be sure they are making the right investment for their IT infrastructure, and we're glad to weigh in on whether our SL-500X, SL-1000X, SL-500FX, or SL-350X lift model is the right choice. Of course, we also see folks trying to get by with no lift at all—or using a lift straight out of a warehouse. This is a concern, of course; we know how injurious those choices can be. So we do whatever we can to explain the realities. 
1. Why SL-350X Data Center Lifts Aren't The Worst Choice For Your DC
Here is a new blog post discussing four options that just do not meet safety requirements in a working data center.
2. ServerLIFT Solutions for Your Colocation Facility
Colocation facilities are big, busy spaces with many moving parts. A ServerLIFT solution can help your team to meet deadlines and move customer equipment quickly and efficiently. 
Thankfully, the company was able to fast-track budget approval by 3PM, giving our team the green light to get to work. We all pulled together to get a rental machine prepped, packed, and out the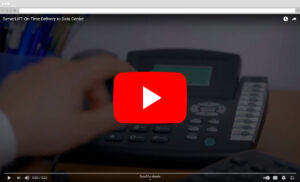 door before 4PM that afternoon for a cross-country, Tuesday delivery. That made our happy hour very happy indeed. 
We love seeing our data center partners improve customer retention and overall satisfaction as a result of bringing in our machines. It helps to remind us of the importance of our work; improving IT Ops one safe, happy operator at a time.
Stay safe,
Ray Zuckerman, CEO
ServerLIFT Corporation
602.254.1557 
Miss an issue of this newsletter? Check out back issues here.
Reviews really help us out. Please share your experience with ServerLIFT here