ServerLIFT® Corporation has been honored by Inc. Magazine for the second year in a row, joining the prestigious list of the Inc. 500 | 5000 fastest growing private companies in America. ServerLIFT®'s 2013 ranking significantly improved over last year from 85th to 39th overall among manufacturing companies. With a three-year growth of241%, ServerLIFT® continues to demonstrate a strong presence in the technology industry.
The growth of ServerLIFT® is a testament to the continued research and constant release of innovative data center equipment. The focus over the last three years has been tactfully balanced between engineering and market awareness.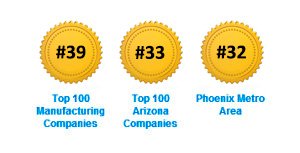 The ServerLIFT® product line focuses on data center management, helping modernize an outdated approach for handling critical IT hardware in confined areas. As ServerLIFT® continues to concentrate on developing solutions to create a safer & efficient work environment, the brand will continue to become an integral part of companies around the world.