ServerLIFT Highlighted at the 2012 National
Export-Import Bank Conference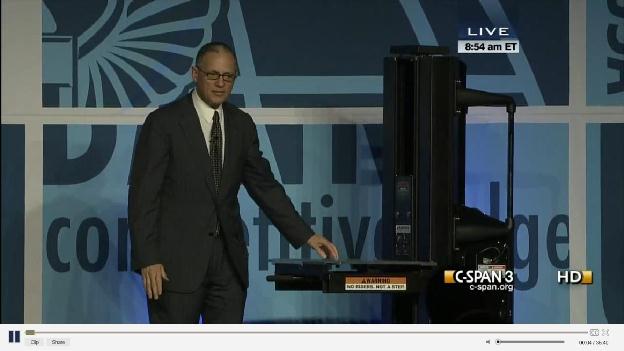 Recently ServerLIFT was chosen be highlighted at the Export-Import Bank's annual conference. We were extremely honored to be chosen and could not be more delighted to share with you about the event.
In June of 2011, ServerLIFT was named the 1,000th small firm to partner with the Export-Import Bank and since then we have worked closely with them. When the ExIm Bank approached our CEO, Ray Zuckerman, about being the spotlight company for the 2012 annual conference we could not have been more excited.
The Export-Import Bank provides funding and insurance to small businesses in the United States, promoting a more global economy and helping to bring more jobs to our country.
President and Chair, Fred Hochberg, opened the conference by discussing the need for global business, followed by Valerie Jarrett, the senior advisor to President Obama. Jarrett spoke about ServerLIFT bringing more jobs to the United States and the impact small businesses have on our economy. Highlights from her speech include:
"…Small business stories…[like ServerLIFT's]… help build the world's largest economy and strongest middle class right here in America."
"…ServerLIFT moved its operations in China back to the United States, doubling its number of American employees that are employed there…"
To watch speeches from Hochberg, Jarrett, and keynote speaker, President Bill Clinton, click here. ServerLIFT is highlighted in Valerie Jarrett's speech beginning at, approximately, the 26 minute mark.