Inspur, founded in Shandong, China, is an international leader in information technology. They are ranked among the top three server vendors worldwide according to the IDC. They are also the #1 server manufacturer, enterprise software brand, and cloud computing vendor in China. This leading data center and cloud computing solutions provider emphasizes a focus on open platforms, artificial intelligence (AI), and deep learning. IT infrastructure and services are provided by Inspur to more than 112 countries and regions worldwide.
Inspur was founded in 1945 and made waves as one of the first IT firms in China. Today it is the umbrella brand for four companies: Inspur Information, Inspur Software, Inspur International, and Inspur Huaguang. Here are some notable moments in company history:
1983: Inspur's predecessor, Shandong Electronic Equipment Factory, produced China's first personal microcomputer.
1990: Inspur engineers created the first Chinese character pager using a standard still used today.
1993: Inspur technicians developed China's first micro-server in Singapore. This, according to

the company

, broke the foreign server manufacturing monopoly in China and ushered in a new economic era for IT in that country.
2005:

Microsoft

invested $20 million in Inspur. This was part of a $750 million agreement Microsoft made with China to support the country's promising software development goals and to show confidence in its long-term prospects.
2013: Inspur developed and released the

K1 server

, hailed as a national breakthrough. It achieved

99.9 times

availability and garnered multiple major tech awards for innovation.
2016: The K1 was followed by the Tiansuo

M13

, a large-scale mainframe for core database applications utilized by industries including banking and finance, governments, and corporations. 
Inspur Leading Server Solutions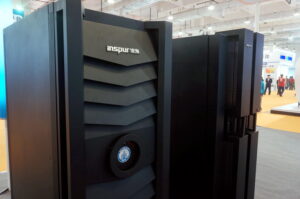 As a first-class global big data service provider, Inspur maintains a focus on innovation and IT development by pursuing excellence in the fields below. 
Open Platforms
Inspur claims to be "the only server vendor in the world to support all current open source hardware projects." This philosophy of collaboration is leveraged as part of Inspur's work, in particular, for hyperscale data centers, along with advances in AI, cloud, storage, networking, rack management, SAP HANA, and the FinTech industry. Hardware flexibility and adoption is a major player in the company's collaborations with other IT leaders such as Samsung and Intel.
Data Centers
Inspur offers cloud integration services for data centers, along with professional planning and consulting services, data center design and construction expertise, migration and relocation guidance, and operations and maintenance support. They also focus on energy conservation and pollution mitigation techniques to make data centers more "green."  
AI/Deep Learning
Inspur hardware and software stacks are optimized for AI and deep-learning capabilities. Applications include autonomous driving, big data analytics, image recognition, life sciences, and smart homes. These integrations are popular for many reasons in next-gen data centers today. 
Inspur Servers Compatible with ServerLIFT Data Center Lifts
The company specializes in GPU accelerated servers, single, dual, and multi-processor servers, and storage-enhanced servers, many of which are compatible with ServerLIFT data center lifting devices. These include the NF5280M5, NF5180M5, NE5260M5, NF5486M5, NF5266M5, TS860M5, FP5280G2, FP5466G2, and FP5180G2 servers. ServerLIFT solutions and products are designed to properly assist with the lifting, handling, and installing of Inspur rack-mounted equipment. To get additional details on compatibility and partnership between ServerLIFT and Inspur, please visit our server database.