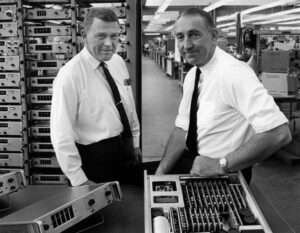 The Hewlett Packard Enterprise Company (HPE) was founded in a one-car garage in July of 1939 by Bill Hewlett and Dave Packard. The two became friends while attending Stanford University. Their origin story is referred to as "the original Silicon Valley startup" by the company in recognition of its roots—with many similar endeavors launching in the years to follow by tech entrepreneurs also working in northern California. A plaque sits outside that garage today commemorating its unique impact on history. These days Hewlett Packard Enterprise is a server manufacturer and enterprise technology leader based in San Jose. Read on to learn more about the company and its rack-mounted data center solutions. 
HP to HPE: A Timeline
Hewlett and Packard got out of the garage fairly quickly. They moved into Palo Alto offices in 1940 and incorporated by 1947. Known as HP at the time, the company went public in 1957. 
The 1960s was one of its greatest periods of growth. 1966 was the year HP began manufacturing computers. The Hewlett-Packard 9100A, launched in 1968, was hailed by Wired Magazine in December 2000 as the very first personal computer. (When it was first sold, HP called it a "calculator." But, as Bill Hewlett said, "If we had called it a computer, it would have been rejected by our customers' computer gurus because it didn't look like an IBM. We, therefore, decided to call it a calculator and all such nonsense disappeared.")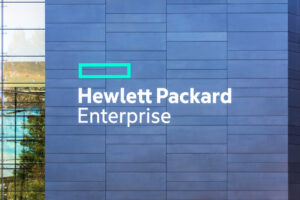 This was only one of many innovations introduced by HP. The HP 2100 was a series of 16-bit minicomputers built on magnetic-core memory and running BASIC programming languages. The line grew and was renamed "HP 1000" in 1977, now positioned as a real-time computing system, able to manage mission-critical applications. HP released the first handheld scientific electronic calculator in 1972 and a series of technical desktop computers in 1975. 
Inkjet and laser printers for desktop computers hit the market in 1984. Even today, the HP name is associated with these "all-in-one" machines, which were steadily developed into the 90s to include copying, faxing, and scanning capabilities. More direct-to-consumer products were released in the following decade. These included computers, storage, and imaging services. 
Four major spinoffs and/or mergers defined HP's path in the late 20th century and into the 21st. In 1999, the $8-billion spinoff of Agilent Technologies included about 30,000 employees and products ranging from software to electronic test and measurement equipment. It generated the largest initial public offering (IPO) in Silicon Valley history. In 2001, HP merged with Compaq, making them a global player not only in computers and printers, but also in servers. Another major acquisition was the purchase of Palm, Inc. in 2010 for $1.2 billion.  
HPE and HP Split
Arguably the biggest reorganization in HP's history was its split into two distinct companies, announced in 2014. The division between Hewlett Packard Enterprise and HP Inc. followed years of layoffs and restructuring as profits steadily declined. Today HPE is an IT giant with a focus on business solutions including servers, storage, networking, financial services, and support. And by all accounts the split was a successful one for both companies, which continue to thrive today.
Other interesting anecdotes about HP and HPE:
Before Packard and Hewlett had even officially named their new business, they had a sale. They sold audio oscillators to

Walt Disney

and helped to make the classic film

Fantasia

. 
The company developed the first

commercial supercomputer

sent to space aboard a SpaceX CRS-12 rocket to the International Space Station. There it achieved one trillion calculations per second—referred to as a teraflop. 
Today HPE maintains a focus on energy efficiency for its products, with

70

of its computers currently ranked as some of the "greenest" in existence. 
Both Packard and Hewlett developed reputations as legendary leaders and pioneered management strategies still used by many companies—small and large—today. One is known as Management By Walking Around, or MBWA. Both Packard and Hewlett did not utilize big, fancy offices and preferred straight talk to business jargon. They were famously in touch with the needs of their employees as a result. 
ServerLIFT solutions and products are designed to properly assist with the lifting, handling, and installing of HPE rack-mounted equipment. 
Servers from HPE systems, including ProLiant, Apollo, Integrity, Superdome Flex, and Edgeline, along with the SimpliVity support system, can be safely moved and installed using ServerLIFT devices. Compatible switches include the Aruba CX 8400, CX 8360, CX 8320, CX 6400, CX 6300, 3810, and 2930F. A large number of G2 Basic and G2 Switched / Metered PDUs are also simple to lift with ServerLIFT data center lifts and a single operator. To get additional details on compatibility and partnership between ServerLIFT and HPE, please visit our server database.