Spotlight Datacenter: Interxion, London
Would you sleep at work?
As England prepares for the 2012 Summer Olympic Games, one company thinks they may have found an innovative way to beat the congestion that is about to clog London's travel and road networks.
Interxion, a colocation data center, located in the heart of the city, has come up with a solution that will ensure its tech staff will be available 24/7. What you ask is so ingenious that it can guarantee that employees will be at work on time, at all times? A hover craft to fly over the bumper to bumper traffic? A special car designated specially for Interxion employees in the Tube? No, Interxion has conveniently cut out all issues created by the massive traffic and transportation headache that the Olympics will bring. It has, very creatively and resourcefully, installed sleeping pods in its data center, effectively ensuring that its techs never have to see the outside world or the light of day again. No late workers, no downtime issues, no stress.
Interxion does worry about how the games will affect their data center operation and uptime. It plays an integral part in London's digital world, housing online services such as digital businesses, social media, entertainment, online retail and banking, and education. Millions of people across the UK rely on Interxion's service delivery, so any downtime can be detrimental.
As Greg McCulloch, UK Managing Director, Interxion commented in a press release this week, "Due to the nature of our business we need to be ready for all eventualities and while we are excited to have the Olympics in London we also need to be sure that we can continue to offer the highest level of resilience to our customers. The installation of the sleeping pods is another great example of Interxion putting resilience and uptime at the forefront of everything it does."
The pods themselves were created by the UK-based company Podtime and are modular in design. Although originally intended for the use of "power naps", Interxion has thought of that issue as well and has had its 10 pods retrofitted for overnight stays. Said to be comfortable, private, and secure for the user, these pods have TVs, radio with earphones, laptop holders, and memory foam mattresses. How comfortable they actually are is yet to be known.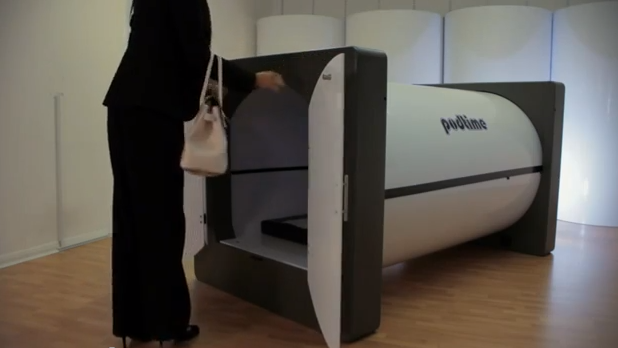 "Everyone working in central London will feel the challenging side-effect of the Games, and the organizations they work for will face operational issues with employees being stuck in queues rather than being in the office," said Jon Gray, Director at Podtime. "We see the sleeping pods as a good cheap solution for those 'staff-critical' companies which must have 24/7 cover for vital procedures… our pods offer comfort, privacy and security at a reasonable price."
So as London gears up for the 2012 Olympic games, it seems that Interxion is one step ahead of its competitors in ensuring that nothing will go wrong in its data center. But as innovative as their pod strategy is, would you be willing to sleep at work?