PL-500X™ Utvidelse av plattformen
IT-utstyrshåndtering ned til gulvet
The PL-500X™ Platform Extension brings the reach of any ServerLIFT® machine down to the floor, so that it can safely and precisely handle equipment at bottom rack positions for near-ground installs. Extend your reach beyond and below the ServerLIFT® machine frame, enabling you to perform assisted moves in even the most challenging of spaces.
DATA SENTRUM APPLIKASJONER


Heiser servere ut av esker

Reach the Bottom-Most Rack Positions with a ServerLIFT® PL-500X plattformutvidelse
The PL-500X Platform Extension transforms the ServerLIFT® device into the only tool that can safely support heavy servers down to the floor or up to the top of any rack. The extension's platform leveler enables the operator to tilt the equipment up or down for precise server alignment and perfect installations every time.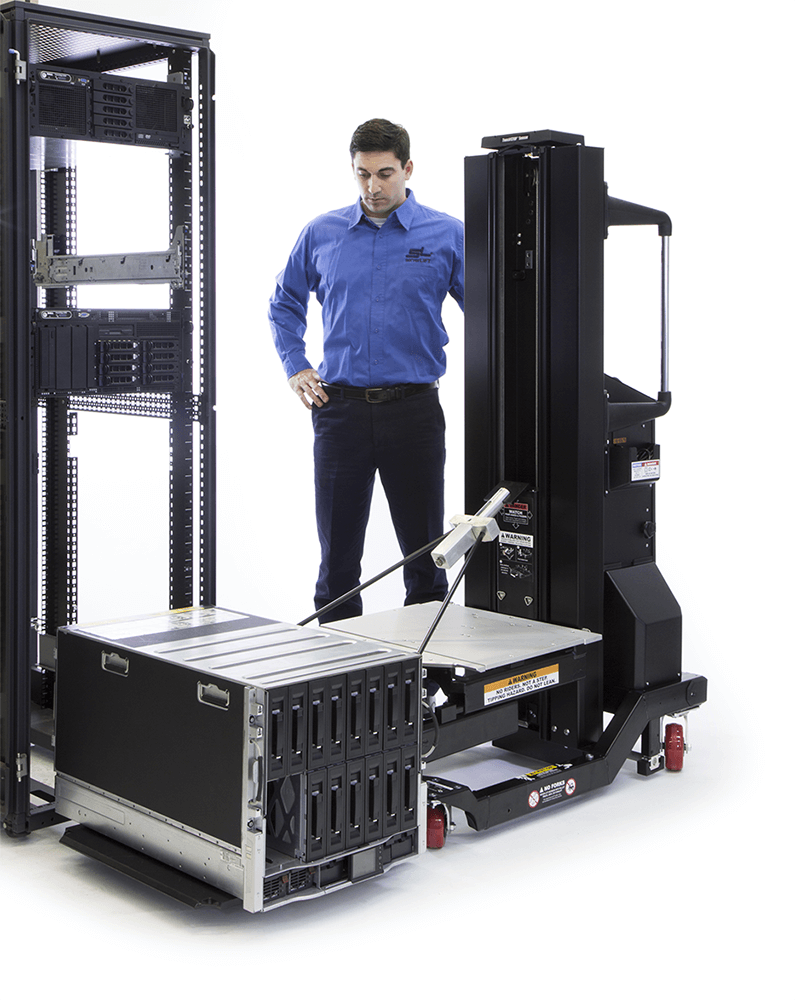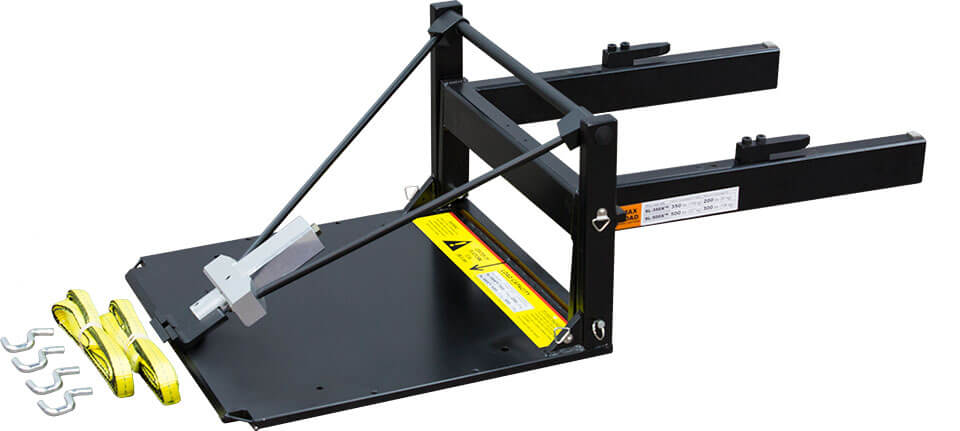 Unike funksjoner og funksjoner
Støtter opp til 227 kg
Nå servere og bytter på gulvnivå
Kraftig stålkonstruksjon
Justering av mikro-tilt for perfekt nivellering av utstyr foran
Avtakbare horisontale festearmer for enkel lagring
Enkelt feste og fjerning
Ingen farlige ryggbøyninger eller anstrengt løft
Flere stroppfestepunkter for å sikre servere til plattformen under transport
Løfte servere fra esker og paller
Du og dine ansatte vil aldri mer måtte løfte IT-utstyr fra paller eller ut av esker, og unngå det risiko for ryggskade og / eller serverskade. 
The Platform Extension gives you reach beyond the ServerLIFT® Wheel Base for interference-free overhead access to new server packaging.
With the four sling hooks installed on the extension, slide the heavy-duty yellow slings under the server you want to un-box, and secure each end to one of the hooks. Then, the ServerLIFT® machine and PL-500X Extension combine to lift the server and its packaging right up off of the ground.
Du kan enkelt fjerne esken og pakkeskumet fra serveren helt intakt for å lagre for senere, i tilfelle et retur- eller fremtidig migreringsprosjekt.
After setting the server down onto a table or counter and transferring it to the ServerLIFT® or PL-500X platform surface, you're ready to shift to installation mode.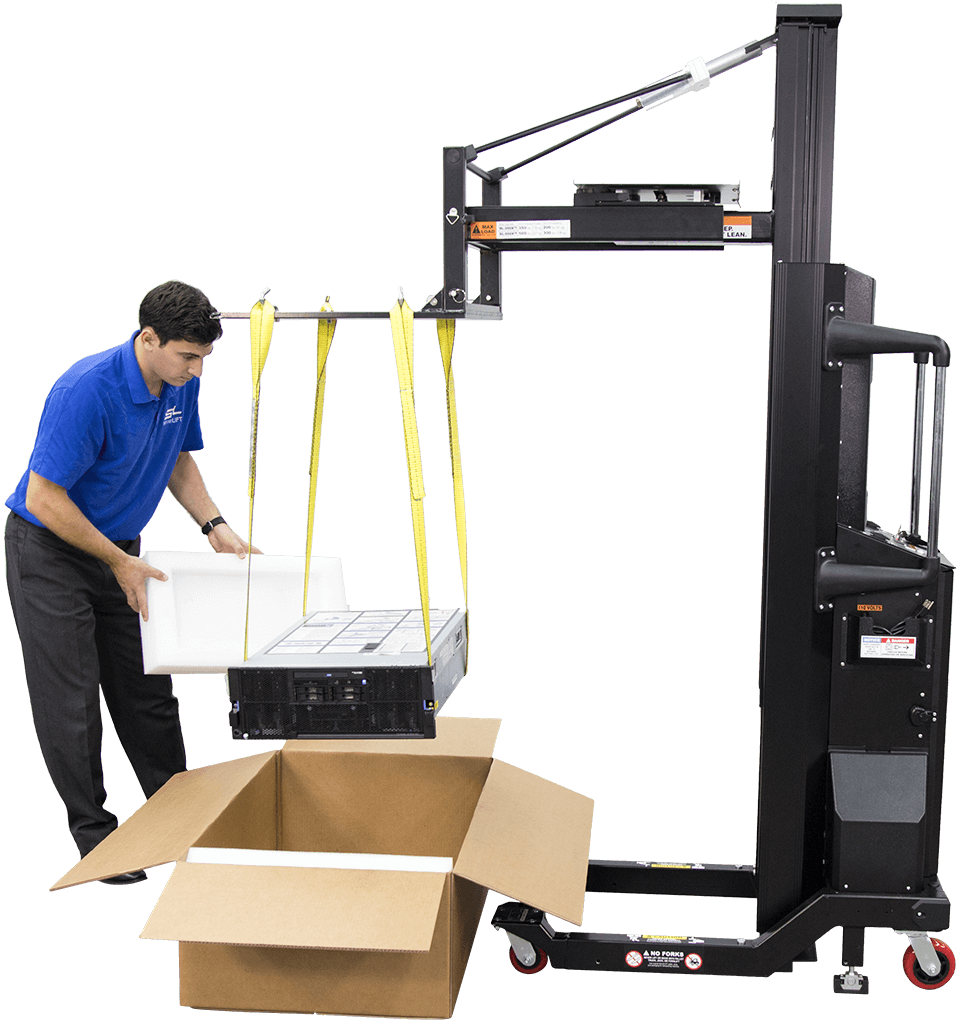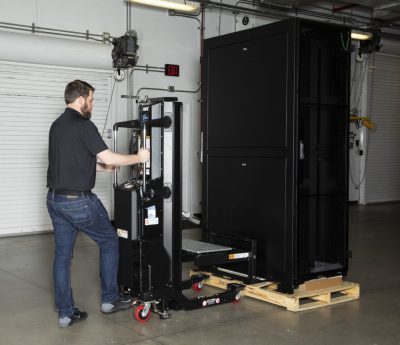 Kompatibilitet og fordeler
Platformutvidelsen er kompatibel med ServerLIFT® SL-350x® eller SL-500X® modell datasenterheiser. PL-500X plattformutvidelsen inkluderer:
To tunge slynger
Fire slyngekroker
Fin-tilt justeringsspeil og -uttak
Motvekt sett for baksiden av ServerLIFT-enheten
Avtakbare horisontale festearmer for enkel lagring
Oppbevaringspose med glidelås
PL-500X plattformutvidelse støttes av en bekymringsfri, 30-dagers pengene-tilbake-garanti.  
SHOP MORE SERVERLIFT® VEDLEGG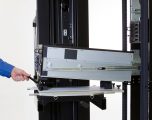 RS-500X ™ Rail Lift støtter og vipper servere til den perfekte vinkelen for å justere og lede serverspikerhoder inn eller ut av J-formede skinnespor.
Lære mer "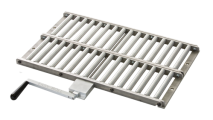 GT-1000X ™ Bi-Directional Glide Table hjelper deg med å laste og losse tunge servere med en enkelt hånd for en bevegelighet uten stress ... hver gang.
Lære mer "

The RL-500™ Platform Riser increases the reach of any ServerLIFT® by 8U and ensures that server installs are seamless and safe for all data center applications.
Lære mer "

LE-Series ™ Lift Extensions hjelper deg med å løfte tungt IT-utstyr av paller og ut av esker.
Lære mer "
Skjemaer og vanlige spørsmål
Hvorfor våre kunder stoler på serverløft®
I would recommend it 100%. It literally has saved my team's backs. This last year was our biggest year, and for us to do as much as we did (we did almost 200 racks in 6 months)...you can't do that kind of work without having something that makes your job easier. ServerLIFT® solutions have taken all of that burden off of my team.
ServerLIFT® unit was of great benefit during the racking of our blade centers. With the use of the strap kit, one person was able to unbox and safely place the 300-pound device into a rack on the rails. The benefit of not having to remove the blades and power supply components from the chassis to make it lighter saved time and potential damage.
Without a ServerLIFT® data center lift here, customers, they would be...let's just say, very displeased if we didn't offer that sort of a service when they got there and they went to rack their gear and they needed something to help them. It's something that they rely on.
We really rely on our ServerLIFT® device. It was one of the best investments we made for our data centers. Thank you!
We have a ServerLIFT® solution and it's awesome. It can lift 500 lbs without issue. Even the largest Cisco devices can be installed using it. Our facilities group uses it to pull motors from CRAC Units. It's well worth the investment.
På 15 minutter racket vi et HP-chassis og 15 nye harddiskkapsler, med bare en ingeniør. Det er mye tryggere og raskere å bruke vår nye heis enn å bruke 3 ingeniører.
ServerLIFT® makes a great product that is easy to use, and promotes safety within the data center. It is especially useful to us in our new data centers, where we have standardized on 9ft. racks. I was most pleased with how easily it allowed us to move and re-rack our large AS/400 systems during a limited outage window.
I was initially using a manual lift to move servers and other equipment. When the ServerLIFT® electric model came out it was an even better solution. If I have a server that needs to be installed and I am the only one available, I can get it down quickly and easily with the ServerLIFT® unit.
Safety is our #1 priority. Originally, we didn't have the resources to install the hardware safely. We were using other brands of both battery- operated and hand-crank lifts, but they required too much maintenance. Now, our ServerLIFT® unit is well-used and everybody is happy with the 'Cadillac' we bought. It's a great investment.
Snakk med en spesialist for å finne den rette løfteløsningen for ditt datasenter.
Last ned vår GRATIS hvitbok, "Kjøpe et datasenter-løfteutstyr"
Datasenteret ditt er oppdragskritisk, og nedetid kan bety titusenvis av sinte kunder og millioner i tap. Vår gratis guidebok hjelper deg å identifisere de riktige verktøyene for å unngå driftsstans effektivt som datasenterleder.