Vinkle inn eller ut av spalte skinner
The RS-500X™ Rail Lift supports server equipment while giving the operator control over the angle of the server at all points of installation or removal from the rails. Capable of attaching to any ServerLIFT® platform, the RS-500X can be used to easily tilt servers into slotted guard rails or keep them level for non-slotted, bolt-in installs.
DATA SENTRUM APPLIKASJONER


Kompatibilitet med dobbeltsideovergang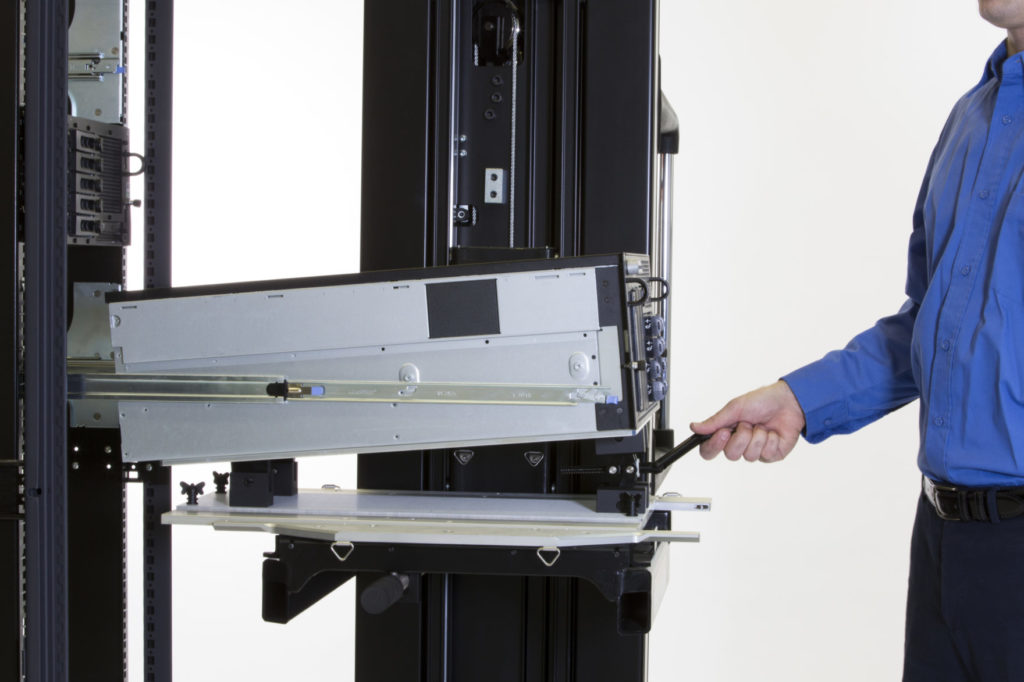 Angle In/Out of Slotted Rails with a ServerLIFT® RS-500X skinneløft
Mange servere er designet for å bli installert i stativer ved bruk av utvidede glideskinner. Ofte kommer serveren med spikerhoder på sidene, som stiller seg opp med og setter inn i J-formede spor i glideskinnene.
Å justere disse spikerhodene med skinnesporene og lede dem inn i (eller ut av) J-formen til sporet er vanskelig, vanskelig og tidkrevende. Å gjøre dette mens du støtter utstyr som kan variere fra 50 til hundrevis av kilo, er skremmende - og farlig.
RS-500X Rail Lift kan brukes til å trygt og sikkert støtte servere i vinkel eller perfekt nivå, noe som gjør det enkelt og enkelt å utføre alle slags rackmonterte installasjoner eller fjerninger.
Must-Have Datasenter-tilbehør
With the ServerLIFT® RS-500X Rail Lift, no type of assisted install is out of reach for data center techs. ServerLIFT® RS-500X Rail Lift is compatible with all our data center lifts: the ServerLIFT® SL-350x®, SL-500X®, SL-500FX ™, og SL-1000x® modell enheter.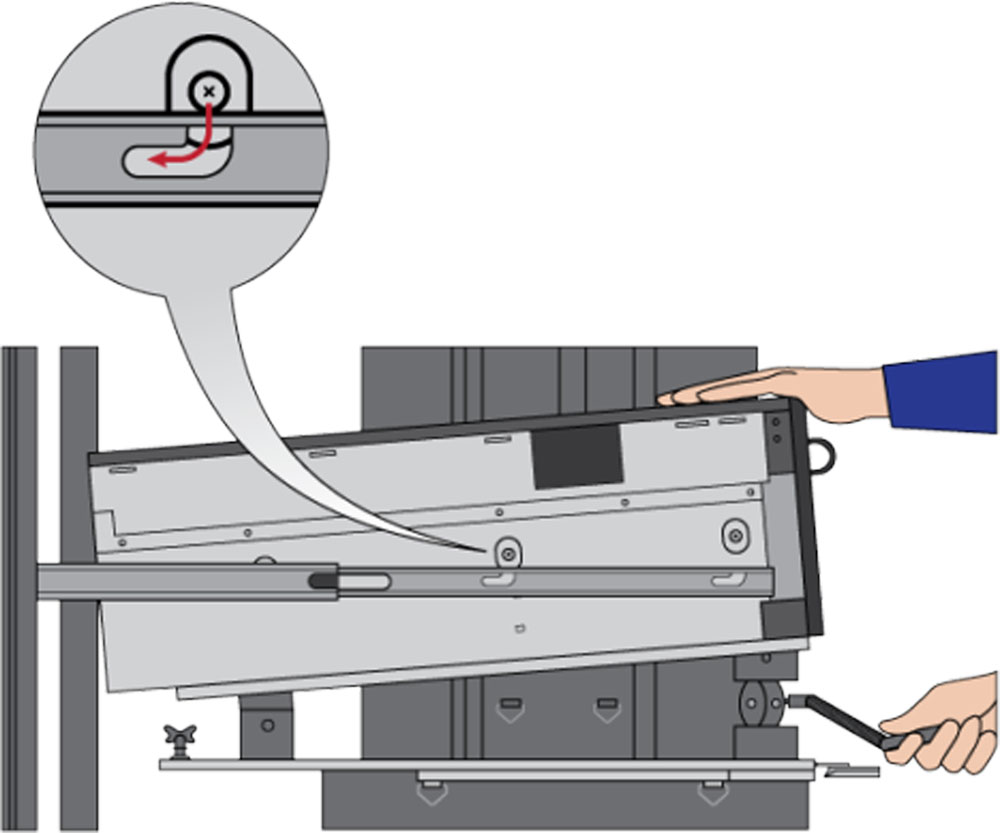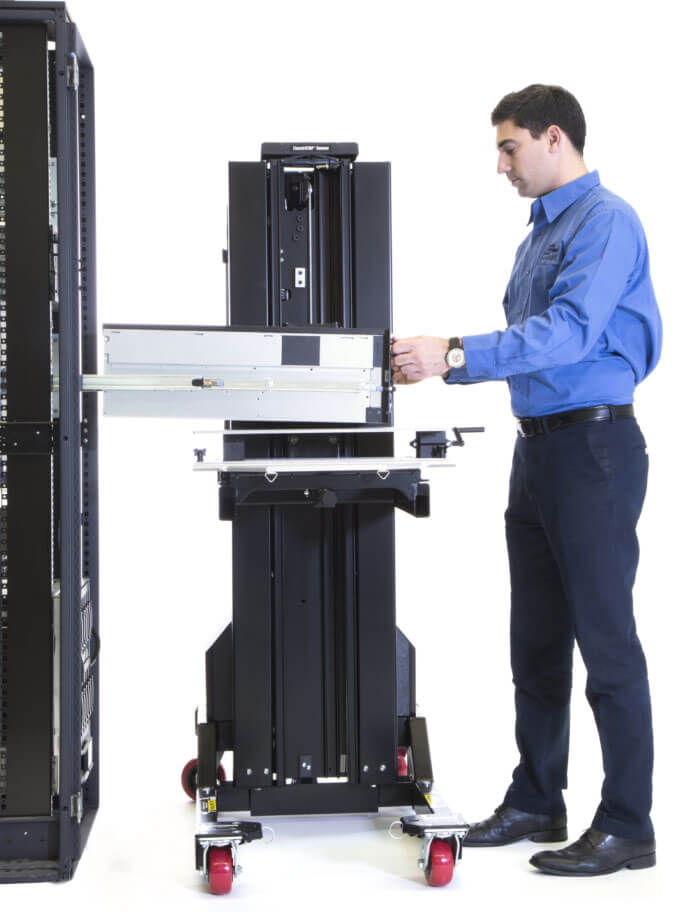 Ultimate Angling and Support
RS-500X skinneløft er designet intuitivt med tanke på datasenterets sikkerhet og effektivitet.
Easily mounts onto all ServerLIFT® models
Passer inn i standard 19 "stativer
Smal nok til å rydde gjennom utvidede skinner mens du løfter servere ut eller slipper dem ned i skinnene
Støtter opp til 227 kg
Krever ingen verktøy eller montering
Støtter utstyr inn eller ut av drop-in eller spalte skinner med et vinkelområde fra null (nivå) til 5 grader
Eliminerer klønete manuell vipping og støtte for server
En tekniker kan enkelt justere og installere tunge servere
Kan monteres i en av to retninger for tilgang til ønsket side
Inkluderer fire plattformfeste tommelfingerskruer
RS-500X Rail Lift støttes av en bekymringsfri, 30-dagers pengene-tilbake-garanti.
SHOP MORE SERVERLIFT® VEDLEGG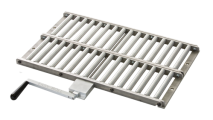 GT-1000X ™ Bi-Directional Glide Table hjelper deg med å laste og losse tunge servere med en enkelt hånd for en bevegelighet uten stress ... hver gang.
Lære mer "

FE-3X ™ utvidet hylle øker serverstøtten til SL-500FX frontlaster til hele 20 centimeter dypt inn i stativet.
Lære mer "

The RL-500™ Platform Riser increases the reach of any ServerLIFT® by 8U and ensures that server installs are seamless and safe for all data center applications.
Lære mer "

LE-Series ™ Lift Extensions hjelper deg med å løfte tungt IT-utstyr av paller og ut av esker.
Lære mer "
Skjemaer og vanlige spørsmål
Hvorfor våre kunder stoler på serverløft®
På 15 minutter racket vi et HP-chassis og 15 nye harddiskkapsler, med bare en ingeniør. Det er mye tryggere og raskere å bruke vår nye heis enn å bruke 3 ingeniører.
Without a ServerLIFT® data center lift here, customers, they would be...let's just say, very displeased if we didn't offer that sort of a service when they got there and they went to rack their gear and they needed something to help them. It's something that they rely on.
Safety is our #1 priority. Originally, we didn't have the resources to install the hardware safely. We were using other brands of both battery- operated and hand-crank lifts, but they required too much maintenance. Now, our ServerLIFT® unit is well-used and everybody is happy with the 'Cadillac' we bought. It's a great investment.
I would recommend it 100%. It literally has saved my team's backs. This last year was our biggest year, and for us to do as much as we did (we did almost 200 racks in 6 months)...you can't do that kind of work without having something that makes your job easier. ServerLIFT® solutions have taken all of that burden off of my team.
ServerLIFT® unit was of great benefit during the racking of our blade centers. With the use of the strap kit, one person was able to unbox and safely place the 300-pound device into a rack on the rails. The benefit of not having to remove the blades and power supply components from the chassis to make it lighter saved time and potential damage.
We have a ServerLIFT® solution and it's awesome. It can lift 500 lbs without issue. Even the largest Cisco devices can be installed using it. Our facilities group uses it to pull motors from CRAC Units. It's well worth the investment.
ServerLIFT® makes a great product that is easy to use, and promotes safety within the data center. It is especially useful to us in our new data centers, where we have standardized on 9ft. racks. I was most pleased with how easily it allowed us to move and re-rack our large AS/400 systems during a limited outage window.
I was initially using a manual lift to move servers and other equipment. When the ServerLIFT® electric model came out it was an even better solution. If I have a server that needs to be installed and I am the only one available, I can get it down quickly and easily with the ServerLIFT® unit.
Snakk med en spesialist for å finne den rette løfteløsningen for ditt datasenter.
Last ned vår GRATIS hvitbok, "Beste fremgangsmåter for håndtering av datasenterutstyr"
Å bruke feil utstyr og ignorere sikkerhetsstandarder i datasenteret ditt kan ha en umuligbar pris. Vår gratis guidebok beskriver hvordan du kan unngå skader og implementere riktig utstyr for de riktige prosjektene.