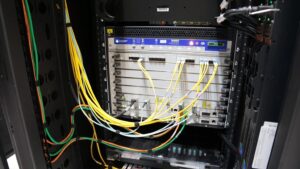 The legacy of Juniper Networks began in 1996, when founder Pradeep Sindhu created the company. A scientist with Xerox, he came up with the concept for Juniper while on vacation. Sindhu wanted to improve internet router capabilities. In the early '90s, routers were built for phone calls and had dedicated circuits for every caller—also known as circuit switching. Sindhu wanted to build "data packets" loaded down with data and an IP address—to be sent via routers more quickly. Together with a select team of engineers and business professionals, he was able to raise several million dollars in venture capital over the following year. 
Months later the firm's first product was released. The M40 router is notable for many reasons; today it remains one of the most influential tech products of the '90s because of how it enabled the speed and growth of early internet connectivity. The early computers built for routing steadily became obsolete because they could not transmit data quickly enough to keep up with overall internet growth. Sindu used customized silicon chips called Application Specific Integrated Circuits (ASICs) to exponentially increase the number of packets that a router could handle. ASICs were a technology so revolutionary that modern high-capacity routers still make use of them today.
By the end of the '90s, Juniper Networks had its M40 router in use by 50 telecommunications companies. The company moved its headquarters to Sunnyvale, California and established offices in England, China, Japan, and Korea. Its 1999 IPO was a record-breaker. According to Wikipedia, "the stock set a record in first-day trading in the technology sector by increasing 191 percent to a market capitalization of $4.9 billion . . . Juniper Networks became the 'latest darling of Wall Street,' reaching a $7 billion valuation by late July. Within a year, the company's stock grew five-fold." 
Today according to its website Juniper Networks employs 10,000 people and operates 109 offices in 47 countries. Their annual revenue is approximately $1.14 billion. In addition to routers, the company also manufactures switches and products for network security and management. Primary competitors include Cisco, Huawei, and Nokia. 
Juniper Servers Compatible with ServerLIFT Data Center Lifts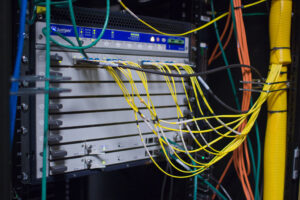 Thirty-five of the switches manufactured by Juniper Networks are compatible with ServerLIFT machines. This includes the EX9200 line of modular Ethernet switches, a highly programmable machine designed for large deployments and built with separate dedicated data, control, and management planes. Other switches include the EX4650 Series, EX4300 Series, EX2300 Series, and QFX5100 Series, recognized for its low latency and rich automation features. ServerLIFT solutions and products are designed to properly assist with the lifting, handling, and installing of Juniper rack-mounted switches. To get additional details on compatibility and partnership between ServerLIFT and Juniper, please visit our server database.