LE-serien™ Løftutvidelser
Pakk enkelt servere fra esker
ServerLIFT® LE-500X™ and LE-1000X™ Lift Extensions are used to safely lift and remove servers, switches, UPS devices, and other rack-mounted equipment out of boxes and off of pallets without destroying the packaging or straining your back. These critical tools free operators from ever having to manually unpack boxes or lift equipment ever again.
Løft IT-utstyret inn i stativet
ServerLIFT® creates lifting solutions that are durable and designed for data center use. Two lift extension models are currently available to support IT equipment hardware weighing up to 700 lbs. (318 kg). With the LE-500X and LE-1000X lift extensions, handling heavy IT equipment from start to finish can be done safely and effectively. These lift extensions are popular attachments as a functional addition to our server handling solutions.
Neste gang du står overfor en datasenterflytting eller en serveroppdatering, bør du vurdere de riktige verktøyene for å unngå skader og få jobben raskt.
Fjerner utstyr trygt fra kartonger og skrens
Lett, men likevel kraftig stålkonstruksjon
Easy attachment and removal from ServerLIFT® side-loading machines
Inkluderer forlengelsesramme, to slynger, fire kroker og en oppbevaringspose
Kompatibilitet og fordeler
LE-1000X Lift Extension er kompatibel med SL-1000x® Super-Duty Lift and is load-rated for up to 700 lbs. (318 kg).
LE-500X Lift Extension er belastet med opp til maksimal kapasitet på heisen den brukes med. Den er kompatibel med SL-500X® Elektrisk heis (500 kg / kg) og SL-350x® Håndsvinget løft (159 kg).
Both attachments have been designed for optimum functionality, safety, and ease of use. They extend out in front of the ServerLIFT® machine, providing ample clearance to position the hooks and slings over the top of servers in any box—even if the box is on a pallet.
ServerLIFT® LE-1000X and LE-500X Lift Extensions are backed by a worry-free, 30-day Money-Back Guarantee.  
SHOP MORE SERVERLIFT® VEDLEGG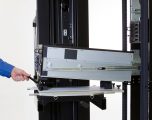 RS-500X ™ Rail Lift støtter og vipper servere til den perfekte vinkelen for å justere og lede serverspikerhoder inn eller ut av J-formede skinnespor.
Lære mer "

FE-3X ™ utvidet hylle øker serverstøtten til SL-500FX frontlaster til hele 20 centimeter dypt inn i stativet.
Lære mer "

The RL-500™ Platform Riser increases the reach of any ServerLIFT® by 8U and ensures that server installs are seamless and safe for all data center applications.
Lære mer "

ServerLIFT® PL-500X® Platform Extension inkluderer all funksjonaliteten til LE-Series Lift Extensions, og gir deg serverstøtte lavere enn bunnen av stativet ... helt til gulvet.
Lære mer "
Skjemaer og vanlige spørsmål
Hvorfor våre kunder stoler på serverløft®
Without a ServerLIFT® data center lift here, customers, they would be...let's just say, very displeased if we didn't offer that sort of a service when they got there and they went to rack their gear and they needed something to help them. It's something that they rely on.
ServerLIFT® makes a great product that is easy to use, and promotes safety within the data center. It is especially useful to us in our new data centers, where we have standardized on 9ft. racks. I was most pleased with how easily it allowed us to move and re-rack our large AS/400 systems during a limited outage window.
I would recommend it 100%. It literally has saved my team's backs. This last year was our biggest year, and for us to do as much as we did (we did almost 200 racks in 6 months)...you can't do that kind of work without having something that makes your job easier. ServerLIFT® solutions have taken all of that burden off of my team.
I was initially using a manual lift to move servers and other equipment. When the ServerLIFT® electric model came out it was an even better solution. If I have a server that needs to be installed and I am the only one available, I can get it down quickly and easily with the ServerLIFT® unit.
We have a ServerLIFT® solution and it's awesome. It can lift 500 lbs without issue. Even the largest Cisco devices can be installed using it. Our facilities group uses it to pull motors from CRAC Units. It's well worth the investment.
In 15 minutes, we racked an HP chassis and 15 new hard drive enclosures, with only one engineer. Using our new ServerLIFT® lift is much safer and quicker than using 3 engineers.
Safety is our #1 priority. Originally, we didn't have the resources to install the hardware safely. We were using other brands of both battery- operated and hand-crank lifts, but they required too much maintenance. Now, our ServerLIFT® unit is well-used and everybody is happy with the 'Cadillac' we bought. It's a great investment.
ServerLIFT® unit was of great benefit during the racking of our blade centers. With the use of the strap kit, one person was able to unbox and safely place the 300-pound device into a rack on the rails. The benefit of not having to remove the blades and power supply components from the chassis to make it lighter saved time and potential damage.
Snakk med en spesialist for å finne den rette løfteløsningen for ditt datasenter.
Last ned vår GRATIS hvitbok, "The Data Center Migration Guide"
Optimalisering av IT-produksjon er avhengig av riktig oppdatering og vedlikehold av utstyr og datasenterfasiliteter. Bruk vår gratis guide for å visualisere, planlegge og utføre en datasentermigrering.