Serie LE™ Extensiones de elevador
Desempaque fácilmente servidores de cajas
El ServerLIFT® LE-500X™ and LE-1000X™ Lift Extensions are used to safely lift and remove servers, switches, UPS devices, and other rack-mounted equipment out of boxes and off of pallets without destroying the packaging or straining your back. These critical tools free operators from ever having to manually unpack boxes or lift equipment ever again.
Levante el equipo de TI al bastidor
ServerLIFT® creates lifting solutions that are durable and designed for data center use. Two lift extension models are currently available to support IT equipment hardware weighing up to 700 lbs. (318 kg). With the LE-500X and LE-1000X lift extensions, handling heavy IT equipment from start to finish can be done safely and effectively. These lift extensions are popular attachments as a functional addition to our server handling solutions.
La próxima vez que enfrente una reubicación del centro de datos o una actualización del servidor, considere las herramientas adecuadas para evitar lesiones y realice el trabajo rápidamente.
Quita con seguridad el equipo de cajas de cartón y patines
Construcción de acero ligera pero resistente.
Easy attachment and removal from ServerLIFT® side-loading machines
Incluye marco de extensión, dos eslingas, cuatro ganchos y una bolsa de almacenamiento.
Compatibilidad y Beneficios
La extensión de elevación LE-1000X es compatible con SL-1000X® Elevador de servicio extra and is load-rated for up to 700 lbs. (318 kg).
La extensión de elevación LE-500X tiene capacidad de carga hasta la capacidad máxima del elevador con el que se está utilizando. Es compatible con el SL-500X® Ascensor Electrico (500 lbs. / 227 kg) y el SL-350X® Elevador de manivela (350 libras / 159 kg).
Both attachments have been designed for optimum functionality, safety, and ease of use. They extend out in front of the ServerLIFT® machine, providing ample clearance to position the hooks and slings over the top of servers in any box—even if the box is on a pallet.
El ServerLIFT® LE-1000X and LE-500X Lift Extensions are backed by a worry-free, 30-day Money-Back Guarantee.  
SHOP MORE SERVERLIFT® ARCHIVOS ADJUNTOS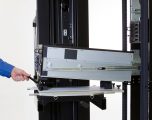 El elevador de rieles RS-500X ™ soporta e inclina los servidores al ángulo perfecto para alinear y guiar los cabezales de clavos del servidor dentro o fuera de las ranuras de riel en forma de J.
Aprende más "

El estante extendido FE-3X ™ aumenta la compatibilidad del servidor del cargador frontal SL-500FX a una profundidad total de 20 pulgadas (50 cm) en el bastidor.
Aprende más "

The RL-500™ Platform Riser increases the reach of any ServerLIFT® by 8U and ensures that server installs are seamless and safe for all data center applications.
Aprende más "

El ServerLIFT® PL-500X® La extensión de plataforma incluye toda la funcionalidad de las extensiones de elevación de la serie LE, y le brinda soporte de servidor más bajo que la parte inferior del bastidor ... hasta el piso.
Aprende más "
Formularios y preguntas frecuentes
Por qué NUESTROS CLIENTES CONFÍAN EN SERVERLIFT®
Without a ServerLIFT® data center lift here, customers, they would be...let's just say, very displeased if we didn't offer that sort of a service when they got there and they went to rack their gear and they needed something to help them. It's something that they rely on.
ServerLIFT® makes a great product that is easy to use, and promotes safety within the data center. It is especially useful to us in our new data centers, where we have standardized on 9ft. racks. I was most pleased with how easily it allowed us to move and re-rack our large AS/400 systems during a limited outage window.
I would recommend it 100%. It literally has saved my team's backs. This last year was our biggest year, and for us to do as much as we did (we did almost 200 racks in 6 months)...you can't do that kind of work without having something that makes your job easier. ServerLIFT® solutions have taken all of that burden off of my team.
I was initially using a manual lift to move servers and other equipment. When the ServerLIFT® electric model came out it was an even better solution. If I have a server that needs to be installed and I am the only one available, I can get it down quickly and easily with the ServerLIFT® unit.
We have a ServerLIFT® solution and it's awesome. It can lift 500 lbs without issue. Even the largest Cisco devices can be installed using it. Our facilities group uses it to pull motors from CRAC Units. It's well worth the investment.
In 15 minutes, we racked an HP chassis and 15 new hard drive enclosures, with only one engineer. Using our new ServerLIFT® lift is much safer and quicker than using 3 engineers.
Safety is our #1 priority. Originally, we didn't have the resources to install the hardware safely. We were using other brands of both battery- operated and hand-crank lifts, but they required too much maintenance. Now, our ServerLIFT® unit is well-used and everybody is happy with the 'Cadillac' we bought. It's a great investment.
El ServerLIFT® unit was of great benefit during the racking of our blade centers. With the use of the strap kit, one person was able to unbox and safely place the 300-pound device into a rack on the rails. The benefit of not having to remove the blades and power supply components from the chassis to make it lighter saved time and potential damage.
Hable con un especialista para encontrar la solución de elevación adecuada para su centro de datos.
Descargue nuestro documento técnico GRATUITO, "La guía de migración del centro de datos"
La optimización de la producción de TI depende de la actualización y el mantenimiento adecuados de sus equipos e instalaciones del centro de datos. Utilice nuestra guía gratuita para visualizar, planificar y ejecutar una migración de centro de datos.