LE-Series™ Extensii de ridicare
Desfaceți ușor serverele din cutii
ServerLIFT® LE-500X™ and LE-1000X™ Lift Extensions are used to safely lift and remove servers, switches, UPS devices, and other rack-mounted equipment out of boxes and off of pallets without destroying the packaging or straining your back. These critical tools free operators from ever having to manually unpack boxes or lift equipment ever again.
Ridicați echipamentul IT în raft
ServerLIFT® creates lifting solutions that are durable and designed for data center use. Two lift extension models are currently available to support IT equipment hardware weighing up to 700 lbs. (318 kg). With the LE-500X and LE-1000X lift extensions, handling heavy IT equipment from start to finish can be done safely and effectively. These lift extensions are popular attachments as a functional addition to our server handling solutions.
Data viitoare când vă confruntați cu o relocare în centrul de date sau cu o actualizare a serverului, luați în considerare instrumentele potrivite pentru a evita accidentarea și a face treaba rapid.
Îndepărtează echipamentele în siguranță din cutii și cutii
Construcție ușoară, dar totodată grea, din oțel
Easy attachment and removal from ServerLIFT® side-loading machines
Include cadrul de extensie, două curele, patru cârlige și o pungă de depozitare
Compatibilitate și beneficii
Extensia de ridicare LE-1000X este compatibilă cu SL-1000X® Ridicare super-taxă and is load-rated for up to 700 lbs. (318 kg).
Extensia de ridicare LE-500X este încărcată până la capacitatea maximă a elevatorului cu care este utilizat. Este compatibil cu SL-500X® Ascensor electric (500 lbs. / 227 kg) și SL-350x® Ridicat manual cu manivelă (350 lbs. / 159 kg).
Both attachments have been designed for optimum functionality, safety, and ease of use. They extend out in front of the ServerLIFT® machine, providing ample clearance to position the hooks and slings over the top of servers in any box—even if the box is on a pallet.
ServerLIFT® LE-1000X and LE-500X Lift Extensions are backed by a worry-free, 30-day Money-Back Guarantee.  
SHOP MORE SERVERLIFT® ATTACHMENTS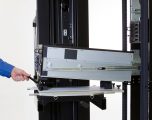 Ridicarea feroviară RS-500X ™ suportă și înclină serverele în unghiul perfect pentru alinierea și ghidarea capetelor de unghii ale serverului în sau în afara sloturilor de șină în formă de J.
Aflați mai multe "

Raftul extins FE-3X ™ mărește suportul serverului încărcătorului frontal SL-500FX la o adâncime de 20 cm (50 cm) adânc în rack.
Aflați mai multe "

The RL-500™ Platform Riser increases the reach of any ServerLIFT® by 8U and ensures that server installs are seamless and safe for all data center applications.
Aflați mai multe "

ServerLIFT® PL-500X® Extensia platformei include toate funcționalitățile Extensiilor de ridicare ale seriei LE și vă oferă suport server mai jos decât partea inferioară a cremalierului ... până la podea.
Aflați mai multe "
Formulare și întrebări frecvente
De ce clienții noștri se bazează pe SERVERLIFT®
Without a ServerLIFT® data center lift here, customers, they would be...let's just say, very displeased if we didn't offer that sort of a service when they got there and they went to rack their gear and they needed something to help them. It's something that they rely on.
ServerLIFT® makes a great product that is easy to use, and promotes safety within the data center. It is especially useful to us in our new data centers, where we have standardized on 9ft. racks. I was most pleased with how easily it allowed us to move and re-rack our large AS/400 systems during a limited outage window.
I would recommend it 100%. It literally has saved my team's backs. This last year was our biggest year, and for us to do as much as we did (we did almost 200 racks in 6 months)...you can't do that kind of work without having something that makes your job easier. ServerLIFT® solutions have taken all of that burden off of my team.
I was initially using a manual lift to move servers and other equipment. When the ServerLIFT® electric model came out it was an even better solution. If I have a server that needs to be installed and I am the only one available, I can get it down quickly and easily with the ServerLIFT® unit.
We have a ServerLIFT® solution and it's awesome. It can lift 500 lbs without issue. Even the largest Cisco devices can be installed using it. Our facilities group uses it to pull motors from CRAC Units. It's well worth the investment.
In 15 minutes, we racked an HP chassis and 15 new hard drive enclosures, with only one engineer. Using our new ServerLIFT® lift is much safer and quicker than using 3 engineers.
Safety is our #1 priority. Originally, we didn't have the resources to install the hardware safely. We were using other brands of both battery- operated and hand-crank lifts, but they required too much maintenance. Now, our ServerLIFT® unit is well-used and everybody is happy with the 'Cadillac' we bought. It's a great investment.
ServerLIFT® unit was of great benefit during the racking of our blade centers. With the use of the strap kit, one person was able to unbox and safely place the 300-pound device into a rack on the rails. The benefit of not having to remove the blades and power supply components from the chassis to make it lighter saved time and potential damage.
Vorbiți cu un specialist pentru a găsi soluția potrivită de ridicare pentru centrul de date.
Descărcați cartea albă GRATUITĂ, "Ghidul de migrare al Centrului de date"
Optimizarea producției IT depinde de actualizarea și întreținerea corespunzătoare a echipamentelor și facilităților centrului de date. Utilizați ghidul nostru gratuit pentru a vizualiza, planifica și executa o migrare a centrului de date.