Some of the most common reasons for a flytting av datasenter include:
Applications are outgrowing existing infrastructure and increased capacity is needed
Consolidation or moving equipment on-premises
Switching from private cloud to other cloud solutions
Merging or purchase by another company
Whatever the reason for your pending move, the rules of a data center relocation and migration should be top of mind. It's helpful to be prepared and think ahead, so we asked an expert to weigh in. Jeffrey Bain is a Technical Services Account Manager with McCollister's Transportation Group. Bain has handled data center relocation services—primarily transportation needs—for McCollister's for over two decades. He notes: "It's important to understand, right off the bat, which resources are required for your data center relocation services. When we partner with a data center team we know right away if they've got the details handled appropriately and are making decisions which will result in success."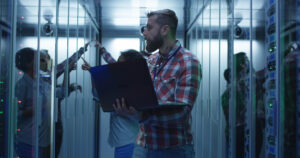 There are many angles from which to consider your data center relocation. With Bain's assistance, we are focusing on the physical requirements of an IT infrastructure move below. This will help to ensure you are partnering with the right vendors and agencies for your move. This will keep your migration team and your equipment safe and secure, and finally, it will assist in the creation of contingency plans for the unexpected. 
Rule #1: Plan Ahead
The best planning results in the least disruption to your business. "The pre-planning is the most important element," says Bain. Many of the clients he works with are in planning mode for a move for a year (or more) before working on the final steps. They ask the following questions early on:
What is my budget? My timeline?
Do I have a site audit completed?
Do I have an up-to-date equipment inventory? 
Will we move all of the equipment, or should some be decommissioned/upgraded/replaced?
Will we do one large move, or work in phases, starting with lower-priority assets?
Early considerations must include scope, timing, cost estimates, and early formation of the project team and task assignments.
Rule #2: Partner with Accredited Data Center Relocation Companies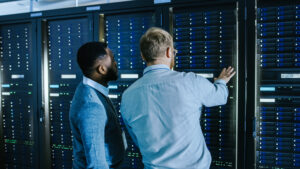 Just like with any move, hiring an outside company to handle a relocation project makes everything go more smoothly. If you do hire a moving company, it's important to find one with the right knowledge and specific experience in relocating data centers. A moving or logistics company that focuses on moving household goods or general freight doesn't necessarily know how to handle data center equipment properly. "Sending out household movers who have never touched a server or computer equipment before is a big problem. It probably won't go well." Bain says he's seen those mistakes firsthand.
The IT infrastructure expert will partner with your own Project Manager and your internal technical team. The vendor should bring in any necessary specialized equipment, including normal or expedited transportation, pallet jacks, straps, and lifts. "We'll do things like get a ServerLIFT-enhet rented or brought out to a facility," says Bain, and they'll check on existing features such as docks, elevators, and stairs. "We carry, in our climate-controlled trucks, a heavy-duty plexiglass-like material to distribute weight. We also have metal threshold plates for gaps in elevators and doorways." The right relocation company can also tackle wiring needs, cabling, climate, and humidity requirements. 
The benefits of pairing with an expert are most obvious when the client does not know how to move a data center or has little experience in the field. "The clients who haven't made these moves as often will rely on us to get them through it," says Bain. Specialized experience will offset risks and unforeseen expenses, and minimize any downtime or data losses.
Rule #3: Don't Try to Do Everything At Once
Even the smallest transfers can have surprising delays. "In some instances, if the equipment doesn't go back up as expected in the new location, we'll bring it all the way back to the original location to make sure it goes back up. The power might not be right, something doesn't work, so they'll bring it back and reinstall it all. They figure out what went wrong, and then do it all again. It's a contingency plan."
Relocation companies typically carry out the relocation in three phases: 1) taking equipment apart at the point of origin, 2) transporting the equipment, and then 3) moving in equipment at the new location. These three phases are multiplied for bigger jobs requiring multiple moves. 
A phased approach may be the smartest way to handle your move.
Rule #4: Don't Consider the Job Complete When the Equipment Is Loaded
The work isn't over, even after your hardware is set up and plugged into its new home. Here's what's left:
Check the punch list one last time to ensure all immediate tasks are completed
Decommission and restore any remaining equipment at the site of origin
Dispose properly of anything that is no longer needed, especially if it requires special an environmentally safe disposal processes
It's also smart to set quarterly and annual reviews evaluating operations, processes, energy usage, and upcoming infrastructure updates.
Achieving Data Center Relocation Success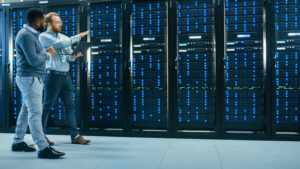 These days, Bain says most of his jobs are helping people move their IT equipment out of proprietary facilities and into colocation facilities. The data mirrors this report: The Uptime Institute's annual survey shows about half of data center workloads moving to off-premises DCs in 2020. There's still a great range, however, in the types of jobs McCollister's is tackling. "We do a wide variety of moves. Someone may be moving a single server from Massachusetts to California. Others want team transit, with sealed and locked trucks for security purposes, signoff at each end, and an armed security firm there during loading and unloading." With adequate prep, the right partners and timing, and careful follow-through, your next move will be successful and stay within budget.
Remember to Rack Like a Pro whenever server relocation is required.