Tingkatkan Pengambilan dan Pengekalan Pelanggan di Kemudahan Co-Lo
Memanfaatkan alat mengangkat ServerLIFT adalah langkah paling bijak anda.
Kemudahan Kolokasi Yang Mesti Miliki
Memberikan peranti mengangkat ServerLIFT kepada pelanggan anda adalah langkah paling bijak anda.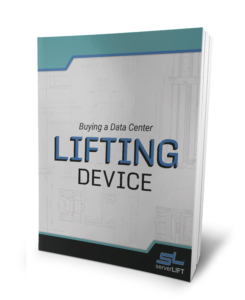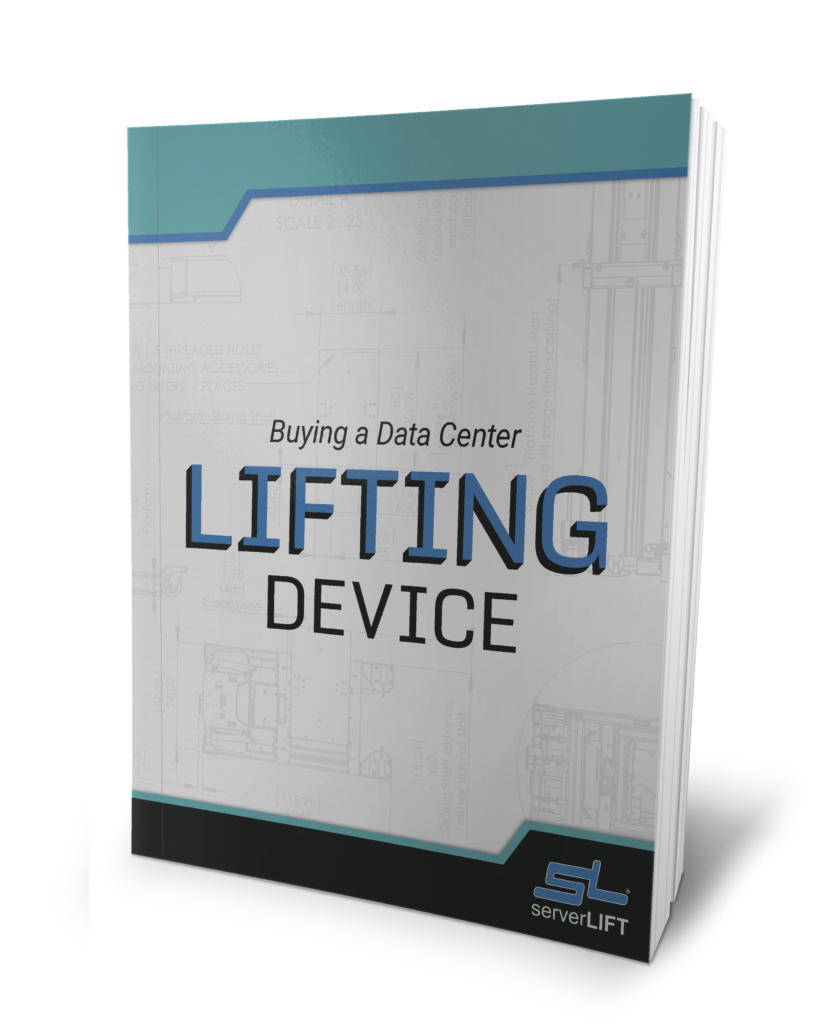 Muat turun kertas putih PERCUMA kami, "Membeli Perangkat Pengangkat Pusat Data"
ServerLIFT Dapat Meningkatkan Pengambilan dan Pengekalan Pelanggan di Kemudahan Co-Lo
Competition on cost defines the colocation facility space.
Your customers select you based, in part, on the potential to minimize the capital expenditures associated with building their own data center. However, in addition to saving on the cost of cooling, power, and bandwidth, they are also interested in physical safety and adherence to global standards.
Providing the right resources for the move shows them that you are serious about both safety dan their bottom line.
The worldwide data center colocation market is expected to reach a value of $58.28 billion by 2025, at a CAGR of 10.85% over the forecast period (2020 – 2025). Data center managers increasingly need to explore means to add value to their facilities to attract and retain clients.
Whether you are renting out space or offering fully managed services in your colocation facility, you need the best sales tools on hand. ServerLIFT assisted lifting equipment for rack-mounted servers can improve both customer recruitment and retention as competition increases.
The Right Data Center Lift For Your Colocation Facility
How can facility owners and managers make sure their co-lo stands out? 
The benefits of placing a data center lift in your colocation facility are clear. These purpose-built devices give you clear competitive advantages.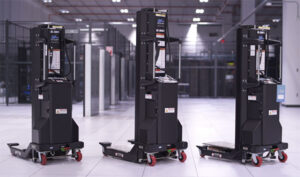 Peningkatan pusat data ServerLIFT dapat menangani hingga 1,000 paun (454 kg) of weight, depending on the model. It is custom-designed for moving colocation equipment in data centers. Keeping one (or more) in each of your colocation facilities sends a message:
Keselamatan fizikal dan keselamatan peralatan mereka adalah penting bagi anda dan pasukan anda.

Kemudahan anda patuhi

standard global

.

Anda memberi perhatian kepada inovasi dan teknologi canggih.

Kemudahan anda melebihi tahap asas yang disediakan oleh pesaing.

Nilai tambah untuk kemudahan anda menjadikan anda pilihan yang menarik.
Think of a data center lift as physical proof that your staff places importance on the safety of every client walking through your doors, along with a clear sign of respect for their bottom line.
These devices also make it possible for your staff to complete work on the job in an expedient manner and without risk of injury.
In so many colocation facilities, larger moves and new customers create the need for rental equipment and extra staff/overtime. Keeping a data center lift on location means each transition takes minutes instead of hours or days, and requires a single operator instead of two or three. Utilizing lifting technology onsite does far more than protect arms, shoulders, and backs. It saves time and money, too.
Explore your data center lift options below to determine which is the optimal solution for your facility:
Produk yang dibina khas kami menunjukkan dedikasi anda terhadap kualiti dan teknologi canggih.
Pelanggan kami meminta ServerLIFT untuk navigasi lorong sempit, sudut ketat, dan halangan lantai dan siling yang direka secara khusus yang terdapat di persekitaran pusat data di seluruh dunia.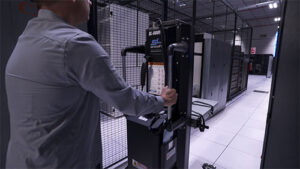 Peranti mengangkat ServerLIFT membolehkan pengendali tunggal mengangkut, meletakkan, dan memasang pelayan serta bekalan dan suis mahal lain tanpa mengambil risiko ketegangan otot atau membahayakan orang lain. 
Safety first. There is no substitution for a data center lift. It prevents risky manual handling of heavy equipment—and the injuries that result. It also helps workers avoid injuries from the rack-loaded equipment in every data center, which often have:
Bucu tajam

Mekanisme pengunci yang diselaraskan dengan buruk

Komponen yang mudah ditekuk, halus dan mudah rosak
Further, when removing, transporting, and installing equipment, workers must navigate the colocation environment, which includes:
Lorong yang ketat

Power, cooling, and network cabling throughout the DC

Racks with high and low positions—down to the floor and as high as 42U – 60U (6.1- 8.75 ft, 1.8669 – 2.67m)

Lantai tinggi dan berlubang

Tahap kebisingan berterusan yang mampu mengalami gangguan pendengaran

Pendawaian elektrik dan voltan tinggi
In spite of all these dangers, our customers report that their data centers are 100% accident-free after their purchase and use of a ServerLIFT data center lift. They are able to move equipment around safely and efficiently. 
Pengurus kemudahan Co-lo dapat membaca lebih lanjut mengenai produk dan lampiran ServerLIFT dengan mengklik di sini.
Complimentary Signage For Your Colocation Facility
Warning labels which read "Danger: Energized Equipment" or "High Voltage" are helpful, but fail to address safety when moving equipment around the facility. Managers focused on providing data center safety guidelines know they need to provide additional information so that work can be done safely, without management supervision. 
An important note: The responsibility for properly marking dangerous equipment within a data center lies with the DC owner, not the manufacturer or installer. Warning labels should provide enough information to alert workers and inform them of the proper ways to comply with safety standards. 
ServerLIFT offers our own safety signage free of charge; hubungi Kami if they are needed for your business.
Mengapa PELANGGAN KAMI MENGANDUNG SERVERLIFT®
I would recommend it 100%. It literally has saved my team's backs. This last year was our biggest year, and for us to do as much as we did (we did almost 200 racks in 6 months)...you can't do that kind of work without having something that makes your job easier. ServerLIFT® solutions have taken all of that burden off of my team.
PelayanLIFT® unit was of great benefit during the racking of our blade centers. With the use of the strap kit, one person was able to unbox and safely place the 300-pound device into a rack on the rails. The benefit of not having to remove the blades and power supply components from the chassis to make it lighter saved time and potential damage.
Without a ServerLIFT® data center lift here, customers, they would be...let's just say, very displeased if we didn't offer that sort of a service when they got there and they went to rack their gear and they needed something to help them. It's something that they rely on.
We really rely on our ServerLIFT® device. It was one of the best investments we made for our data centers. Thank you!
We have a ServerLIFT® solution and it's awesome. It can lift 500 lbs without issue. Even the largest Cisco devices can be installed using it. Our facilities group uses it to pull motors from CRAC Units. It's well worth the investment.
Dalam 15 minit, kami memasang casis HP dan 15 kandang cakera keras baru, dengan hanya seorang jurutera. Menggunakan lif baru kami jauh lebih selamat dan pantas daripada menggunakan 3 jurutera.
PelayanLIFT® makes a great product that is easy to use, and promotes safety within the data center. It is especially useful to us in our new data centers, where we have standardized on 9ft. racks. I was most pleased with how easily it allowed us to move and re-rack our large AS/400 systems during a limited outage window.
I was initially using a manual lift to move servers and other equipment. When the ServerLIFT® electric model came out it was an even better solution. If I have a server that needs to be installed and I am the only one available, I can get it down quickly and easily with the ServerLIFT® unit.
Safety is our #1 priority. Originally, we didn't have the resources to install the hardware safely. We were using other brands of both battery- operated and hand-crank lifts, but they required too much maintenance. Now, our ServerLIFT® unit is well-used and everybody is happy with the 'Cadillac' we bought. It's a great investment.
Bercakap dengan pakar untuk mencari penyelesaian mengangkat yang tepat untuk pusat data anda.
Muat turun kertas putih PERCUMA kami, "Amalan Terbaik untuk Pengendalian Peralatan Pusat Data"
Menggunakan peralatan yang salah dan mengabaikan standard keselamatan di pusat data anda boleh menyebabkan kos yang tidak dapat dihitung. Buku panduan percuma kami memperincikan cara mengelakkan kecederaan dan melaksanakan peralatan yang betul untuk projek yang betul.