Fujitsu Limited is based in Tokyo, Japan, and was founded in 1935. It is a global leader in IT equipment and services—ranked number 4 in the world based on total revenue, behind IBM, Accenture, and AWS (Amazon Web Services). Fujitsu focuses primarily on computing products and is a major server manufacturer. 
Fujitsu reported $23.8 billion in revenue in 2018, with approximately 75 percent of that revenue sourced from technology solutions. Its stated purpose is "to make the world more sustainable by building trust in society through innovation." Today the company pursues progress in the fields of hybrid cloud and multicloud computing, advanced cybersecurity, artificial intelligence (AI,) high-powered computing (HPC), the Internet of Things (IoT), and 5G. Its operations are spread across 180 countries with approximately 129,000 employees.
Japan's First Relay-Based Automatic Computer
One of Fujitsu's earliest creations of note was the FACOM100, invented in 1954. The name is derived from "Fuji Automatic Computer." It was a relay-based automatic computer, and the first of its kind. These electromagnetic computers ran on the same types of relays used for telephone switches. In the 1950s, a relay-based computer was notable for its durability, especially when compared to vacuum-tube-powered machines. Headlines were made when Japanese theoretical physicist and Nobel Prize recipient Professor Hideki Yukawa requested the calculation of a complicated multiple integral on the newly completed FACOM100 computer. The work was done in an astonishing 3 days instead of the estimated 2 years of work required for humans to complete the same problem. 
De FACOM222 was created in 1961, using discrete transistors instead of vacuum tubes. This was an improvement both for the bulk of the computer itself (relatively smaller and more manageable) and for its processing, as vacuum tubes overheated easily. Historians refer to discrete transistor-based computers as "second-generation," and they remained en vogue until integrated circuitry led to the third wave of computer development. In 1963, Fujitsu released the Type 600 telephone, and in '64, the FACOM603F magnetic tape unit, which enabled larger and more efficient external data storage for computer systems. Explore more of Fujitsu's notable creations through the 20th and 21st century her.
Fujitsu PRIMERGY Servers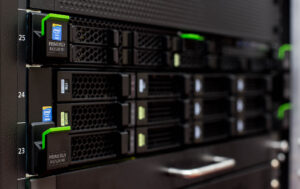 ServerLIFT data center lifts are compatible with many of Fujitsu's servers, switches, and PDUs (additional details below.) PRIMERGY servers are a family of x86-architecture designed servers available with single-socket to quad-socket systems. They are designed " . . . to address a range of workloads from basic requirements to fully-fledged virtualization, HPC, or as part of (hyper-)converged infrastructures." Systems with eight or more sockets and extended reliability, availability, and serviceability (RAS) features are labeled "PRIMEQUEST" servers. Many PRIMEQUEST servers ranging up to 10U in size are also compatible with our ServerLIFT machines.
ServerLIFT solutions and products are designed to properly assist with the lifting, handling, and installing of Fujitsu rack-mounted equipment. This includes PRIMERGY RX (rack servers) RX1330 M2, RX2520 M1, RX2530 M2, RX2540 M2, and RX4770 M2. Also compatible: 2400E2, 2400 E3, 2800 E3, 2800 B2, 2800 B3, 2800 E2, 3800 B2, and 3800 E2 PRIMEQUEST servers. SPARC servers and Brocade switches can also be safely moved and installed using ServerLIFT devices. To get additional details on compatibility and partnership between ServerLIFT and Fujitsu, please visit our server database.