GT-1000X™ Glide Tabel Bi-Directional
Server Bergerak dengan Tanpa Gesekan dan Mudah
The GT-1000X™ Glide Table helps you load and unload heavy servers with ease. The integrated rollers reduce friction for effortless gliding, and can also be locked out with the built-in brake for safely securing the server in place during transport. Slide servers and switches on or off the ServerLIFT® platform for a no-stress server move…. every time.
Instal atau Hapus Peralatan Pusat Data dengan Aman
Data center managers trust ServerLIFT® Assisted Lifting Devices (ALDs) to position and move their most substantial IT equipment, up to 1,000 lbs (454 kg). The GT-1000X Bi-Directional Glide Table dramatically reduces effort and time spent racking equipment, saving you time and money. The brake handle locks out rollers to keep servers stationary, giving operators greater control over the entire server-handling process.  
Server Glide Menghidupkan dan Mematikan Lift Pusat Data Anda
The GT-1000X Glide Table works with all of the ServerLIFT® model platforms to accommodate small server rooms to the largest, most active operations.
Mounts onto all ServerLIFT® model lifts
Sesuai dengan rak standar 19 "
Tidak membutuhkan alat atau perakitan
Pergerakan peralatan TI tanpa gesekan dalam dua arah
Alat berat aman satu tangan meluncur
Menangani hingga £ 45 (454 kg)
Dapat dipasang untuk operasi tangan kanan atau kiri pada laptop SL-500FX™ Front-Loading Lift
Dapat dilampirkan atau digunakan bersama dengan RL-500 Riser ™ dan PL-500X® Ekstensi Platform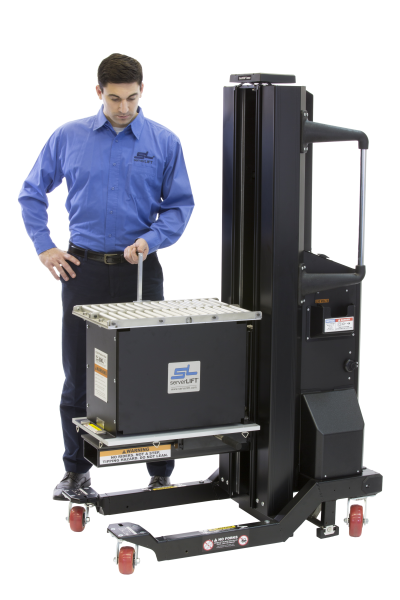 GT-1000X Bi-Directional Glide Table didukung oleh Jaminan Uang Kembali 30 hari tanpa khawatir.
SHOP MORE SERVERLIFT® LAMPIRAN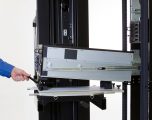 RS-500X ™ Rail Lift mendukung dan memiringkan server ke sudut yang sempurna untuk meluruskan dan memandu nailhead server masuk atau keluar dari slot rel berbentuk-J.
Belajarlah lagi "

FE-3X ™ Extended Shelf meningkatkan dukungan server dari SL-500FX Front Loader hingga kedalaman 20 inci (50 cm) ke dalam rak.
Belajarlah lagi "

The RL-500™ Platform Riser increases the reach of any ServerLIFT® by 8U and ensures that server installs are seamless and safe for all data center applications.
Belajarlah lagi "

ServerLIFT® PL-500X® Ekstensi Platform mencakup semua fungsi Ekstensi Angkat LE-Series, dan memberi Anda dukungan server lebih rendah dari bagian bawah rak ... sampai ke lantai.
Belajarlah lagi "
Mengapa PELANGGAN KAMI BERANDA DI SERVERLIFT®
Without a ServerLIFT® data center lift here, customers, they would be...let's just say, very displeased if we didn't offer that sort of a service when they got there and they went to rack their gear and they needed something to help them. It's something that they rely on.
ServerLIFT® makes a great product that is easy to use, and promotes safety within the data center. It is especially useful to us in our new data centers, where we have standardized on 9ft. racks. I was most pleased with how easily it allowed us to move and re-rack our large AS/400 systems during a limited outage window.
I would recommend it 100%. It literally has saved my team's backs. This last year was our biggest year, and for us to do as much as we did (we did almost 200 racks in 6 months)...you can't do that kind of work without having something that makes your job easier. ServerLIFT® solutions have taken all of that burden off of my team.
I was initially using a manual lift to move servers and other equipment. When the ServerLIFT® electric model came out it was an even better solution. If I have a server that needs to be installed and I am the only one available, I can get it down quickly and easily with the ServerLIFT® unit.
We have a ServerLIFT® solution and it's awesome. It can lift 500 lbs without issue. Even the largest Cisco devices can be installed using it. Our facilities group uses it to pull motors from CRAC Units. It's well worth the investment.
In 15 minutes, we racked an HP chassis and 15 new hard drive enclosures, with only one engineer. Using our new ServerLIFT® lift is much safer and quicker than using 3 engineers.
Safety is our #1 priority. Originally, we didn't have the resources to install the hardware safely. We were using other brands of both battery- operated and hand-crank lifts, but they required too much maintenance. Now, our ServerLIFT® unit is well-used and everybody is happy with the 'Cadillac' we bought. It's a great investment.
ServerLIFT® unit was of great benefit during the racking of our blade centers. With the use of the strap kit, one person was able to unbox and safely place the 300-pound device into a rack on the rails. The benefit of not having to remove the blades and power supply components from the chassis to make it lighter saved time and potential damage.
Bicaralah dengan spesialis untuk menemukan solusi pengangkatan yang tepat untuk pusat data Anda.
Unduh kertas putih GRATIS kami, "Panduan Migrasi Pusat Data"
Mengoptimalkan produksi TI tergantung pada pembaruan dan pemeliharaan peralatan dan fasilitas pusat data Anda dengan benar. Manfaatkan buku panduan gratis kami untuk memvisualisasikan, merencanakan, dan melaksanakan migrasi pusat data.