GT-1000X™ Bidirektionale Gleittabelle
Mühelose, reibungslose Serverumzüge
The GT-1000X™ Glide Table helps you load and unload heavy servers with ease. The integrated rollers reduce friction for effortless gliding, and can also be locked out with the built-in brake for safely securing the server in place during transport. Slide servers and switches on or off the ServerLIFT® platform for a no-stress server move…. every time.
Rechenzentrumsausrüstung sicher installieren oder entfernen
Data center managers trust ServerLIFT® Assisted Lifting Devices (ALDs) to position and move their most substantial IT equipment, up to 1,000 lbs (454 kg). The GT-1000X Bi-Directional Glide Table dramatically reduces effort and time spent racking equipment, saving you time and money. The brake handle locks out rollers to keep servers stationary, giving operators greater control over the entire server-handling process.  
Gleiten Sie Server an und aus Ihrem Rechenzentrumslift
The GT-1000X Glide Table works with all of the ServerLIFT® model platforms to accommodate small server rooms to the largest, most active operations.
Mounts onto all ServerLIFT® model lifts
Passt in Standard-19-Zoll-Racks
Benötigt kein Werkzeug oder Montage
Reibungslose Bewegung von IT-Geräten in zwei Richtungen
Sicheres einhändiges Gleiten von schwerem Gerät
Hält bis zu 454 kg
Kann für Rechts- oder Linksbedienung an einer SL-500FX™ Front-Loading Lift
Kann an oder in Verbindung mit dem angebracht werden RL-500 Riser ™ und die PL-500X® Plattformerweiterung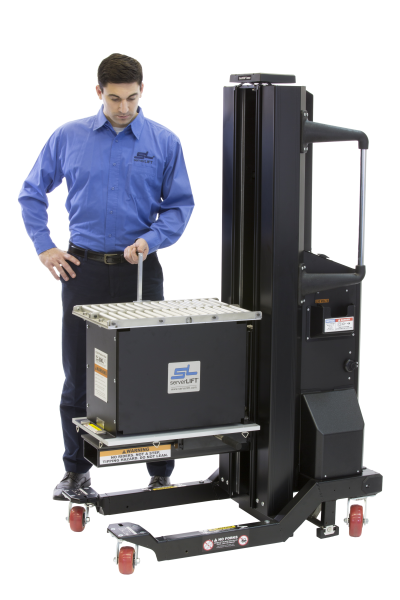 Der ServerLIFT® Guarantee
Für den bidirektionalen Gleittisch GT-1000X gilt eine sorgenfreie 30-tägige Geld-zurück-Garantie.
SHOP MORE SERVERLIFT® ANHÄNGE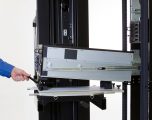 Der RS-500X ™ Schienenlift unterstützt und kippt Server im perfekten Winkel, um Servernagelköpfe in oder aus J-förmigen Schienenschlitzen auszurichten und zu führen.
Erfahren Sie mehr "

Das FE-3X ™ Extended Shelf erhöht die Serverunterstützung des SL-500FX-Frontladers auf volle 50 cm (20 Zoll) Tiefe im Rack.
Erfahren Sie mehr "

The RL-500™ Platform Riser increases the reach of any ServerLIFT® by 8U and ensures that server installs are seamless and safe for all data center applications.
Erfahren Sie mehr "

Der ServerLIFT® PL-500X® Die Platform Extension umfasst alle Funktionen der LE-Series Lift Extensions und bietet Serverunterstützung bis zum Boden.
Erfahren Sie mehr "
Warum sich unsere Kunden auf SERVERLIFT verlassen®
Without a ServerLIFT® data center lift here, customers, they would be...let's just say, very displeased if we didn't offer that sort of a service when they got there and they went to rack their gear and they needed something to help them. It's something that they rely on.
ServerLIFT® makes a great product that is easy to use, and promotes safety within the data center. It is especially useful to us in our new data centers, where we have standardized on 9ft. racks. I was most pleased with how easily it allowed us to move and re-rack our large AS/400 systems during a limited outage window.
I would recommend it 100%. It literally has saved my team's backs. This last year was our biggest year, and for us to do as much as we did (we did almost 200 racks in 6 months)...you can't do that kind of work without having something that makes your job easier. ServerLIFT® solutions have taken all of that burden off of my team.
I was initially using a manual lift to move servers and other equipment. When the ServerLIFT® electric model came out it was an even better solution. If I have a server that needs to be installed and I am the only one available, I can get it down quickly and easily with the ServerLIFT® unit.
We have a ServerLIFT® solution and it's awesome. It can lift 500 lbs without issue. Even the largest Cisco devices can be installed using it. Our facilities group uses it to pull motors from CRAC Units. It's well worth the investment.
In 15 minutes, we racked an HP chassis and 15 new hard drive enclosures, with only one engineer. Using our new ServerLIFT® lift is much safer and quicker than using 3 engineers.
Safety is our #1 priority. Originally, we didn't have the resources to install the hardware safely. We were using other brands of both battery- operated and hand-crank lifts, but they required too much maintenance. Now, our ServerLIFT® unit is well-used and everybody is happy with the 'Cadillac' we bought. It's a great investment.
Der ServerLIFT® unit was of great benefit during the racking of our blade centers. With the use of the strap kit, one person was able to unbox and safely place the 300-pound device into a rack on the rails. The benefit of not having to remove the blades and power supply components from the chassis to make it lighter saved time and potential damage.
Sprechen Sie mit einem Spezialisten, um die richtige Hebelösung für Ihr Rechenzentrum zu finden.
Laden Sie unser KOSTENLOSES Whitepaper "The Data Center Migration Guide" herunter.
Die Optimierung der IT-Produktion hängt von der ordnungsgemäßen Aktualisierung und Wartung Ihrer Geräte und Rechenzentren ab. Nutzen Sie unseren kostenlosen Leitfaden, um eine Rechenzentrumsmigration zu visualisieren, zu planen und auszuführen.