Confronto:
ServerLIFT® vs. RackLift™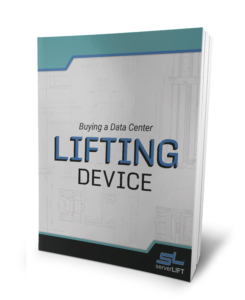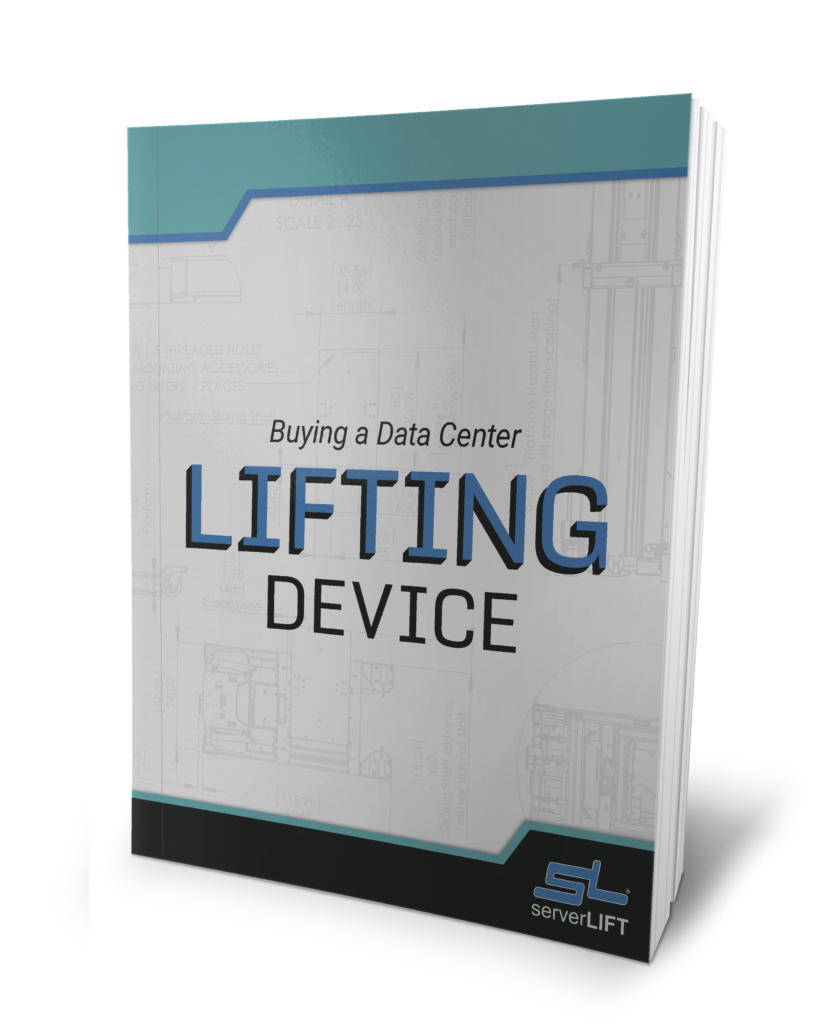 Scarica il nostro white paper GRATUITO, "Acquisto di un dispositivo di sollevamento per data center"
Comparison: ServerLIFT® vs. RackLift™
Esistono diverse categorie da considerare nella valutazione degli ascensori del data center. Abbiamo molte domande che ci chiedono di confrontare i nostri dispositivi con Racklift. I responsabili dei data center navigano spesso su più siti Web e forum di utenti online, sperando di ottenere una risposta rapida alle loro domande.
Non mancano le opinioni disponibili su altri siti, ma sono limitate e spesso fuorvianti. Senza una conversazione estesa al di là dei prezzi e della capacità di peso, due delle preoccupazioni più comuni, i clienti non sono in grado di confrontare correttamente caratteristiche e funzionalità. Alcuni sono convinti di spendere meno per un ascensore generico non certificato. Finiscono con un sostituto scadente che mette i loro dipendenti ad alto rischio di lesioni.
Il nostro obiettivo qui è presentarti informazioni utili in modo onesto e trasparente con i dati derivati da test approfonditi e applicazioni del mondo reale. We manufacture a premium device—precisely because we have always been driven to create the best data center experience for you. Let's look at the differences between ServerLIFT® data center lifts and Racklift™.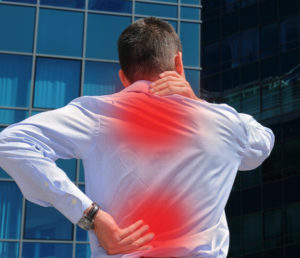 Data center managers often tell us that safety—both for their employees and their equipment—ranks highest in consideration when they are shopping for a new data center lift. ServerLIFT® designed the only machines for use in a data center environment that are safety-certified. Our equipment lifting device is the only one that meets all qualifications to keep your staff safe.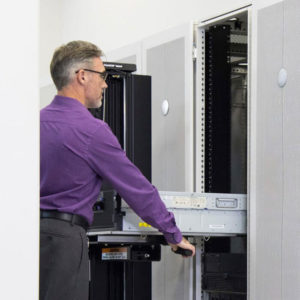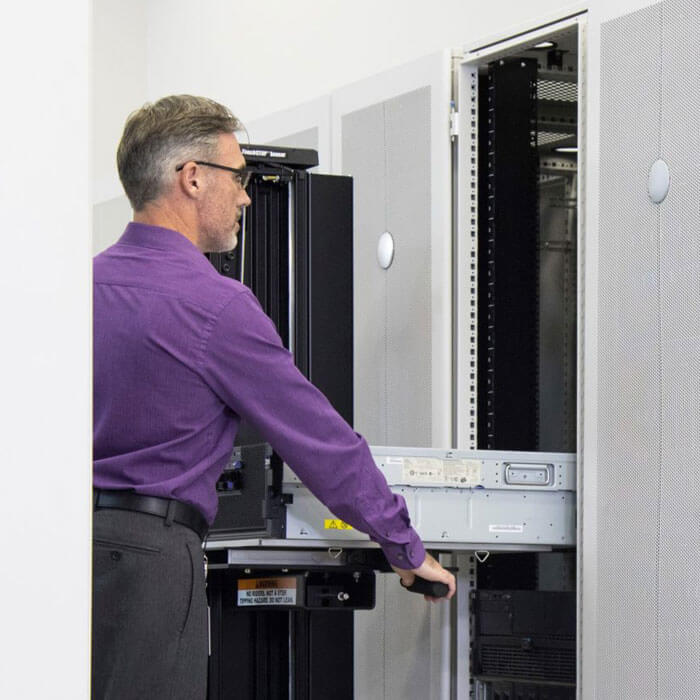 We created a data center lift with clear access to servers at every stage of installation, eliminating dangerous pinch points. Our server-handling solutions are also rated appropriately for use so that strain and muscle fatigue do not occur. The ServerLIFT® machine can be handled conveniently and intuitively by a single operator.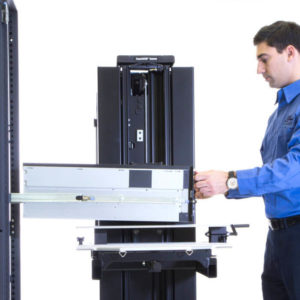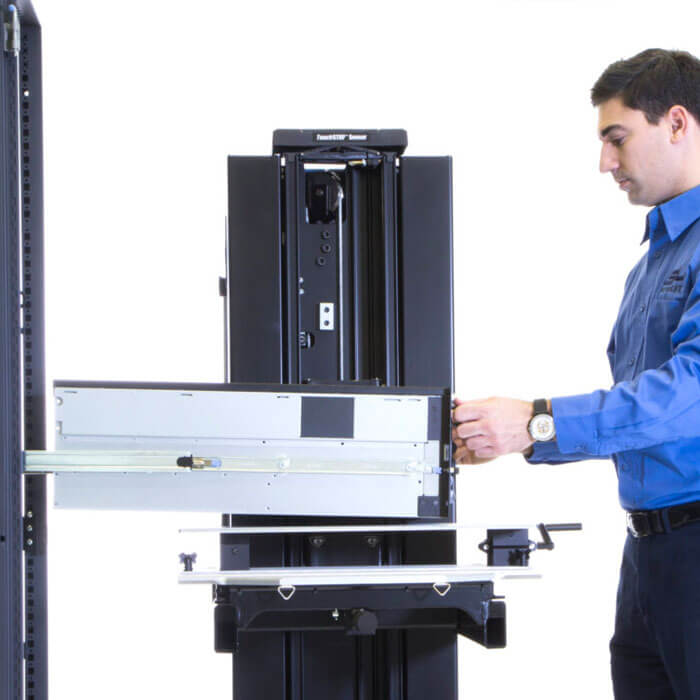 Our award-winning data center lift devices boast a number of high-performing features. They include extended support into racks and exclusive lifting and leveling technologies for creating a seamless install every time. For a more in-depth comparison of what sets ServerLIFT® devices apart, clicca qui.

Funzionalità
Before you buy, ensure that your data center lifting device can handle all 3 essential functions: transportation, positioning, and installation/removal™. All competing devices, including Racklift™, fall short.
Confronto: le 3 funzioni essenziali
di un dispositivo di sollevamento assistito per data center
COMPLETA Conformità e funzionalità
Conformità e funzionalità PARZIALE
NO Conformità e funzionalità
Le 3 funzioni essenziali

ServerLIFT®

RackLift™

Porte ed ascensori

Adatto a dimensioni standard

Ostruzioni sul pavimento

Spazio libero per navigare su rampe, cavi, ecc.

Altezza

Raggiunge tutte le posizioni del rack (fino a 58U)

Allineamento (Side-to-side)

Mantiene il livello del server e allineato con i montanti del rack

Allineamento (fronte-retro)

Angoli o inclinazioni server in / out di binari scanalati

Stabilità

L'unità generale si blocca in posizione senza richiedere supporto esterno. La piattaforma scorrevole si blocca in posizione in modo tale che l'attrezzatura possa essere spinta dentro e fuori l'unità.

Accesso

Il server è completamente accessibile da tutti i lati a tutte le altezze per l'operatore

Supporto

Indipendentemente stabile per supportare i server nel rack
Allineamento (Side to Side)
Allineamento (dalla parte anteriore a quella posteriore)
* Both the 600RS and the RL400 devices only go up to 40U and require additional accessory purchases in order to accommodate racks of standard height of 42U. Racklift™ states that the 600C is customizable.
RackLift™ is a trademark licensed to BIAC Broadband USA Inc.
Perché i nostri clienti fanno affidamento su SERVERLIFT®
Without a ServerLIFT® data center lift here, customers, they would be...let's just say, very displeased if we didn't offer that sort of a service when they got there and they went to rack their gear and they needed something to help them. It's something that they rely on.
ServerLIFT® makes a great product that is easy to use, and promotes safety within the data center. It is especially useful to us in our new data centers, where we have standardized on 9ft. racks. I was most pleased with how easily it allowed us to move and re-rack our large AS/400 systems during a limited outage window.
I would recommend it 100%. It literally has saved my team's backs. This last year was our biggest year, and for us to do as much as we did (we did almost 200 racks in 6 months)...you can't do that kind of work without having something that makes your job easier. ServerLIFT® solutions have taken all of that burden off of my team.
I was initially using a manual lift to move servers and other equipment. When the ServerLIFT® electric model came out it was an even better solution. If I have a server that needs to be installed and I am the only one available, I can get it down quickly and easily with the ServerLIFT® unit.
We have a ServerLIFT® solution and it's awesome. It can lift 500 lbs without issue. Even the largest Cisco devices can be installed using it. Our facilities group uses it to pull motors from CRAC Units. It's well worth the investment.
In 15 minutes, we racked an HP chassis and 15 new hard drive enclosures, with only one engineer. Using our new ServerLIFT® lift is much safer and quicker than using 3 engineers.
Safety is our #1 priority. Originally, we didn't have the resources to install the hardware safely. We were using other brands of both battery- operated and hand-crank lifts, but they required too much maintenance. Now, our ServerLIFT® unit is well-used and everybody is happy with the 'Cadillac' we bought. It's a great investment.
ServerLIFT® unit was of great benefit during the racking of our blade centers. With the use of the strap kit, one person was able to unbox and safely place the 300-pound device into a rack on the rails. The benefit of not having to remove the blades and power supply components from the chassis to make it lighter saved time and potential damage.
Parla con uno specialista per trovare la giusta soluzione di sollevamento per il tuo data center.
Scarica il nostro white paper GRATUITO, "Best practice per la gestione delle apparecchiature dei data center"
L'uso di apparecchiature errate e l'ignoranza degli standard di sicurezza all'interno del proprio data center può avere un costo incalcolabile. La nostra guida gratuita illustra in dettaglio come evitare infortuni e implementare l'attrezzatura giusta per i progetti giusti.