ServerLIFT Corporation was founded in 2002 in response to a growing demand for a safer and efficient way to handle servers and other IT equipment in the data center. With a strong focus on the integration of design and manufacturing across the value chain, we have grown to become the premier provider of IT Equipment and Server Handling Solutions.
Creating exceptional value and a competitive advantage for our clients has made ServerLIFT the choice of leading data centers around the world. From the beginning, extensive research was conducted to identify the key features required to move servers and peripheral equipment safely and efficiently in the modern data center. This market intelligence endeavor was meticulously integrated with top engineering and design talent to create a product portfolio that exceeds the highest standards in the industry. This effort is ongoing, as we continue to innovate and respond to clients' needs.
ServerLIFT Corporation has forever changed the way IT equipment is handled. We have changed it in the way that data center experts want and need it to be done. By taking a holistic view of evolving demands, IT processes, and industry trends, our product roadmap ensures that ServerLIFT will continue to be the IT professional's safest data center decision.
To find out how ServerLIFT can empower your data center, call (602) 254-1557 for a price quote or email our knowledgeable staff at sales@serverlift.com
Raymond Zuckerman
CEO
Before serving as the CEO of ServerLIFT, Raymond Zucker earned a reputation as an experienced entrepreneur and business developer. For 30 years he has led numerous large firms in manufacturing and technology to profitability and success.
Ray earned his engineering degree while working in his field, and holds a Bachelor of Engineering Degree with a specialty in Mechanical Engineering from CCNY. He undertook advanced studies at Rutgers University and New York University in their MBA programs, specializing in finance.
David Zuckerman
V.P., Product Management at Serverlift Corporation
David co-founded the company in 2002 and helped design the first product and processes. He remains an active member of the management team as well as the Board and works with his team and key clients in identifying opportunities for expanded product offerings and bringing them to market.
David has a background as an industrial designer with 20 years of experience in product design and manufacturing. Since 1995, David has been active in working with start-ups to bring new products from concept through production.
Stephenie Crowley
Executive Administrator
Stephenie Crowley brings extensive skills in A/P, A/R, HR, office management, bookkeeping, marketing, and 15 years as an executive assistant to her position as Executive Administrator. She is passionate about the work ServerLIFT is doing helping data centers around the world become more efficient and safe.
Brandon Budd
Vice President of Operations
Brandon Budd has a formidable record of systems optimization, strategic & project planning, inventory management, logistics, purchasing, systems optimization, import/export compliance, and many other skills.
As Vice President of ServerLIFT, his management and systems skill have proved invaluable to achieving the business objectives of the company.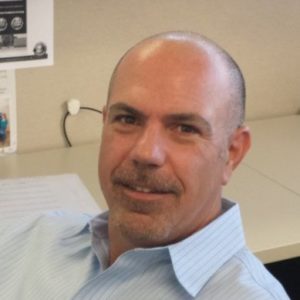 Steve Bashkin
Director of Sales
Steve Bashkin is an accomplished strategic sales leader with career marked by building high-performing teams, driving revenue growth, and formulating/executing corporate initiatives. A strong leader and collaborator, Steve has a proven track record of success.
He is highly respected inside and outside of ServerLIFT for his business acumen, sense of integrity, and commitment to excellence and winning.
Jordan Krizman
Salesforce Admin – Pardot Admin
Throughout his career, Jordan Krizman has demonstrated aptitude for increasing ROI & revenue through inbound marketing and sales efforts.
"I'm intensely passionate about generating more revenue through research-backed marketing and selling that is perfectly in line with the way customers want to buy," he says. "No 'throwing stuff at a wall to see what hits.'"