SL-350X Manual ServerLIFT Enhances Data Center Operations
The U.S. Department of Labor states that data center management teams lifting IT hardware as light as 50 lbs significantly increases risk of injury.  The SL-350X® Manual ServerLIFT alleviates this concern, creating a safer work environment and streamlining data center operations.  With features designed specifically to reduce joint stress and enable accurate alignment, it is the best solution for smaller-scale data center operation moves.
The SL-350X ServerLIFT is the leading manual device for lifting critical IT hardware in confined data center environments.
How the SL-350X Makes Manually Lifting IT Hardware Easy
Frequently moving IT hardware, even light weight 2U and 4U servers, quickly becomes a physical and logistical pain for all data center operations after awhile.  The SL-350X Manual ServerLIFT was built with this in mind, offering an intuitive and easy-to-use solution of server lifts for lighter IT hardware.  The powerful hand-crank offers effortless lifting of IT equipment weighing up to 350 lbs.  The SL-350X  ServerLIFT features the durable design you have come to expect from ServerLIFT, in a light-duty, lower cost unit.
Moving  servers more frequently? Check out the SL-500X Powered ServerLIFT
SL-350X IT Hardware Server Lift Features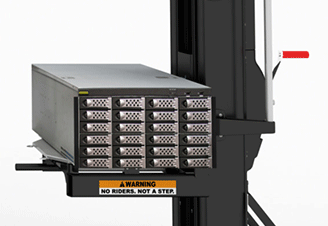 High quality steel frame

Maintains even alignment up to 350 lb.

Includes strap kit to secure IT Hardware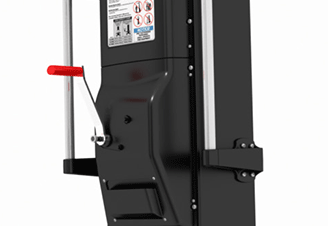 Effortlessly lift 350 lbs

Precise height adjustment

Contained cable and winch mechanism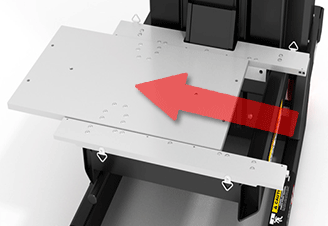 Built-In Easy Glide Shelf
Adds 6″ lateral movement to the left and right

Lift and slide into standard 19″ racks

Seamless install from platform into rails